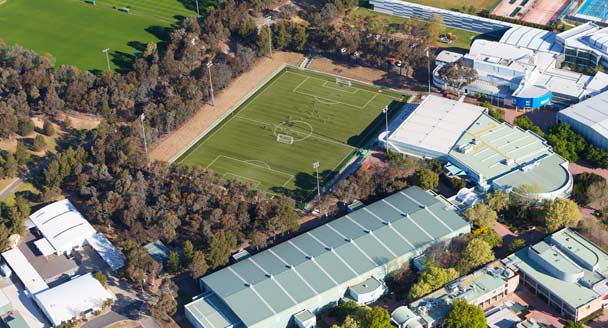 AIS Facilities
Your sports camp can include access to the following AIS facilities:
The Track and Field Centre is the perfect venue to hold your school, local, district, zone, state or national carnival. The track is of IAAF Certification allowing for any World Records that are broken throughout an event to be recognised.
Along with the exceptional track and throwing fields the AIS Track and Field Centre provides organisers with meeting rooms and function space to ensure the smooth running of every carnival.
The grass field in the middle of the AIS Track and Field Centre is suitable for football and both rugby codes. The playing field is 94m x 68m in dimension. Lighting is available for this field as well as a scoreboard, 700 seat covered grandstand and four team change rooms.
Visit our Track and Field Centre page for more information regarding venue hire, tickets and seasonal passes for public training sessions.
The AIS Aquatic Centre houses two 50m and one 25m pool along with a fully equipped gym and a comprehensive timetable of fitness classes.
The Centre runs swim intensive programs, swim school programs and aquatic fitness alongside the high performance program of Swimming Australia, Artistic Swimming Australia and Waterpolo Australia.
The AIS has a world class Recovery Centre which provides high performance athletes with cutting edge recovery techniques using a multidisciplinary approach to optimise training and performance. The Recovery Centre is able to facilitate both wet and dry post-game/training recovery.
The dry area includes a massage area, float tank, changing rooms and a warm down area with exercise bikes and stretching mats.
The wet area is designed to allow athletes to engage in active and passive recovery in both hot and cold water. It encompasses a number of hydrotherapy options including hot and cold showers, spa with jets (heated to 37 degrees) that can target major muscle groups, plunge pool (1.8m deep and maintained at 15 degrees), cold water walk through (15 degrees) and a whirlpool at normal pool temperature (29 degrees).
Whilst the Recovery Centre is only available to high performance athletes, the AIS has one other spa/plunge facility which may be available for recovery sessions for other sporting clubs and associations.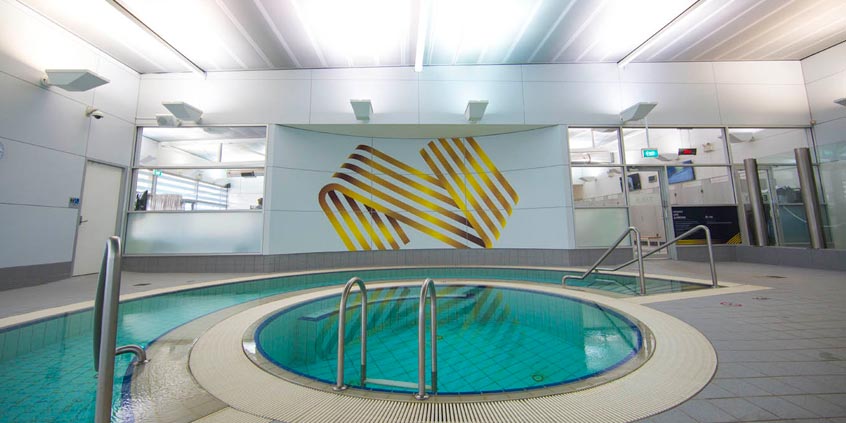 Basketball and Netball Centre
This multi purpose indoor sports centre has five courts which are suitable for basketball, netball, volleyball, badminton, handball, table tennis and futsal.
There is one show court with seating for 500 and two training courts, all with FIBA 1 level ceiling mounted backboards.
The courts are fully accessible for wheelchair sports and there are change room areas and toilets available for multiple teams.
The AIS hosts numerous regular hirers for local club training sessions, state associations for representative training and National Sporting Organisations for high performance camps.
The AIS has two full sized volleyball courts with sprung floors to protect the athletes' joints.
It also has a new beach volleyball facility which features state-of-the-art technology to allow athletes and coaches to review their technique in real-time. Two fixed high definition and two roaming cameras will stream vision to large screen as well as handheld devices to provide instant analysis of the athlete training environment.
FIFA Quality Synthetic Field
The synthetic football field at the AIS is of high technical standard and quality, having received FIFA Quality accreditation.
It offers the advantages of the playing characteristics of natural turf with the highest levels of comfort and safety for the players.
The field is suitable for any activity played on grass including football and both rugby codes. The playing field is 100m x 68m in dimension.
The surface is cooler to play on in extreme summer heat and suitable for training and playing games in all weather. Lighting is available for this field as well as access to change rooms.
The Gymnastics Centre at the AIS provides first class training facilities.
Utilised by both Gymnastics Australia and Gymnastics ACT, the venue houses Federation of International Gymnastics standard equipment including vaults, asymmetrical bars, balance beams, pommel horses, roman rings, parallel bars, horizontal bars, sprung floor and sprung floor strips.
The centre also has a range of supplementary equipment including an in-ground trampoline, large foam pit, spring boards, mini trampolines, boxes and soft landing mats.
The Gymnastics Centre is also suitable for club training, school sport and vacation care programs.
The Combat Centre is a multi-sport centre of excellence for boxing, wrestling, judo, taekwondo, karate and martial art disciplines.
The Centre has two national level boxing rings and one training boxing ring.
An international wrestling mat and 900 square metres of judo or jigsaw mats are also part of the Centre.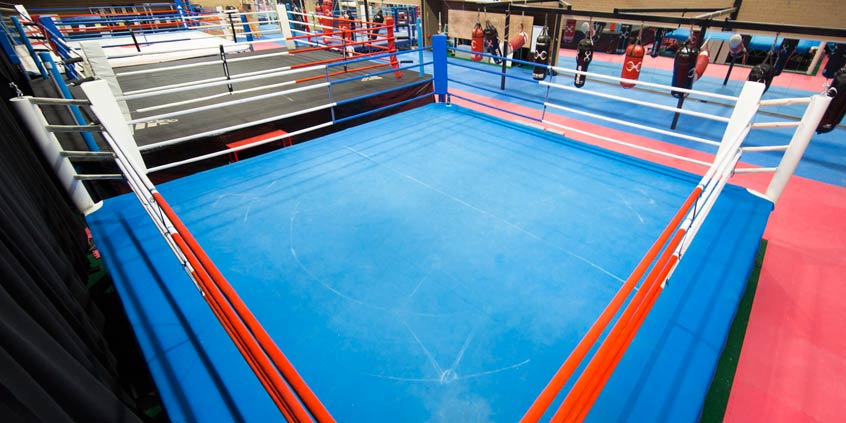 Strength and Conditioning gym
The Strength and Conditioning Gym can assist in the development of athletes in the areas of speed, agility, endurance, strength, stability, flexibility, injury prevention, management and rehabilitation.
The cardio area is equipped with the latest in electronic cardiovascular training equipment including treadmills, bikes, elliptical cross trainers and rowing machines.
Tone and strengthen your muscles on our comprehensive range of pin loaded weight machines and free weights.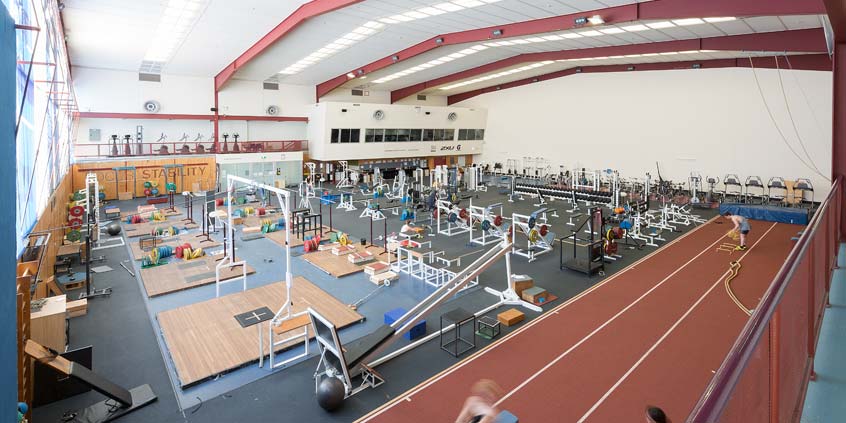 The AIS has three full sized outdoor tennis courts with a blue Plexicushion surface.
Lighting is available to all courts. The tennis courts are available to groups staying, training or just visiting for the day as well as for coaches, clubs and teams wishing to hire the courts on a regular basis.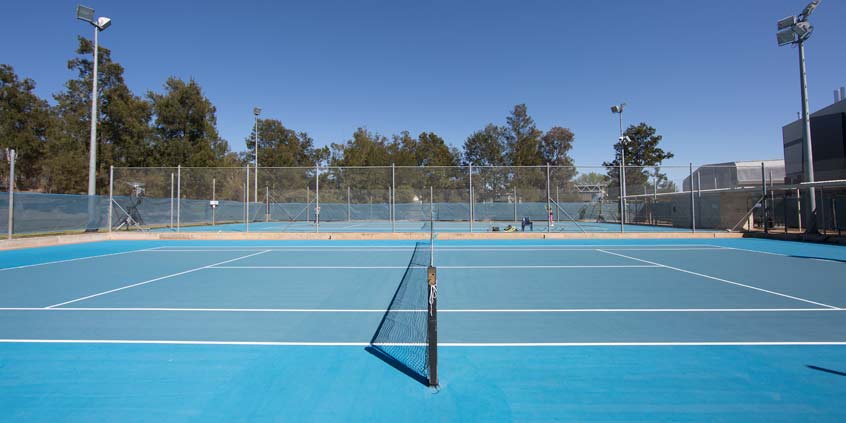 The AIS has four grass fields located within close proximity of each other.
Two fields are primarily suited for football (soccer) and both rugby codes. These playing fields are 105m x 68m each in dimension. The other two fields are suitable for football, both rugby codes and AFL. These playing fields are 95m x 68m in dimension.
Lighting is available for all fields as well as access to change rooms (with four toilets, eight showers and 23 lockers).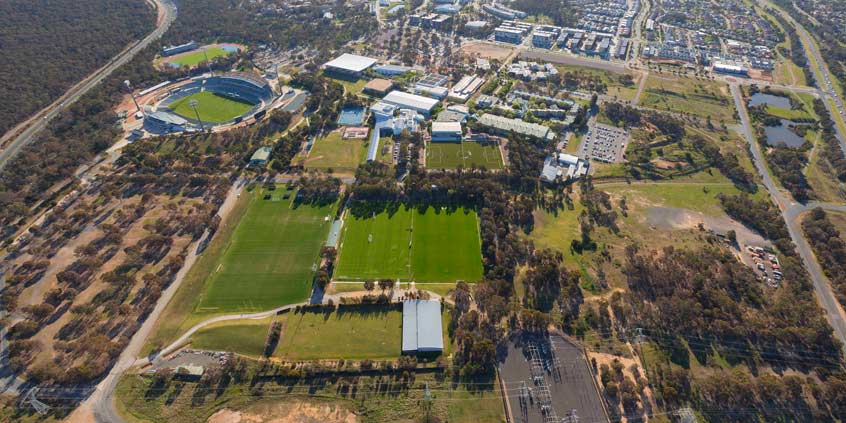 Meeting and Function Rooms
The AIS has numerous event and function venues, each with varying capacity (depending on room configuration) and dimensions.
Find out more or make a booking
Contact the Events and Sports Camps team who will be with you every step of the way to optimise your time at the AIS.
PH: (02) 6214 1036
Visit AIS
Australia's premier elite sports precinct
Return to top