This initiative provides current and former Australian elite athletes with meaningful opportunities to connect with the Indigenous community, and learn more about the differing cultures, lands, history and people.
The AIS has a new community engagement initiative titled Share a Yarn which will see elite athletes connect with Indigenous communities and become involved in meaningful opportunities to learn about Indigenous country, traditional owners of the land, their history and culture, in order to be better role models for the Australian community.
#InThisTogether
Through programs like #ShareAYarn, we are committed to our reconciliation journey for all Australians. We recognise the outstanding contribution Aboriginal & Torres Strait Islanders have made, and continue to make to sport. We denounce racism in any form #InThisTogether.
To celebrate NAIDOC week, Share a Yarn athlete ambassadors across the country attended their local daily training environments along with Indigenous community members in their region to celebrate the NAIDOC theme "Always Was, Always Will Be".
Ambassadors yarned with the community members to learn about the land in which their training environment exists, its history and significance, and build relationships with the indigenous community in their region - Keep reading.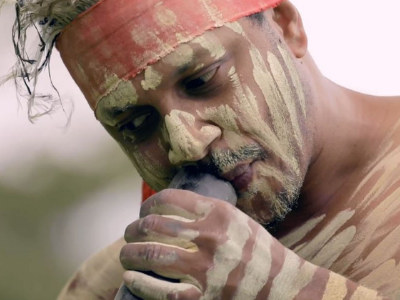 Pizzey Park, QLD
"Having the yarning circle today is simply about having truthful and honest conversations and asking questions." – Katie Kelly, Share a Yarn Ambassador and para-triathlete.
Katie, local Indigenous community members, Paddle Australia team members and custodians explore the theme for NAIDOC Week 2020 - Always Was, Always Will Be.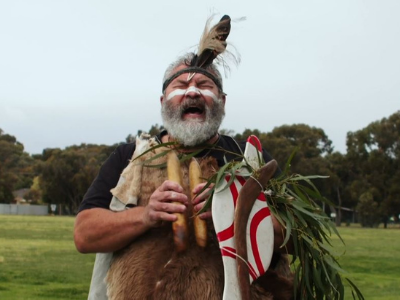 South Australian Sports Insitute, SA
"We should celebrate Aboriginal culture because it doesn't just belong to the Aboriginal people. It belongs to all of us." - Michael O'Brien, Kaurna custodian.
Michelle Wilson (Karate) and Christopher McHugh (Beach Volleyball) share a yarn with Michael on Kaurna country.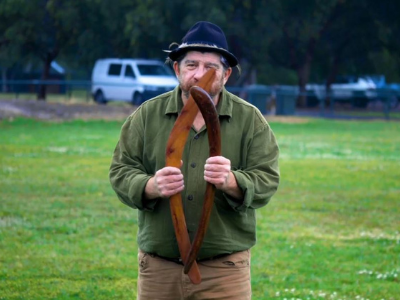 Rowing Australia, NSW
"I didn't learn much about Aboriginal culture and Indigenous people through my early childhood. I thought this would be a great opportunity to understand a bit more about who I'm representing when I wear the green and gold." – Rowena Meredith, Share a Yarn Ambassador and Australian rower.
Rowena and Emma Fessey (Rowing) share a yarn with Darug Nation custodian Uncle Lex Dadd on Darug country.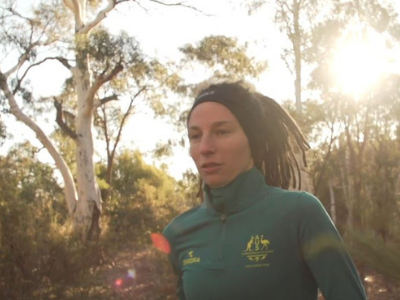 Australian Institute of Sport, ACT
"Reconciliation to me means the coming together of young, old, different cultures and different perspectives, in order to create a fairer country and a fairer experience for everybody that shares this country." – Beki Smith, Share a Yarn Ambassador and Olympic race walker.
Beki shares a yarn with Ngunnawal custodian Richie Allan on Ngunnawal country.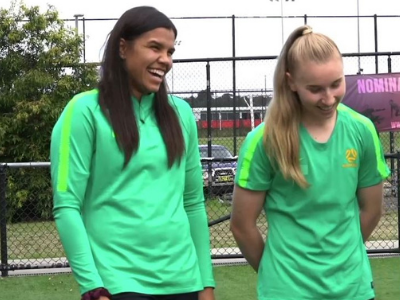 Football Federation Australia, NSW
"Learning about reconciliation can be a daunting thing. You don't want to embarrass yourself in admitting that you haven't had the education behind you… I encourage everyone to be willing to learn about other cultures" – Jada Whyman, Share a Yarn Ambassador and Matildas player.
Jada shares a yarn with Darug Nation custodian Uncle Lex Dadd on Darug country.
National Reconciliation Week #NRW2020
Earlier this year, Share a Yarn ambassadors took taking part in National Reconciliation Week #NRW2020 (27 May – 3 June 2020) activities with the Indigenous youth of Arlparra, a remote community 200km from Alice Springs NT.
With physical visits to communities on hold as a result of COVID19 restrictions, athletes utilised the Share a Yarn online video platform to ask questions of youth in Arlparra through the engagement programs offered by Wanta Aboriginal Corporation, seeking to learn about aspects of culture, land, history and peoples and how they can contribute to achieving reconciliation in Australia.
Athlete Ambassadors
The athlete ambassadors selected for Share a Yarn are a mix of both Aboriginal and Torres Strait Islander (ATSI) athletes and non-ATSI athletes and will be involved for a 12 month period, which includes community visits, remaining in contact and supporting communities through online video messaging, community event appearances and sharing their learning back to their sport.
Athletes involved in the program will:
Receive Online Training and resources to assist with topics such as culture sensitivity, communication and mentoring, maximum four hours to be completed remotely by athletes.
Travel out to a community for a minimum two days and maximum four days depending on the community, to immerse in the culture of that community, learning from the locals in the area and engaging with Indigenous youth through the programs offered by a partnered organisation.
Once leaving the community, stay in contact through an online video messaging platform that allows for ease of communication between the athletes and the community. An expectation of a minimum ten videos over 12 months; however, athletes will be supported if they choose to communicate more with the community
Attend a minimum of one community event (facilitated by the AIS) where you can share your learnings from the initiative, whether Indigenous or non-Indigenous events. The AIS will assist you in finding further events to attend if interested and will cover the costs associated with attending. Additionally, organise a minimum of one occasion with your AW&E manager within your sport to present back on learnings to other athletes and staff within your sporting community.
Promote to your sport on a minimum of one occasion the Indigenous Sporting Land Map that will be hosted on the AIS website as an ongoing resource. Additional promotion through other spheres of influence would be appreciated.
Increased knowledge of Indigenous culture, land and people

Improved role modelling behaviour and capability

Opportunity to share learnings as a role model

Exposure through AIS social channels and media opportunities

Opportunity to connect to their community for improved personal wellbeing and performance

Networking with organisations in communities and at associated events facilitated by AIS
To be confirmed around athlete availability and additional liaison with community. Program will run from January 2020 to December 2020 and will operate around the Olympics and Paralympics for those athletes attending.
Return to top