The AIS Sports Supplement Framework
Sports foods and supplements can play a small but important role in the sports nutrition plans of high performance athletes. Sporting organisations, sports science and medicine practitioners, coaches and athletes all contribute to a pragmatic and transparent approach that balances the pros and cons of supplement/sports food use by considering: is it safe? Is it effective? Is it permitted for use in sport?
The ABCD Classification system ranks sports foods and supplement ingredients into four groups according to scientific evidence and other practical considerations that determine whether a product is safe, permitted and effective in improving sports performance.
AIS Supplements Framework Committee has revised the Supplements Framework to ensure it has the most up to date information and resources for practitioners and athletes.
2021 AIS supplements and sports foods in high performance sport framework
Guiding principles for AIS Sports Supplements Framework
Is it safe?

Is it permitted in sport?

Is there evidence that it "works"?
Minimising Risk From Performance Supplements: An Athlete's Guide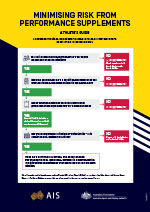 As per advice from the Sport Integrity Australia, no supplement is 100% safe to use and most supplements do not actually improve performance. It is important that all athletes are aware of the risks involved in taking supplements, therefore the Australian Institute of Sport (AIS) has put together an athlete guide to assist in their decision making. The AIS believes athletes should not take any supplements without first consulting their Sports Doctor or Accredited Sports Dietitian.
The 2018 consensus statement on supplements and the high-performance athlete by the International Olympic Committee (IOC) provides a summary of the challenges faced by the high performance athletes, coaches and support staff when considering the use of supplements.
Maughan RJ, Burke LM, Dvorak J, Larson-Meyer DE, Peeling P, Phillips SM, Rawson ES, Walsh NP, Garthe I, Geyer H, Meeusen R, van Loon LJC, Shirreffs SM, Spriet LL, Stuart M, Vernec A, Currell K, Ali VM, Budgett RG, Ljungqvist A, Mountjoy M, Pitsiladis YP, Soligard T, Erdener U, Engebretsen L.
Br J Sports Med. 2018 ;52(7):439-455. doi: 10.1136/bjsports-2018-099027
Return to top