Supplements and Sports Foods
Supplements and sports foods represent a lucrative industry that takes advantage of strong marketing to athletes and people who exercise, while also reflecting the community interest in supplements.
The use of supplements and sports foods by athletes involves a balance between the potential benefits (e.g. contribution to an evidence-based sports nutrition program) and potential risks (e.g. waste of resources, distraction, poor role modelling, anti-doping rule violations, adverse health events). Although many sports agencies still provide a blanket warning against the use of supplements in view of these concerns, there is a movement towards a more pragmatic approach. This approach requires the athlete to make a considered decision when contemplating the use of a supplement/sport food:
Is it safe?
Is it permitted in sport?
Is there evidence that it "works" (i.e. is there evidence that it will provide a meaningful benefit?)
The AIS Sports Supplement Framework 2019
The AIS Sports Supplement Framework provides the expertise and resources developed during the implementation of the AIS Sports Supplement Program (2000-2013) to allow National Sporting Organisations (NSOs), the National Institute Network and other system partners to develop their own Sports Supplement Guidelines and Programs. These resources are shared via open access to help athletes, coaches and scientists to make evidence-based decisions about their use of supplements and sports foods.
2019 AIS Sports Supplement Framework
The Supplement Framework is underpinned by the ABCD Classification system
The ABCD Classification system ranks sports foods and supplement ingredients into four groups according to scientific evidence and other practical considerations that determine whether a product is safe, permitted and effective in improving sports performance.
The current classification of supplements and sports foods was made via the consensus of the AIS Sports Supplement Framework working team, and will constantly evolve according to new knowledge plus the informed direction of our key stakeholders.
The ABCD Classification system focuses on sports foods and individual ingredients rather than specific supplement products and brands.
Multi-ingredient supplements (e.g. pre-workouts) raise specific concerns. These products contain a large list of individual ingredients and, in some cases, the doses of these ingredients are not stated on the label with the excuse that it is a "proprietary blend" over which the manufacturer has special ownership. Concerns about these products include the lack of an effective dose (e.g. inadequate amounts or poor timing of intake relative to exercise) of some active ingredients, potential for harmful interactions between ingredients, and the increased risk of inadvertent contamination due to the sourcing of ingredients from various locations.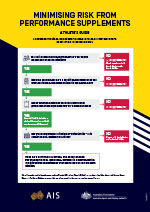 Minimising Risk From Performance Supplements: An Athlete's Guide
As per advice from the Sport Integrity Australia, no supplement is 100% safe to use and most supplements do not actually improve performance. It is important that all athletes are aware of the risks involved in taking supplements, therefore the Australian Institute of Sport (AIS) has put together an athlete guide to assist in their decision making. The AIS believes athletes should not take any supplements without first consulting their Sports Doctor or Accredited Sports Dietitian.
The 2018 consensus statement on supplements and the high-performance athlete by the International Olympic Committee (IOC) provides a summary of the challenges faced by the high performance athletes, coaches and support staff when considering the use of supplements.
Maughan RJ, Burke LM, Dvorak J, Larson-Meyer DE, Peeling P, Phillips SM, Rawson ES, Walsh NP, Garthe I, Geyer H, Meeusen R, van Loon LJC, Shirreffs SM, Spriet LL, Stuart M, Vernec A, Currell K, Ali VM, Budgett RG, Ljungqvist A, Mountjoy M, Pitsiladis YP, Soligard T, Erdener U, Engebretsen L.
Br J Sports Med. 2018 ;52(7):439-455. doi: 10.1136/bjsports-2018-099027
Return to top