The Australian Institute of Sport (AIS) has developed resources to assist athletes and their support team to assist the athlete to make an informed decision about the use of supplements and sports foods, then act on it appropriately. These fact sheets and infographics were produced to provide a visual overview of the AIS Supplement Framework and considerations relating to supplement use within the context of the Framework.
Relevance of supplement use within broader health and performance nutrition strategies
AIS Supplement Framework ABCD Classification System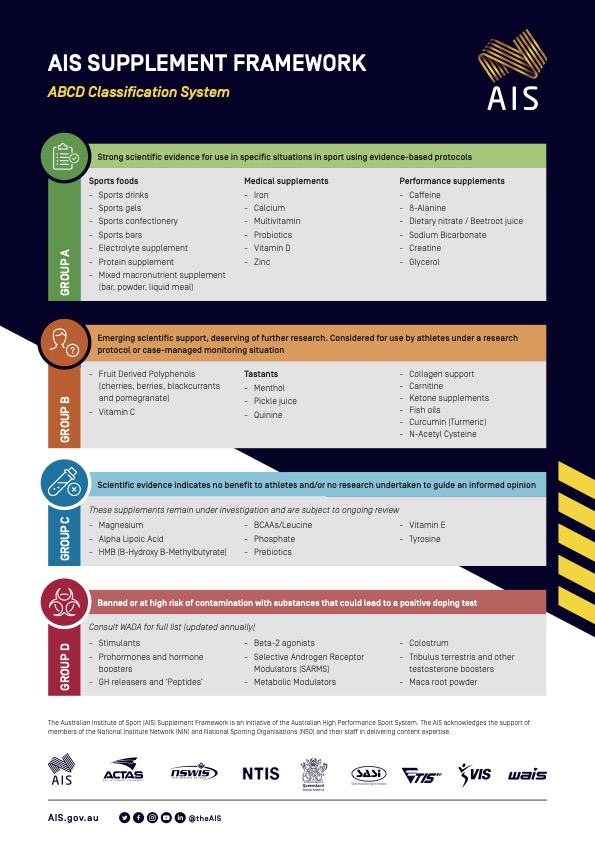 The ABCD classification system is a key component of the AIS Sports Supplement Framework and is used to rank sports foods and supplement ingredients according to the scientific evidence that they can safely and practically contribute to an athlete's performance goals. This factsheet outlines each of the ABCD categories and the sports foods and supplement ingredients that fall within them.
AIS Supplement Framework Overall Application to Performance Nutrition Goals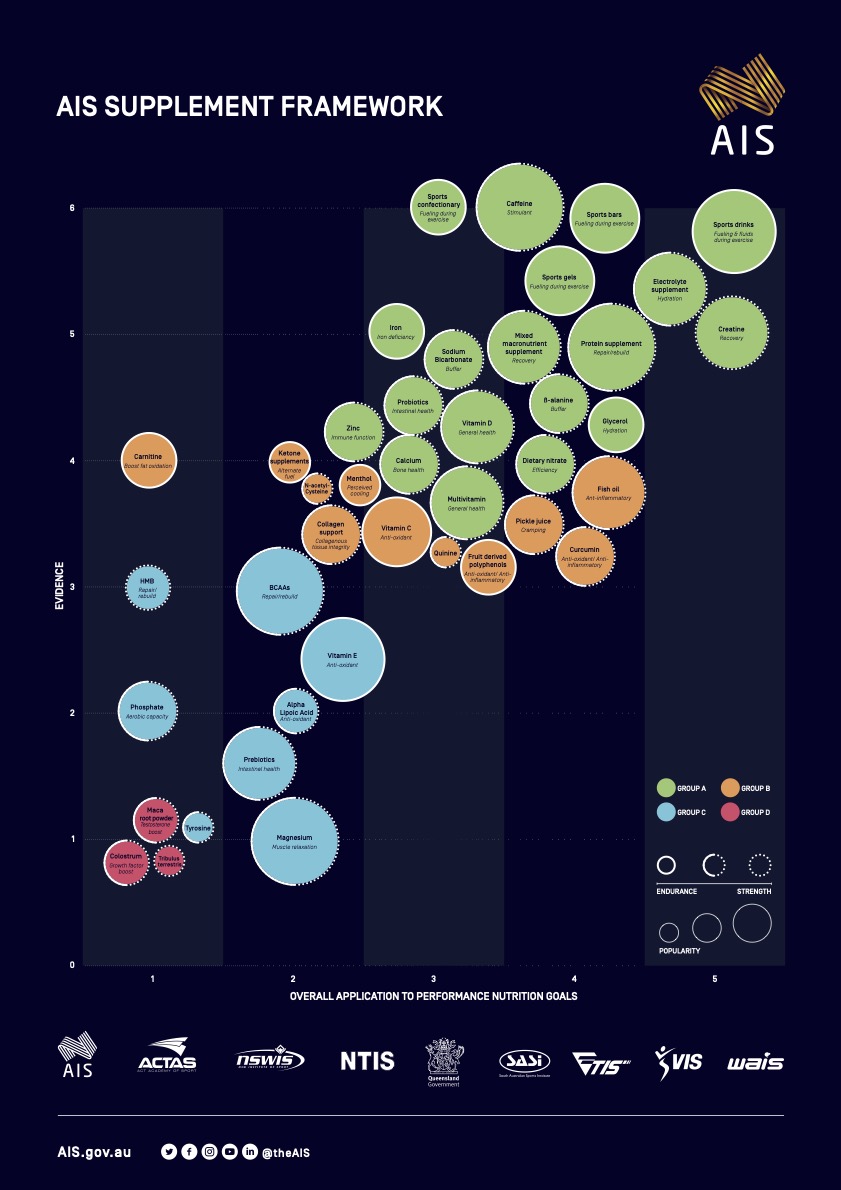 This infographic ranks ABCD classified sports foods and supplement ingredients and their overall application to performance nutrition goals.
Athlete Decision Making Tree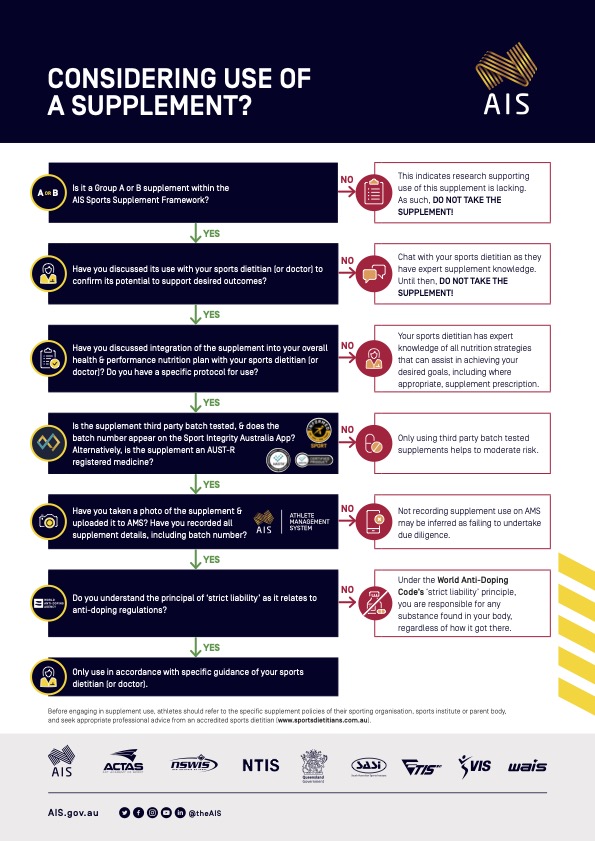 As per advice from the Sport Integrity Australia, no supplement is 100% safe to use and most supplements do not actually improve performance. It is important that all athletes are aware of the risks involved in taking supplements, therefore the Australian Institute of Sport (AIS) has put together an athlete guide to assist in their decision making. The AIS believes athletes should not take any supplements without first consulting their Sports Doctor or Accredited Sports Dietitian.
Protein fortified food: Athlete poster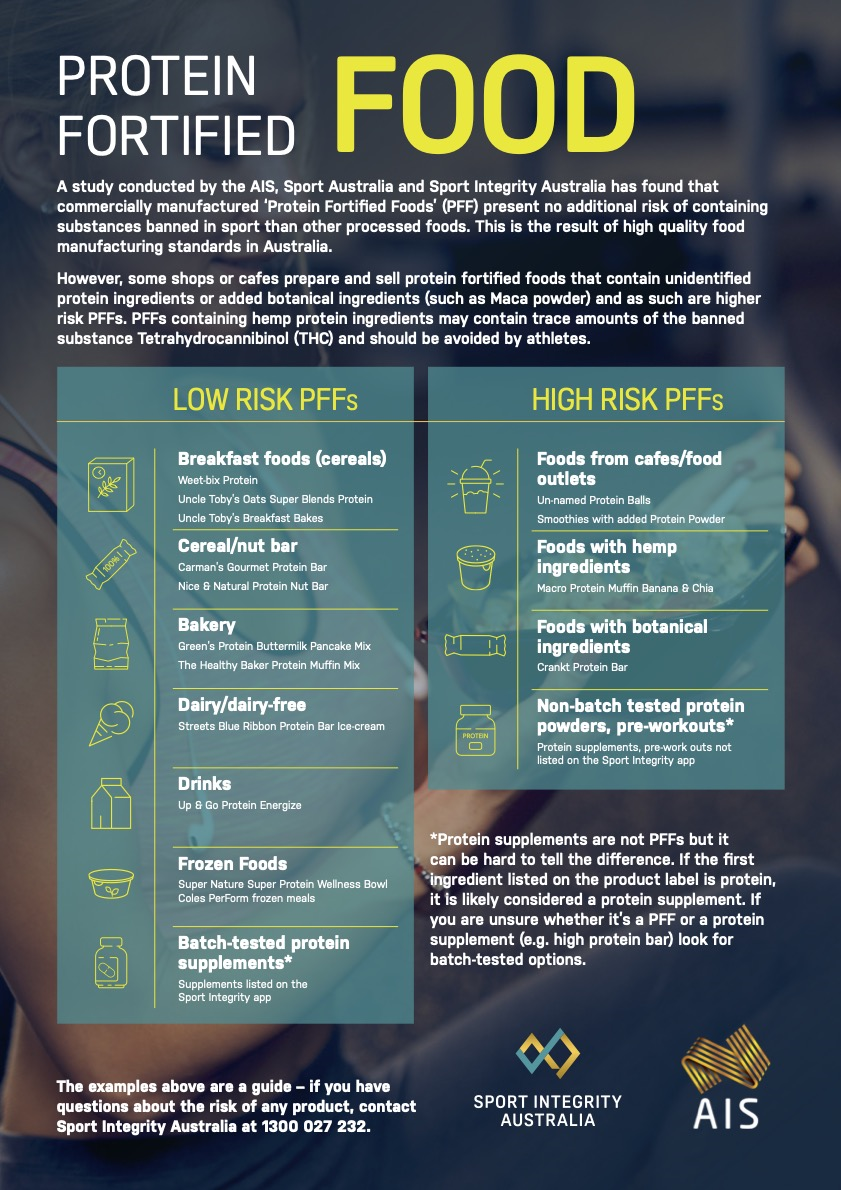 A Sport Integrity Australia study, supported by the AIS, has found that commercially manufactured protein fortified foods (PFFs) present no additional risk of containing substances banned in sport than other processed foods. This is the result of high quality food manufacturing standards in Australia. This poster summarises these key points for athletes, and highlights what foods or settings may contain higher risk PFFs.
Return to top