Imagine wandering the hallways of the AIS Athletes Village, where some of Australia's greatest athletes — such as Lauren Jackson, Patty Mills and Michael Klim — lived and dreamed while they chased Olympic glory.
The AIS Residences caters for groups of all sizes, with capacity for up to 200 guests. Guests usually stay in single-room accommodation, with communal living room and bathroom facilities. Self-contained units are also available on request
SPECIAL NOTICE: Please note we are currently only providing accommodation for high performance athletes. This decision has been made with consideration to athlete preparation for the Birmingham and Paris Games, the current COVID situation and the rollout of the vaccination program. While we can take tentative bookings for sports camps for 2022, we commit to providing you at least 60 days notice of any cancellation.
Groups
Accommodation at the AIS offers sporting teams and community groups the opportunity to stay at and experience Australia's premier elite sports precinct, in an environment tailored specifically to supporting athletes and coaches to improve and achieve their best.
The AIS Campus has ample free off-street parking for vehicles and buses and is monitored by security guards and CCTV 24 hours a day, seven days a week.
The AIS Athletes Village and AIS Residence of Champions are security controlled using swipe cards. Group leaders are provided with swipe access cards for their group's accommodation areas.
For more information on hosting your sports camp at the AIS, including the services and facilities available, please visit our sports camps page
Find out more or make a booking
Contact the Events and Sports Camps team who will be with you every step of the way to optimise your time at the AIS.
PH: (02) 6214 1036
Please refer to the Conditions of Hire of AIS Facilities.
Residence Reception
The main reception for check-in and check-out, guest enquiries and assistance is in the AIS Athletes Village
Monday to Friday: 7:30am - 10pm
Weekends and public holidays: 8am - 10pm
Note: extended hours are available if organised in advance for late arriving groups.
AIS CAMPUS MAP
(Bld 16, Map reference D5)
AIS Athletes Village
Opened in 1985, the Athletes Village is the ideal accommodation for groups, sporting teams, schools and individuals to stay on site during their stay in Canberra.
The Athletes Village consists mainly of four-storey split-level blocks, each with 12 single rooms and a separate flat.
AIS Residence of Champions
This state-of-the-art facility includes the AIS Dining Hall, where all residents can dine alongside high performance athletes.
The three-storey residence has a range of self-contained pods with four to six bedrooms. Each pod includes a shared kitchenette, bathroom, laundry facilities and a common lounge space. All levels and pods are wheelchair accessible and compliant.
The AIS Residence of Champions is also designed to be energy efficient. It has a five-star energy rating and boasts a solar efficient design, double-glazed windows, hydro in-slab heating and cooling, and rainwater collection and storage tanks for toilets and irrigation.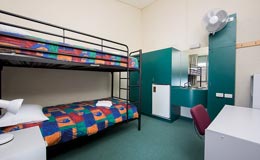 Twin and Bunk bed rooms
(240 beds)
Two king single beds in twin or bunk-style per room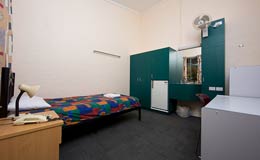 Single beds, shared bathroom
(200 beds)
One king single bed per room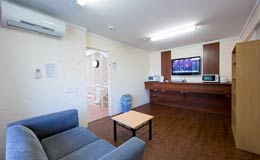 Common amenities and facilities
(bunk and single bedrooms)
Configured in blocks of 12 rooms
Four shared bathrooms in each block
Each room has a sink, wardrobe, fan, oil heater, small fridge
Internet connection
Four-bed flats
(80 beds)
Two bedroom areas containing two king single beds each
Lounge with table and chairs, television, air-conditioning
Kitchen with cooking facilities and fridge
Self-service tea and coffee-making facilities
Bathroom with laundry facilities
Small storeroom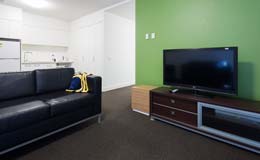 Common facilities
(flats and pod lounges, block common rooms)
Television, lounges, iron and board
Air-conditioning (Athletes Village)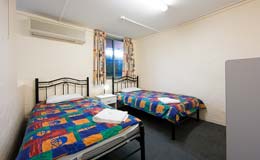 Other configurations
There are a small number of rooms with two and three king single beds, one or two bed flats
Services
There are a variety of services and facilities available to guests staying at the AIS Residences.

Weekly bedroom, flat and pod servicing, including full linen change.

Daily bathroom servicing in single and bunk blocks.

Linen provided (includes two bedsheets, pillow, pillowcase, doona, blanket and towel).

Block common rooms, flat and pod lounges have a television (Foxtel sports channels), reverse cycle air-conditioning, lounge and fold up ironing board and iron.

Central guest laundry in addition to laundry facilities provided in flats and pods.
Internet (Wi-Fi) in public areas and wider AIS campus, television aerial connection in most bedrooms and common rooms.

Electronic, secure access to accommodation and rooms. Group leaders are also provided with security access cards for their group's accommodation areas.
Accommodation related services
Security
24 hour security staff and CCTV
Additional room services
Bed making, additional rooms servicing available at additional costs
Parking
Ample and free off-street parking for vehicles and buses monitored by security guards
Transport
Public and direct taxi service telephone at the AIS Athletes Village reception
Additional venues for use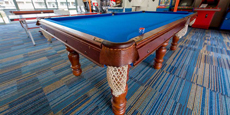 Recreation Hut
This centrally located space is available in each complex and includes table tennis and pool tables. Arcade-style games are also available in the AIS Athletes Village Recreation Hut.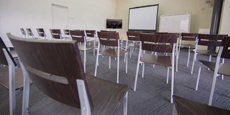 Barcelona Room
A large space with an operable wall flexible to create two spaces, which are suitable for activity nights and group gatherings. It is located in the AIS Athletes Village and can seat up to 150 persons.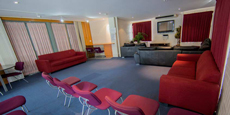 Sweeteninis
A television lounge within the AIS Athletes Village that can double as a small meeting or briefing room (15-20 persons).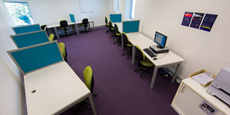 Tutorial Rooms
Located in the AIS Residence of Champions, this can be organised for long and short-term high performance sports camps.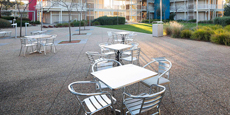 BBQ Facility
Located in the AIS Residence of Champions central courtyard.
AIS Dining Hall
In the AIS Dining Hall you will enjoy a variety of healthy, nutritious meals alongside high performance athletes (included in all on-site stays).
All menus are designed by our world-class AIS nutritionists to support the dietary guidelines for optimal sports performance, enabling each high performance athlete to meet their specific nutritional goals for training and competition. This high performance athlete dining hall experience is extended to our visiting guests.
Meals vary each day with a range of hot and cold buffet selections, including a variety of beverages.
Special dietary requirements
Due to the extensive variety of food provided in the daily self-service buffet menu, the majority of food preferences, food allergies and intolerances are generally catered for. Nutritional information cards are provided for each dish on the menu. These cards provide a nutritional analysis, list of ingredients and detail potential allergens, gluten or dairy content.
If our current menu cannot accommodate a guest's special dietary requirements, with prior arrangement, the Dining Hall can also accept guests individual 'special' food (pre-packaged meals, snacks) brought from home for reheating.
Dining Hall meal times:
Breakfast: 6:30am - 10am (Sundays from 6:30am - 11am)
Lunch: 12pm - 1:45pm
Dinner: 5:45pm - 8:45pm
Packed lunches are available for groups that plan to be off site during the day
HACCP certification
Trippas White Group (TWG) has received a HACCP certification for its food safety management at the AIS, adhering to stringent compliance regulations and demonstrating a commitment to preparing high quality food and proactively managing food safety.
The HACCP certification is an internationally recognised food safety tool that provides credibility and confidence in product quality. The program helps to assure regulating authorities that every reasonable precaution has been taken to ensure employee and customer safety is not compromised. The result is a reduced risk of unsafe products through the identification and management of food safety at critical control points.
For more information on the HACCP certification, visit www.haccp.com.au
Nutrition
AIS Sports Nutrition delivers a world-class sports nutrition service to AIS sports and national teams (including through the AIS Dining Hall at the Canberra Campus). They have created a wide range of resources to assist elite athletes, recreational athletes and the general public stay up to date with the latest strategies in sports nutrition, all of which can be found on the AIS Sports Nutrition website.
Return to top