Ingredients
1-2 tsp minced garlic
1/4 cup balsamic vinegar
1 tbs olive oil
1 tsp blueberry jam
500g kangaroo fillets
500g pumpkin, deseeded, cut into 1cm-thick slices
200g green beans, cut into 5cm lengths
200g broccolini, woody ends trimmed
200g baby spinach
1/4 cup fresh flat-leaf parsley leaves
3/4 cup fresh blueberries
4 large or 6 small bread rolls
dressing:
1 tbs olive oil
2 tbs balsamic vinegar
1 tsp minced chilli
freshly ground black pepper
Method
Combine garlic, vinegar, oil, jam and kangaroo in a bowl.
Set aside for 15-30 minutes to marinate.
To make dressing, combine ingredients; set aside.
Preheat oven to 200°C (400°F).
Place pumpkin on a baking tray lined with non-stick paper and bake for 15 minutes or until tender.
Cook kangaroo in a non-stick frypan over medium-high heat for 5-8 minutes each side or until browned and tender.
Remove from heat and allow to rest for 5 minutes.
Blanch beans and broccolini in boiling water for 1 minute.
Slice kangaroo into 1cm-thick strips.
Divide beans, broccolini, spinach and parsley among plates.
Top with pumpkin and kangaroo.
Drizzle with dressing, sprinkle with blueberries and serve with bread rolls.
Athletes with high fuel needs (e.g. endurance athletes, athletes who are growing, athletes aiming to increase muscle mass) require extra carbohydrate-based ingredients and a larger serve size
Athletes with low fuel needs (e.g. skill-based athletes, athletes trying to reduce body fat) need to opt for a smaller serve size
Nutrition
ANALYSIS

High Fuel




4

Low Fuel




6

Energy (kJ)

2245

1505

Protein (g)

42

28

Fat (g)

15

10

Carbohydrate (g)

52

35

Iron, Vitamin C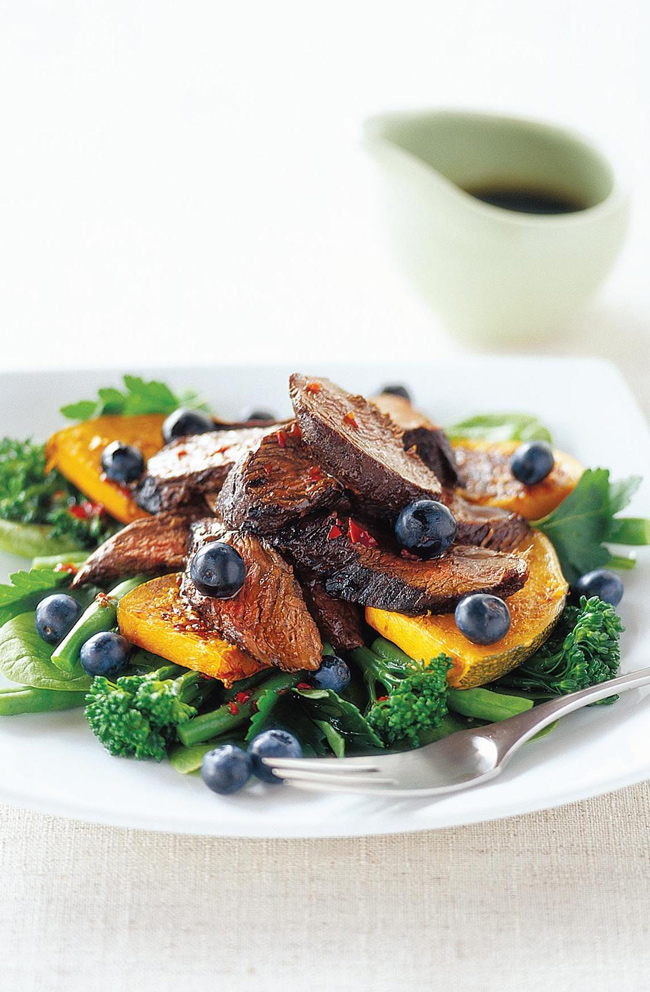 Australian Institute of Sport - From the "Survival Around the World" cookbook
05 Nov 2018
no, Soups and Salads, survival-around-the-world
Soups and Salads
Return to top