Vegetarian roll-up
Preparation time

10 minutes

Cooking time

NIL

Serves

4
Ingredients
4 wholemeal Lebanese bread rounds
400 g can chickpeas, rinsed and drained
1 teaspoon ground cumin
½ teaspoon ground paprika
1 tablespoon lemon juice
2 tablespoons PETERS FARM No Fat Natural Yoghurt
1 cup shredded lettuce
200 g tabouli (purchase from deli or see below)
1 yellow capsicum, thinly sliced
2 tomatoes, cut into wedges
1 red onion, thinly sliced
2 tablespoons MAGGI Chilli & Garlic Sauce
Tabouli
2 cups boiling water
1 cup burghul
2 spring onions, chopped
2 medium tomatoes, diced
½ cup chopped mint
2 cups chopped parsley
¼ cup lemon juice (juice of 1 lemon)
ground black pepper, to taste
Method
Lay out bread on a flat surface.
Place chickpeas in a bowl and coarsely mash.
Add cumin, paprika, lemon juice and yoghurt and mix to combine.
Divide chickpea mixture among bread rounds and spread to cover the centre.
Top with lettuce, tabouli, yellow capsicum, tomato and red onion and drizzle with chilli sauce.
Roll up to enclose.
Cut the role in half to serve, with salad.
Tabouli
Soak burghul in boiling water for 15 minutes.
Squeeze out excess water.
Combine burghul with all other ingredients.
Mix well.
Nutrition
| ANALYSIS per serve | 4 |
| --- | --- |
| Energy kJ (Cal) | 1865 (445) |
| Carbohydrate (g) | 80 |
| Protein (g) | 19 |
| Fat (g) | 5 |
| Fibre, Iron, Vitamin C, Zinc | |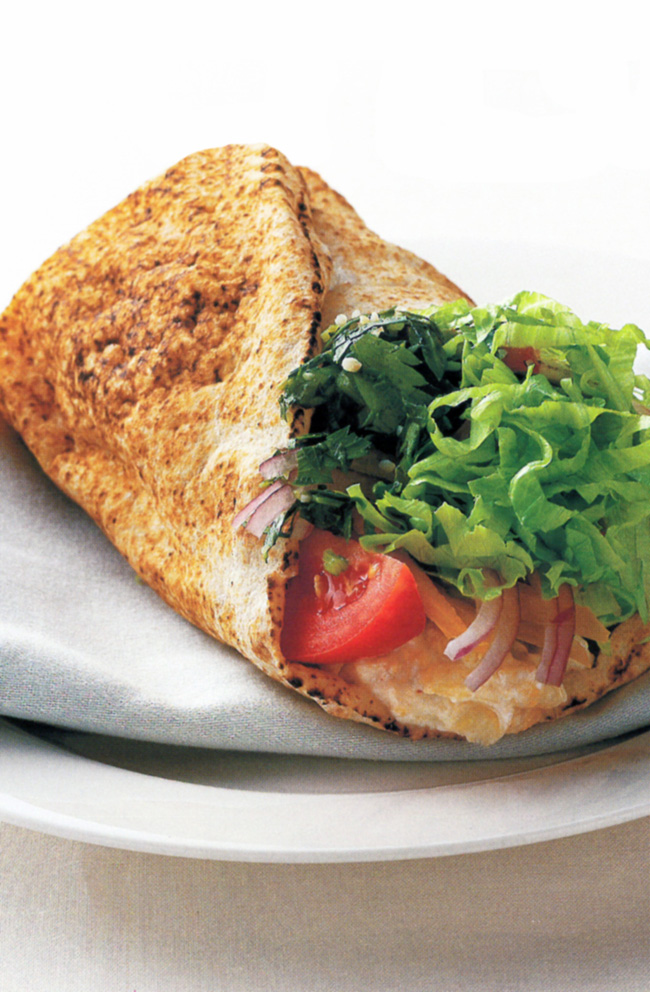 Australian Institute of Sport - From the "Survival from the Fittest" cookbook
05 Nov 2018
, Sandwiches and Snacks, survival-from-the-fittest
Sandwiches and Snacks
Return to top