Vegetarian quiche with vegetarian sausage
Ingredients
Olive or canola oil spray
1 sheet frozen reduced-fat puff pastry, thawed
3 eggs
1 cup CARNATION Light & Creamy Evaporated Milk
salt and freshly ground black pepper, to taste
1/2 cup broccoli florets
1/2 red capsicum, deseeded and diced
1 tomato, diced
1 onion, diced
4 button mushrooms, sliced
2 vegetarian sausages, sliced (optional)
1/4 cup grated low-fat cheese
4 large or 6 small bread rolls
tossed salad, to serve (optional)
Method
Preheat oven to 180°C (350°F).
Lightly spray a 20cm pie dish with oil and line with pastry (stretch pastry up edge of dish).
Mix eggs, milk, salt and pepper in a bowl, then add broccoli, capsicum, tomato and onion.
Pour mixture into pie dish and arrange mushrooms and vegetarian sausage, if desired, over the top.
Sprinkle with cheese and bake for 30 minutes or until egg mixture has set.
Serve with bread rolls and a tossed salad.
Athletes with high fuel needs (e.g. endurance athletes, athletes who are growing, athletes aiming to increase muscle mass) require extra carbohydrate-based ingredients and a larger serve size
Athletes with low fuel needs (e.g. skill-based athletes, athletes trying to reduce body fat) need to opt for a smaller serve size
Nutrition
ANALYSIS

High Fuel




4

Low Fuel




6

Energy (kJ)

2456

1645

Protein (g)

30

21

Fat (g)

21

14

Carbohydrate (g)

66

44

Calcium, Vitamin C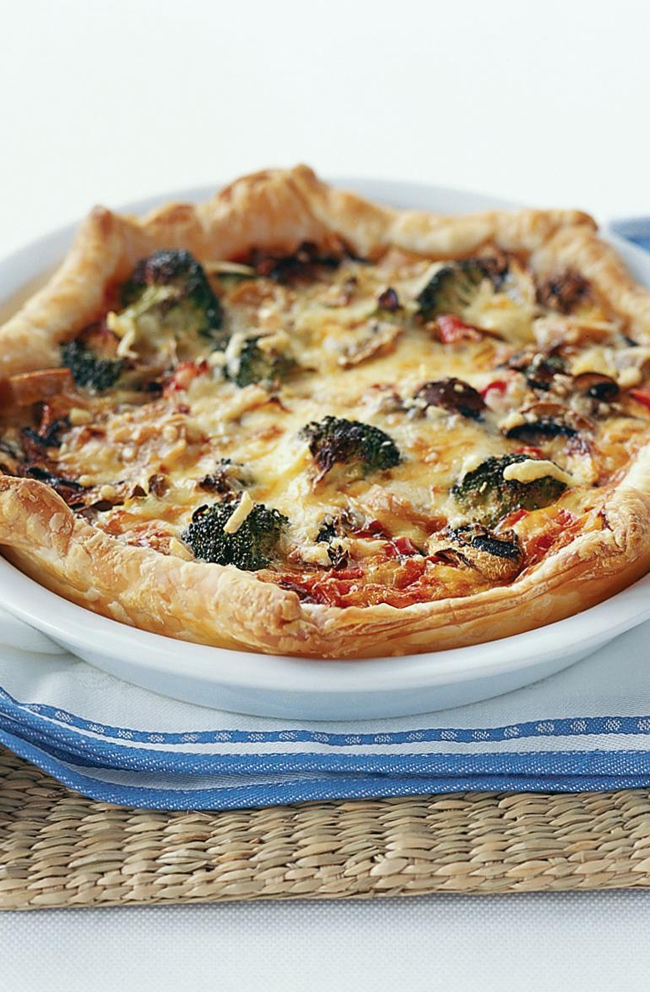 Australian Institute of Sport - From the "Survival Around the World" cookbook
05 Nov 2018
, Bakes and Grills, survival-around-the-world
Bakes and Grills
Return to top