Vegetarian lasagne
Preparation time

15 minutes

Cooking time

50 minutes + 5 minutes standing time

Serves

6
Ingredients
oil for cooking
1 onion, finely chopped
2 garlic cloves, crushed
2 zucchini, grated
400g sweet potato, grated
150g button mushrooms, chopped, sliced
800g can chopped tomatoes
¼ cup tomato paste
salt and freshly ground black pepper or mixed herbs, to taste
375g fresh lasagne sheets (approx 8 sheets)
3 cups low-fat ricotta cheese
½ cup grated parmesan cheese
Method
Preheat the oven to 180°C.
Heat oil in a large non-stick saucepan over medium heat. Add onion and cook for 3 minutes or until tender.
Add garlic, zucchini, sweet potato, mushrooms, tomatoes and tomato paste. Bring to the boil, then reduce heat and simmer for 10 minutes. Season with salt and pepper or mixed herbs.
Lightly oil a 12-cup baking dish. Cut the lasagne sheets to size and arrange a layer over the base of the dish. Top with a thin layer of sauce, then continue layering pasta and sauce, making one of the layers with the ricotta.
Finish with a thin layer of sauce on top. Top with cheese and bake for 35 minutes. Stand for 5 minutes before serving.
Nutrition
| ANALYSIS per serve | 6 |
| --- | --- |
| Energy kJ (Cal) | 1688 |
| Carbohydrate (g) | 40 |
| Protein (g) | 25 |
| Fat (g) | 15 |
| Saturated fat (g) | 9 |
| Fibre (g) | 6 |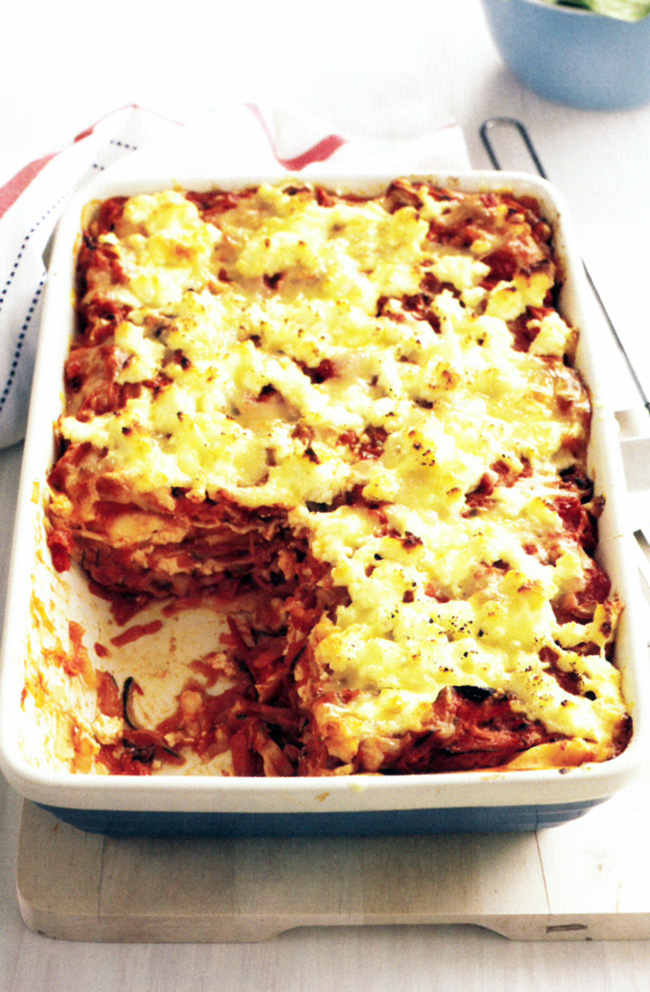 Australian Institute of Sport - From the "Survival for the Active Family" cookbook
05 Nov 2018
no, Bakes and Grills,Pasta, survival-for-the-active-family
Bakes and Grills,Pasta
Return to top