Vegetable lasagne with cheese sauce
Preparation time

25 minutes

Cooking time

65 minutes

Serves

4-6

Freezable

yes
Ingredients
Lasagne filling:
1 cup Vitaburger (textured vegetable protein)
2 zucchini, diced
1 large carrot, diced
1 onion, diced
1 small green capsicum and 1 small red capsicum, diced
8 mushrooms, diced
575 g jar tomato-based pasta sauce
375 ml MAGGI All Natural Vegetable Liquid Stock
5 tablespoons tomato paste
1 tablespoon tomato sauce
1 tablespoon soy sauce
1 teaspoon minced garlic
1-2 teaspoons dried mixed herbs
black pepper, to taste
Cheese sauce:
375 g low-fat ricotta cheese
375 ml low-fat milk
2 tablespoons grated Parmesan cheese, plus 2 extra tablespoons
1 tablespoon cornflour
olive or canola oil spray
375 g packet fresh lasagne sheets
Method
Preheat oven to 180°C (350°F).
In a large bowl, combine all filling ingredients, then set aside.
To make cheese sauce, combine ricotta, milk (set aside 1 tablespoon) and 2 tablespoons parmesan in a microwave-safe bowl.
Heat on HIGH for 4 minutes.
In a small bowl, stir reserved milk and cornflour until smooth.
Stir cornflour into cheese mixture and heat for 30 seconds on HIGH.
Stir well and set aside. Spray a large lasagne dish with oil.
Start layers: first the pasta (trimmed to fit), then the filling.
Repeat layers until all sheets are used, finishing with a pasta layer.
Pour cheese sauce over the top and sprinkle with the extra cheese.
Bake for 1 hour until top is golden brown.
Serve with salad and crusty bread.
Garnish with chervil, if desired.
Nutrition
| ANALYSIS per serve | 4 | 6 |
| --- | --- | --- |
| Energy kJ (Cal) | 2983 (713) | 1989 (475) |
| Carbohydrate (g) | 87 | 58 |
| Protein (g) | 54 | 36 |
| Fat (g) | 16 | 11 |
| Calcium, Fibre, Iron, Vitamin C, Zinc | | |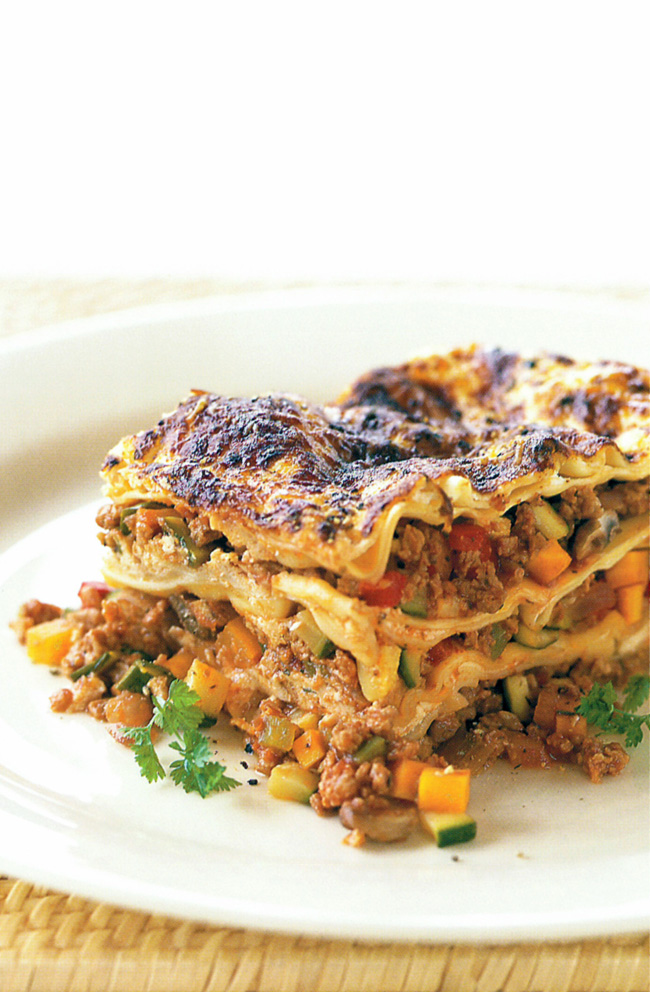 Australian Institute of Sport - From the "Survival from the Fittest" cookbook
05 Nov 2018
yes, Pasta,Bakes and Grills, survival-from-the-fittest
Pasta,Bakes and Grills
Return to top