Vegetable lasagne
Preparation time

25 minutes

Cooking time

30 minutes

Serves

4-6

Freezable

yes
Ingredients
1 onion, finely chopped
2 teaspoons minced garlic
2 zucchini (courgette), grated
400 g sweet potato (kumera), grated
150 g button mushrooms, chopped
825 g can chopped tomatoes
3 tablespoons tomato paste
2 teaspoons sugar
salt and freshly ground black pepper or mixed herbs, to taste
spray canola or olive oil
375 g fresh lasagne sheets
500 g low-fat ricotta cheese
1/2 cup grated Parmesan cheese
Method
Preheat the oven to moderate (180°C or 350°F).
Spray a large pan with oil and heat.
Add the onion and cook over medium heat for 3 minutes or until soft.
Add the garlic and cook for 1 minute more.
Add the zucchini (courgette), sweet potato (kumera), mushrooms, tomatoes and tomato paste.
Bring to the boil, then reduce heat and simmer for 5 minutes.
Stir in the sugar, and season to taste.
Spray the base of a large lasagne dish lightly with oil.
Cut the lasagne sheets to size and arrange a layer of sheets over the base of the dish.
Top with a thin layer of sauce, then continue layering pasta and sauce, making one of the layers with the low-fat ricotta.
Finish with a thin layer of sauce on top, sprinkle with parmesan and bake for 30 minutes.
Stand for 5 minutes before cutting into squares to serve.
HINT: Different vegetables may be used in this recipe. Just chop, or finely grate where appropriate, to reduce cooking time
Nutrition
| ANALYSIS per serve | 4 | 6 |
| --- | --- | --- |
| Energy kJ (Cal) | 2643 (630) | 1762 (421) |
| Carbohydrate (g) | 79 | 53 |
| Protein (g) | 35 | 23 |
| Fat (g) | 19 | 13 |
| Calcium, Vitamin C | | |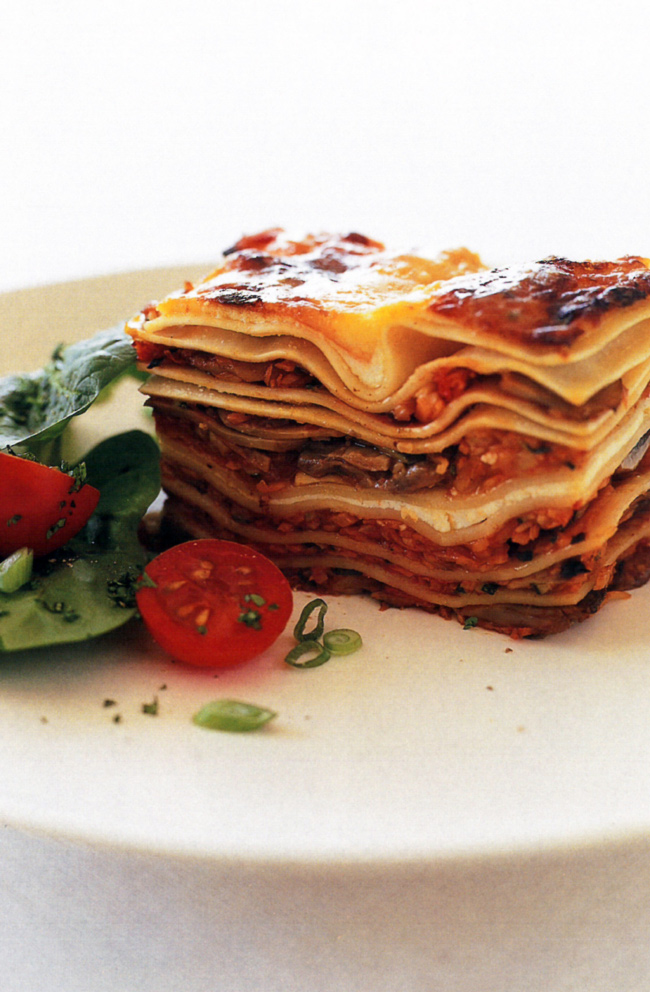 Australian Institute of Sport - From the "Survival for the Fittest" cookbook
05 Nov 2018
HINT: Different vegetables may be used in this recipe. Just chop, or finely grate where appropriate, to reduce cooking time
yes, Pasta,Bakes and Grills, survival-for-the-fittest
Pasta,Bakes and Grills
Return to top