Tuna macaroni cheese
Preparation time

15 minutes

Cooking time

10 minutes

Serves

4-6
Ingredients
400 g macaroni
spray canola or olive oil
1 small onion, finely chopped
1 stalk celery, finely sliced
440 g can corn kernels, drained
2 tablespoons cornflour
375 ml can CARNATION Light and Creamy Evaporated Milk
125 ml (½ cup) MAGGI Chicken Stock
½ cup grated reduced-fat tasty cheese
440 g can tuna in brine, drained and flaked
Method
Start cooking pasta in a large pan of boiling water.
Meanwhile, spray a large pan with oil and heat.
Add the onion and celery and cook over medium heat for 3 minutes or until soft.
Stir in the corn kernels.
Put the cornflour into a small bowl and gradually add 80 ml (1/3 cup) milk, stirring until smooth.
Add the remaining milk and the stock to the pan then gradually add the cornflour mixture, stirring constantly.
Keep stirring until the sauce boils and thickens.
Remove from heat and stir in the cheese until melted.
When the pasta is al dente, drain and add with the tuna to the pan.
Stir to combine, and serve immediately.
HINT: You can also garnish this dish with a sprinkle of parsley and lemon rind
Nutrition
| ANALYSIS per serve | 4 | 6 |
| --- | --- | --- |
| Energy kJ (Cal) | 3085 (736) | 2055 (496) |
| Carbohydrate (g) | 104 | 70 |
| Protein (g) | 54 | 36 |
| Fat (g) | 11 | 7 |
| Calcium, Iron, Zinc | | |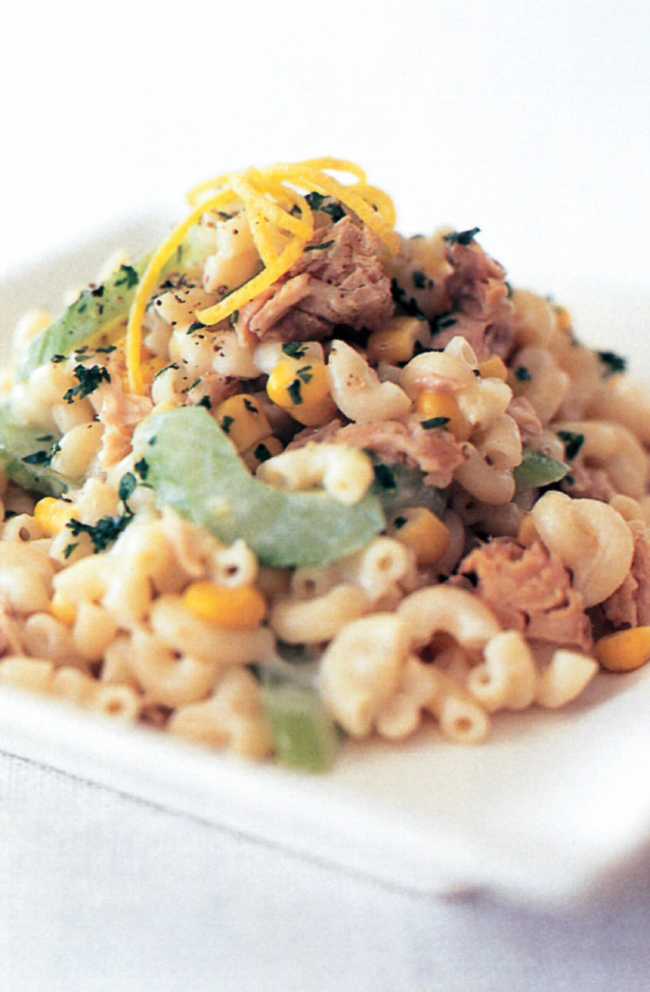 Australian Institute of Sport - From the "Survival for the Fittest" cookbook
05 Nov 2018
HINT: You can also garnish this dish with a sprinkle of parsley and lemon rind
, Pasta, survival-for-the-fittest
Pasta
Return to top