Tuna, potato & herb risoni
Preparation time

15 minutes

Cooking time

20 minutes

Serves

4-6

Freezable

yes
Ingredients
500 g risoni
2 potatoes (300 g), peeled and cut into 2 cm cubes
250 g sweet potato, peeled and cut into 2 cm cubes
olive or canola oil spray
1 onion, finely chopped
300 g jar tomato and basil pasta sauce
1 tablespoon balsamic vinegar
1 teaspoon sugar
100 g baby spinach leaves
400 g can chunk-style tuna in brine, drained
freshly ground black pepper
2 tablespoons shaved Parmesan cheese
Method
Cook the risoni, potato and sweet potato in a large saucepan of boiling water for 10-12 minutes or until tender.
Meanwhile, spray a nonstick frying pan with oil and heat.
Add onion and cook over medium heat for 2-3 minutes or until soft.
Add pasta sauce, vinegar and sugar.
Bring to boil, reduce heat and simmer for 10 minutes or until thickened slightly.
Drain risoni and vegetables and return to the saucepan.
Add spinach, tuna and pasta sauce mixture, and cook over low heat until heated through.
Season with ground black pepper and serve topped with Parmesan.
Garnish with coriander leaves, if desired.
HINT: Risoni is small rice-shaped pasta, available in the dried pasta section of supermarkets
Nutrition
| ANALYSIS per serve | 4 | 6 |
| --- | --- | --- |
| Energy kJ (Cal) | 2873 (686) | 1915 (458) |
| Carbohydrate (g) | 114 | 76 |
| Protein (g) | 42 | 28 |
| Fat (g) | 6 | 4 |
| Iron, Vitamin C, Zinc | | |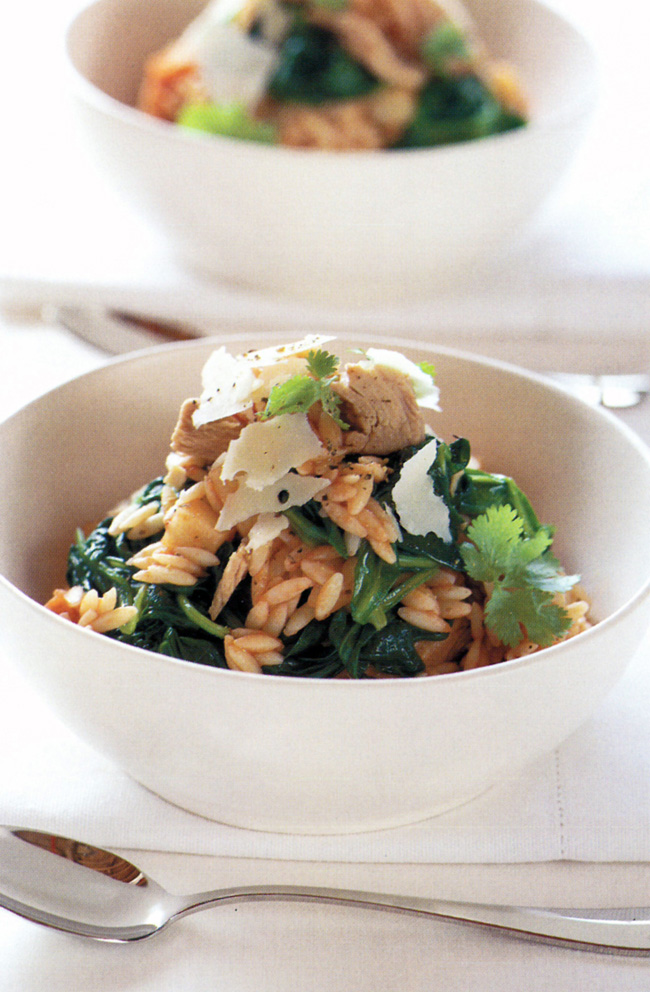 Australian Institute of Sport - From the "Survival from the Fittest" cookbook
05 Nov 2018
HINT: Risoni is small rice-shaped pasta, available in the dried pasta section of supermarkets
yes, Pasta, survival-from-the-fittest
Pasta
Return to top