Chicken & pumpkin risotto
Preparation time

20 minutes

Cooking time

40 minutes + 5 minutes standing time

Serves

6
Ingredients
oil for cooking
1 onion, thinly sliced
6 stalks celery, diced
1 red capsicum, diced
500g chicken breast fillet, cut into thin slices
1½ cups arborio rice
500g butternut pumpkin, diced into 2cm cubes
4 cups chicken stock, hot
375 ml can CARNATION Light and Creamy Coconut Flavoured Evaporated Milk
parsley, chopped, to serve
Method
Heat oil in a large non-stick saucepan over medium heat. Add onion, celery and capsicum and cook for 5 minutes or until tender and lightly golden. Add chicken and cook for 5 minutes or until cooked through.
Add rice and pumpkin and stir until combined.
Add stock gradually, stirring until all the liquid has been absorbed. Finally add the CARNATION Light and Creamy Coconut Flavoured Evaporated Milk.
Remove from heat and stand for 5 minutes. Divide between serving bowls and sprinkle with parsley.
Nutrition
| ANALYSIS per serve | 6 |
| --- | --- |
| Energy kJ (Cal) | 1810 |
| Carbohydrate (g) | 56 |
| Protein (g) | 33 |
| Fat (g) | 8 |
| Saturated fat (g) | 3 |
| Fibre (g) | 3 |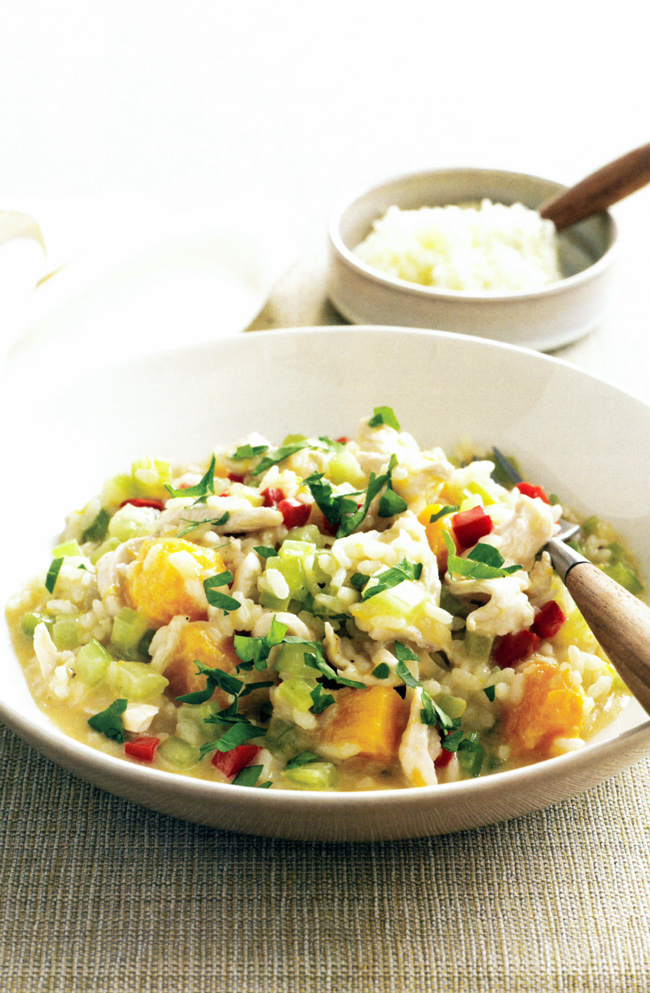 Australian Institute of Sport - From the "Survival for the Active Family" cookbook
13 Mar 2020
, Rice, survival-for-the-active-family
Rice
Return to top