Ingredients
Olive or canola oil spray
1 onion, finely chopped
500 g extra-lean beef mince
1 packet MAGGI Chilli Con Carne Recipe Mix
300 g can corn kernels, rinsed and drained
435 g can refried beans
400 g can crushed tomatoes
600 g chunky salsa
8 large burrito flour tortillas
450 g frozen spinach, defrosted and excess water squeezed out
1 cup grated reduced-fat cheese
salad leaves, to serve
Method
Preheat oven to 200C (400F).
Spray a non-stick saucepan with oil and cook onion over medium heat until soft.
Add mince and cook until browned.
Add chilli con carne mix, corn, refried beans, tomatoes and salsa.
Stir, bring to the boil, then reduce heat and simmer for 10 minutes or until sauce thickens.
Place a little meat sauce in the base of a 29cm x 23cm lasagne dish.
Top with about 4 tortillas, then add alternate layers of meat sauce, spinach and tortillas, finishing with a tortilla layer.
Spread remaining salsa over the top.
Sprinkle with cheese and bake for 25-30 minutes or until cheese is melted and golden brown.
Allow to stand for 10 minutes before slicing.
Serve with salad leaves.
Nutrition
ANALYSIS per serve

High Fuel

4

Low Fuel

8

Energy (kJ)

3266

1633

Protein (g)

53

26

Fat (g)

21

11

Carbohydrate (g)

85

43

Calcium, Iron, Vitamin C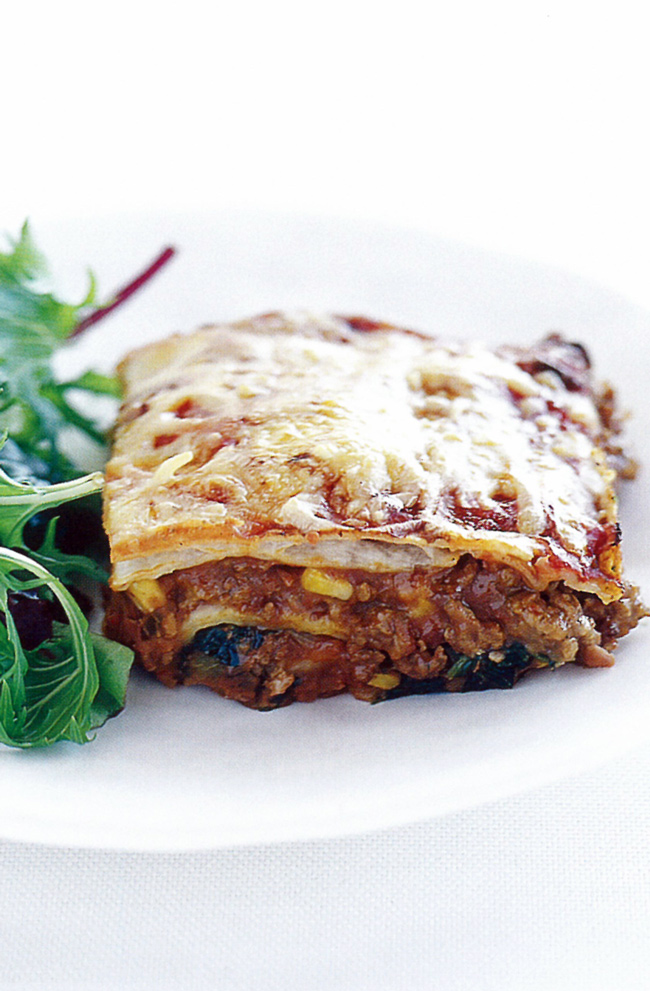 Australian Institute of Sport - From the "Survival Around the World" cookbook
05 Nov 2018
yes, Bakes and Grills, survival-around-the-world
Bakes and Grills
Return to top