Tofu vegetable stirfry
Preparation time

15 minutes

Cooking time

10 minutes

Serves

4-6
Ingredients
900 g MAGGI Thin Hokkien Noodles
2 baby bok choy
spray canola or olive oil
1 onion, sliced into thin wedges
150 g button mushrooms, sliced
1 large carrot, thinly sliced
200 g cauliflower, cut into small florets
200 g broccoli, cut into small florets
1 red capsicum, chopped
200 g firm tofu, cubed
80 mL (1/3 cup) kecap manis, or soy sauce
Method
Place the noodles into a large heatproof bowl and cover with boiling water.
Stand for 2 minutes, pushing gently with a wooden spoon to separate the strands.
Drain well and set aside.
Trim the ends from the bok choy, separate the leaves and cut into wide strips.
Spray a nonstick wok or frying pan with oil.
Add the onion, and stirfry for 1 minute or until it starts to soften.
Add the vegetables except the bok choy, and stirfry for 3 minutes or until they are tender but still crisp.
Add the bok choy, toss through, then the tofu and stir to heat through.
Add the noodles, toss to combine and heat through.
Add sauce and stir.
Stir immediately.
HINT: Kecap manis is an Indonesian soy sauce, quite thick and sweet. It is available in most supermarkets
Nutrition
| ANALYSIS per serve | 4 | 6 |
| --- | --- | --- |
| Energy kJ (Cal) | 2312 (552) | 1541 (368) |
| Carbohydrate (g) | 92 | 61 |
| Protein (g) | 27 | 18 |
| Fat (g) | 9 | 6 |
| Vitamin C | | |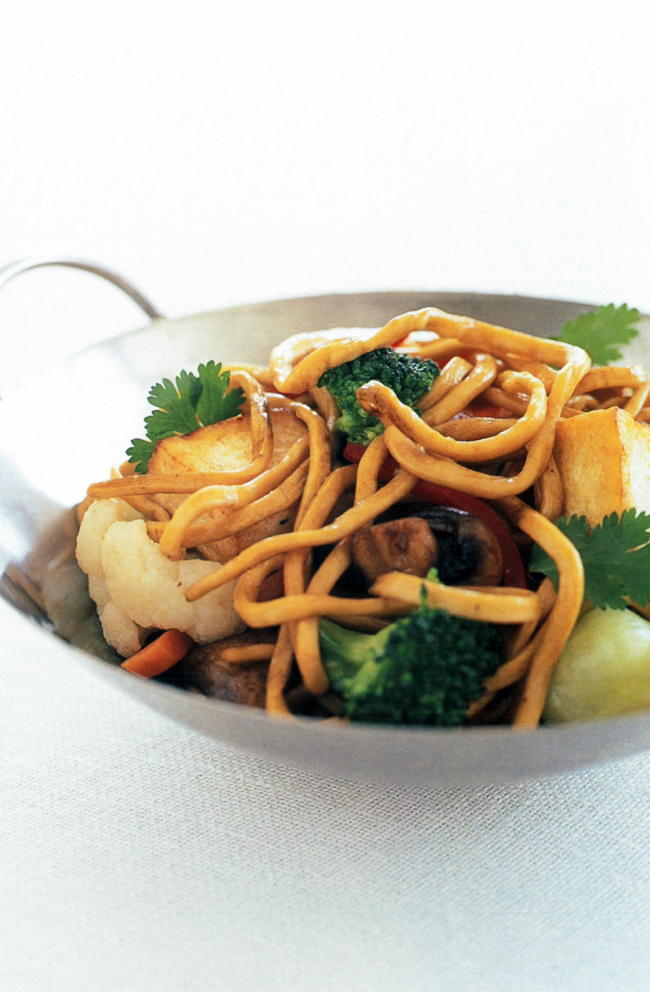 Australian Institute of Sport - From the "Survival for the Fittest" cookbook
05 Nov 2018
HINT: Kecap manis is an Indonesian soy sauce, quite thick and sweet. It is available in most supermarkets
no, Spice, survival-for-the-fittest
Spice
Return to top