Thorpie's fruity salsa dip
Preparation time

15 minutes

Cooking time

NIL

Serves

2-4
Ingredients
1 large mango
1 punnet strawberries, washed and hulled
2 kiwifruit, peeled
pulp of 2 passionfruit
1 tablespoon shredded fresh mint
2 tablespoons apricot jam
Method
Cut the cheeks from the mango, and peel.
Chop fruit into small, even-sized pieces and place in serving bowls.
In a small bowl, combine passionfruit, mint and jam.
Add to fruit and stir gently to combine.
Serve with Thorpie's Sweet Crisps.
Thorpie's Sweet Crisps
Ingredients
1 tablespoon lemon juice
1 tablespoon caster sugar
½ teaspoon ground cinnamon
3 sheets lavash bread
Method
Preheat oven to 190°C (375°F).
Put lemon juice in a small bowl, and combine sugar and cinnamon in another bowl.
Brush the bread lightly with juice, then sprinkle with sugar mixture.
Cut bread into 3 strips lengthways, and 4 pieces crossways.
Cut each piece in half diagonally to make triangles.
Place on baking trays, and bake for 8 minutes, until crisp.
Serve with dip.
Nutrition
Thorpie's Fruity Salsa Dip
ANALYSIS per serve

2

4

Energy kJ (Cal)

815 (195)

407 (97)

Carbohydrate (g)

42

21

Protein (g)

5

2

Fat (g)

<1

<1

Fibre, Vitamin C
Thorpie's Sweet Crisps
| ANALYSIS per serve | 2 | 4 |
| --- | --- | --- |
| Energy kJ (Cal) | 1279 (306) | 640 (153) |
| Carbohydrate (g) | 62 | 31 |
| Protein (g) | 9 | 5 |
| Fat (g) | 2 | 1 |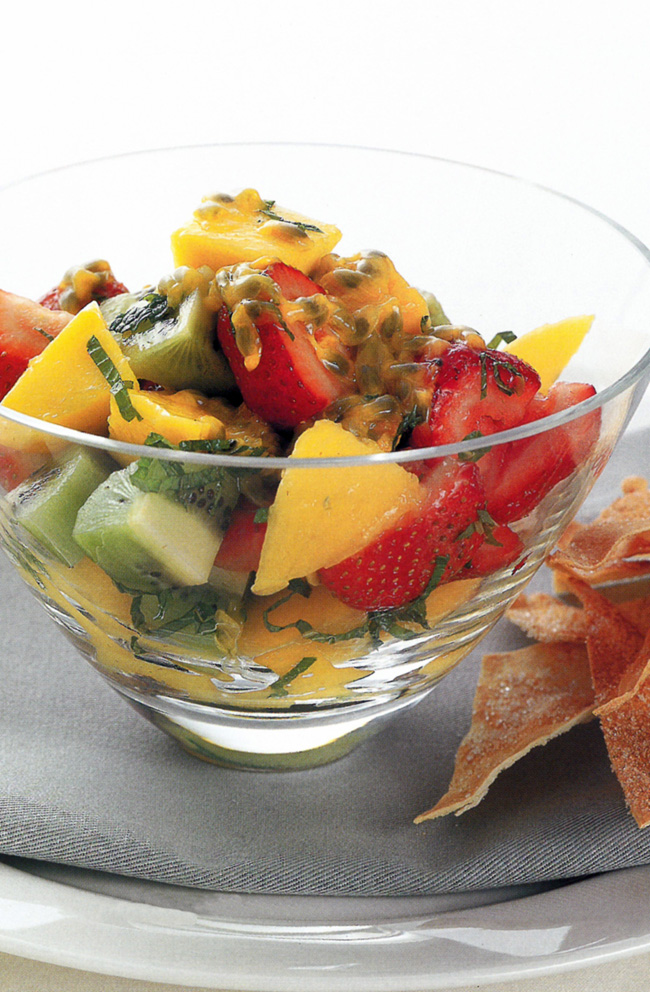 Australian Institute of Sport - From the "Survival from the Fittest" cookbook
05 Nov 2018
no, Sandwiches and Snacks, survival-from-the-fittest
Sandwiches and Snacks
Return to top