Thai chicken curry
Preparation time

10 minutes

Cooking time

20 minutes

Serves

4-6
Ingredients
Spray of canola or olive oil
1 onion, cut into thin wedges
2 tablespoons red curry paste
375 ml (1½ cups) can light coconut milk
125 ml (½ cup) MAGGI chicken stock
500 g or two skinless chicken breast fillets, cut into strips
250 g green beans, cut into 3 cm lengths
1 green capsicum, thinly sliced
2 slender eggplant (aubergine), thinly sliced
2 cups white long-grain or jasmine rice
1 tablespoon MAGGI fish sauce
1 tablespoon lime juice
2 teaspoons brown sugar
2 tablespoons chopped fresh coriander
Method
Spray a nonstick wok or large frying pan with oil and heat.
Add the onion and cook over medium heat for 3 minutes or until soft.
Add the curry paste and stirfry for 1 minute.
Stir in the coconut milk and stock and bring to the boil.
Add the chicken, beans, capsicum and eggplant.
Reduce the heat slightly and simmer uncovered for 15 minutes or until the vegetables are tender and the chicken is cooked through.
Stir occasionally.
Cook the rice in a large saucepan of boiling water for about 12 minutes or until tender.
Add the fish sauce, juice, sugar and coriander to the curry, stir through, and serve with the rice.
HINT: Thai curry paste comes in jars, and usually keeps for a few months in the fridge. Red or green paste may be interchanged in this recipe. You can also replace the eggplant with zucchini
Nutrition
| ANALYSIS per serve | 4 | 6 |
| --- | --- | --- |
| Energy kJ (Cal) | 2540 (610) | 1700 (405) |
| Carbohydrate (g) | 92 | 61 |
| Protein (g) | 38 | 25 |
| Fat (g) | 9 | 6 |
| Iron, Zinc | | |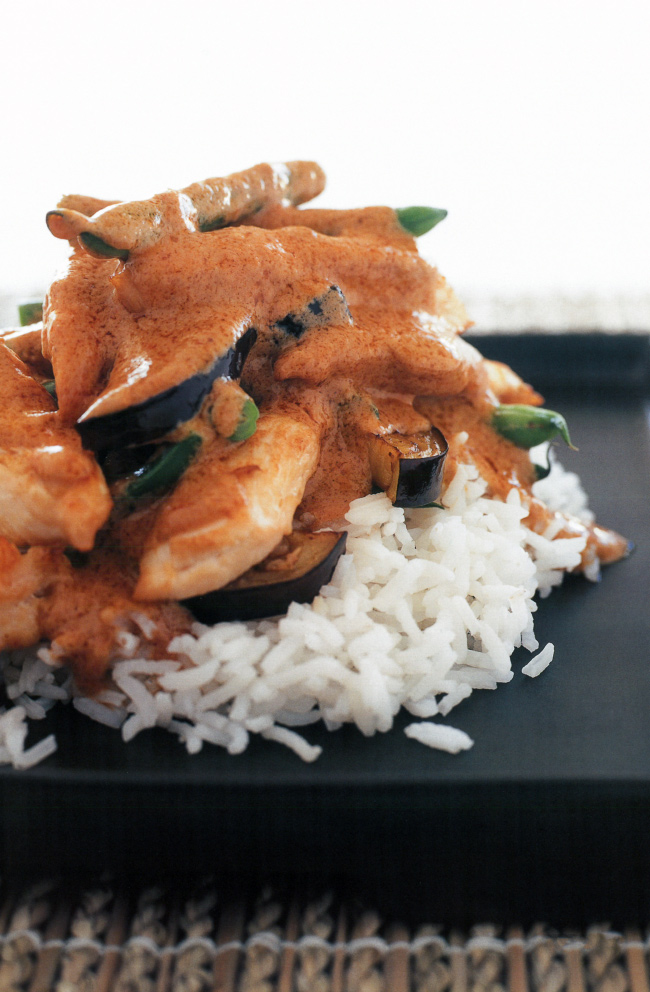 Australian Institute of Sport - From the "Survival for the Fittest" cookbook
05 Nov 2018
HINT: Thai curry paste comes in jars, and usually keeps for a few months in the fridge. Red or green paste may be interchanged in this recipe. You can also replace the eggplant with zucchini
, Spice, survival-for-the-fittest
Spice
Return to top