Taylor-made lentil patties
Preparation time

20 minutes

Cooking time

15 minutes

Serves

4-6

Freezable

yes
Ingredients
1 large potato, cubed
2 cups cooked brown or green lentils
1 cup fresh breadcrumbs
1 egg, lightly beaten
¼ cup sesame seeds
¼ cup sunflower seeds
½ cup finely chopped almonds
1 onion, finely chopped
1 teaspoon minced garlic
2 tablespoons chopped fresh flat-leaf parsley
pepper, to taste
olive or canola oil spray
Method
Cook potato in a large saucepan of boiling water until soft, drain and mash until smooth.
Add lentils, breadcrumbs, egg, sesame and sunflower seeds, almonds, onion, garlic, parsley and pepper.
Mix well.
Divide mixture into portions and form into patties.
Spray a a nonstick frying pan with oil and heat.
Fry the patties over moderate heat for about 5 minutes on each side, or until crisp and golden on the outside and heated through.
Serve with a crusty wholemeal bread roll and salad.
HINT: These patties freeze well uncooked; thaw before cooking. Vary with a mix of red and green lentils. canned lentils may be used to save time
Nutrition
| ANALYSIS per serve | 4 | 6 |
| --- | --- | --- |
| Energy kJ (Cal) | 2225 (710) | 1773 (759) |
| Carbohydrate (g) | 54 | 49 |
| Protein (g) | 24 | 19 |
| Fat (g) | 24 | 17 |
| Fibre, Iron, Zinc | | |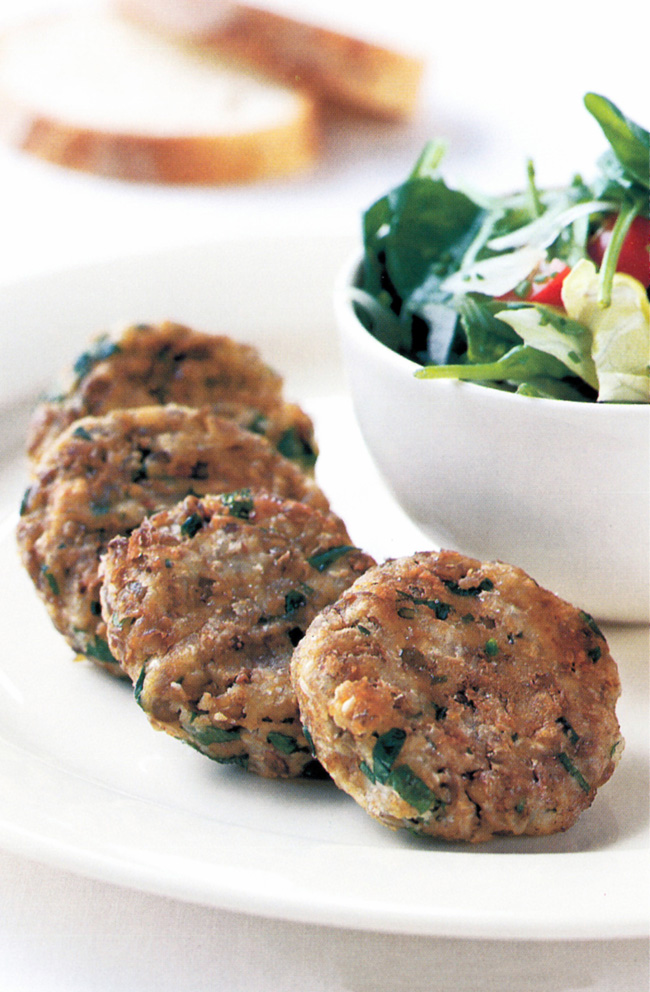 Australian Institute of Sport - From the "Survival from the Fittest" cookbook
05 Nov 2018
HINT: These patties freeze well uncooked; thaw before cooking. Vary with a mix of red and green lentils. canned lentils may be used to save time
yes, Bakes and Grills, survival-from-the-fittest
Bakes and Grills
Return to top