Tandoori chicken skewers
Preparation time

15 minutes

Cooking time

10 minutes

Serves

4-6
Ingredients
1½ cups long-grain or basmati rice
750 g chicken tenderloins
200 g low-fat natural yogurt
2 teaspoons minced garlic
1 tablespoon tandoori mix
2 tomatoes, finely chopped
1 Lebanese cucumber, finely chopped
1 small red onion, finely chopped
2 tablespoons lemon juice
Method
Cook the rice in a large saucepan of boiling water for about 12 minutes or until tender.
Drain well.
Meanwhile, cut each tenderloin into pieces, and thread on the skewers.
Stir together the yogurt, garlic and tandoori mix until well combined then spoon or brush the mixture over the chicken.
Preheat a grill or barbecue grill plate to moderately hot, and cook the skewers for 10 minutes, turning once halfway through.
Combine the rice, tomato, cucumber, onion and lemon juice, and serve with the skewers.
HINT: Add a salad for vitamins and serve with a potato or bread to increase the carbohydrate content
Nutrition
| ANALYSIS per serve | 4 | 6 |
| --- | --- | --- |
| Energy kJ (Cal) | 2200 (525) | 1466 (351) |
| Carbohydrate (g) | 66 | 44 |
| Protein (g) | 52 | 34 |
| Fat (g) | 5 | 3 |
| Iron, Zinc | | |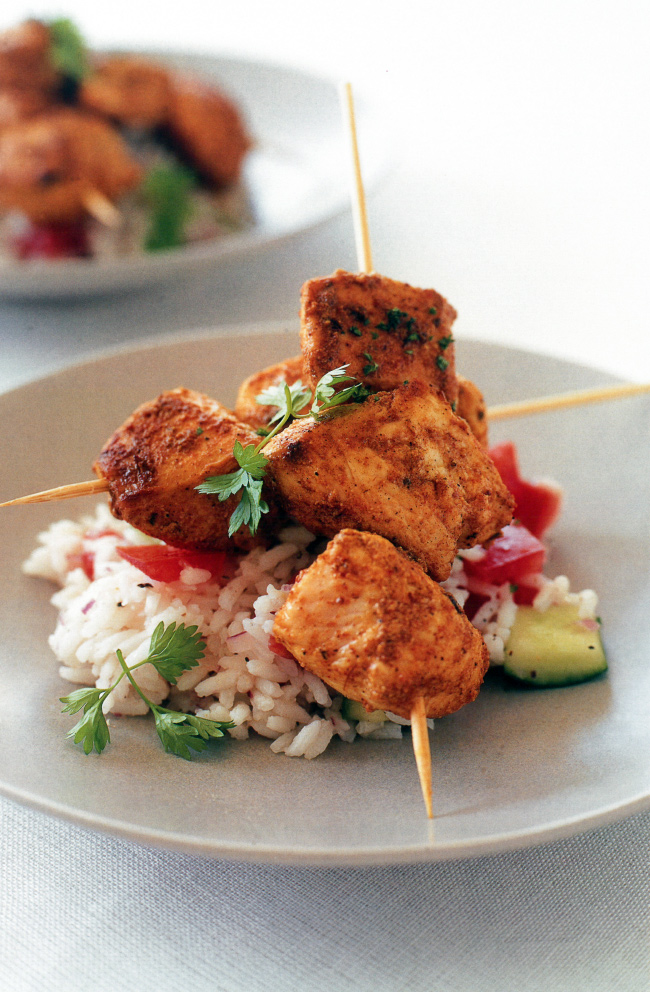 Australian Institute of Sport - From the "Survival for the Fittest" cookbook
05 Nov 2018
HINT: Add a salad for vitamins and serve with a potato or bread to increase the carbohydrate content
no, Bakes and Grills, survival-for-the-fittest
Bakes and Grills
Return to top