Sweet potato soup
Preparation time

15 minutes

Cooking time

30 minutes

Serves

4-6

Freezable

yes
Ingredients
Olive or canola oil spray
1 large onion, chopped
2 teaspoons minced garlic
1 teaspoon minced chilli
2 teaspoons ground coriander
1 kg sweet potato, peeled, cut into small cubes
1 litre MAGGI All Natural Chicken or Vegetable Liquid Stock
150 ml can CARNATION Light and Creamy Evaporated Milk
½ cup chopped fresh coriander leaves
4 small crusty loaves, such as mini cobs
Method
Spray a large saucepan with oil and heat.
Cook onion over medium heat for 3-4 minutes, until soft.
Add garlic, chilli and ground coriander, cook, stirring, for 1 minute.
Add sweet potato and chicken or vegetable stock.
Bring to the boil, then reduce heat and simmer, partially covered, for 20 minutes, until sweet potato is tender.
Cool slightly and puree in a blender until smooth.
Return to the saucepan, add milk and reheat gently.
Stir through coriander and garnish with extra whole leaves if desired.
Serving suggestion:
Slice the top off the cobs.
Scoop out chunks of bread from the inside to make a well, but leave a small amount attached to the crust.
Bake cobs in a preheated 210°C (415°F) oven for 5-7 minutes until the crust is crisp.
Place cobs on serving plates, ladle soup into them, and sprinkle with fresh coriander.
Arrange cob "lid" and bread chunks around the cob as soft croutons.
Eat the cob "bowl" after the soup.
Serve with salad.
Nutrition
| ANALYSIS per serve | 4 | 6 |
| --- | --- | --- |
| Energy kJ (Cal) | 2109 (504) | 1406 (336) |
| Carbohydrate (g) | 91 | 61 |
| Protein (g) | 22 | 15 |
| Fat (g) | 6 | 4 |
| Fibre, Vitamin C, Calcium, Iron, Zinc | | |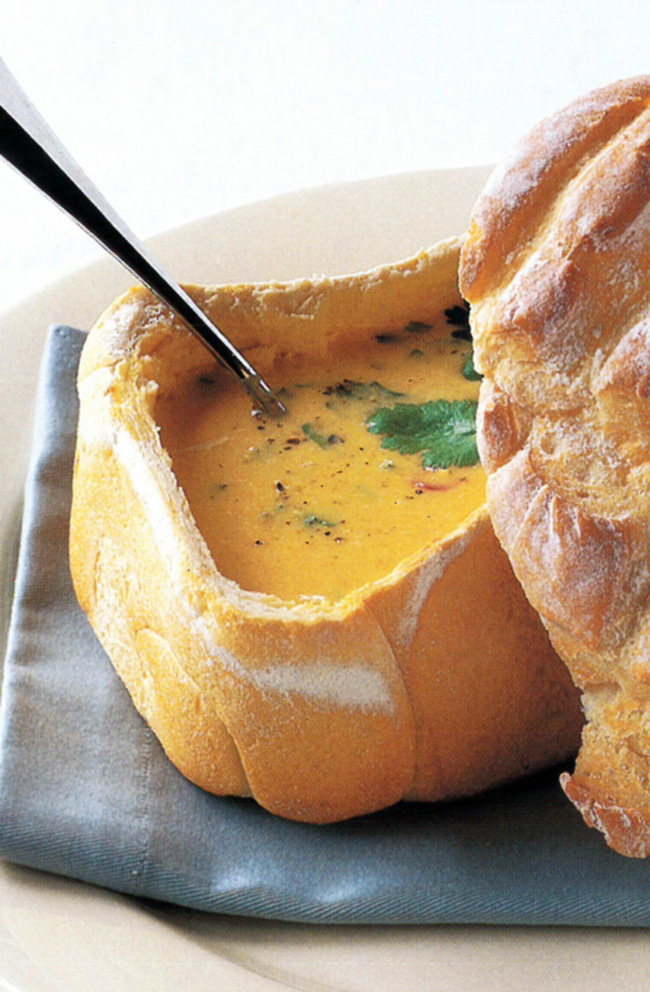 Australian Institute of Sport - From the "Survival from the Fittest" cookbook
05 Nov 2018
yes, Soups and Salads, survival-from-the-fittest
Soups and Salads
Return to top