Sweet potato, chicken & banana pizza
Preparation time

15 minutes

Cooking time

30 minutes

Serves

4

Freezable

yes
Ingredients
1 medium sweet potato, cubed
Turkish bread (or large pizza base or 4 small round Lebanese breads)
½ cup tomato-based pasta sauce
2 spring onions, sliced
6 mushrooms, chopped
1 medium banana, chopped
90 g cooked chicken, chopped
ground black pepper
90 g grated reduced-fat cheese (or low-fat feta, crumbled)
fresh basil leaves
Method
Preheat oven to 220°C (425°F).
Boil sweet potato until cooked but still firm.
Or microwave, covered, on HIGH for 5-10 minutes.
Spread Turkish bread with sauce and add all toppings except basil.
Place on a nonstick baking tray.
Bake for 10-20 minutes (depending on base), until cheese is golden
Sprinkle with basil and serve.
HINT: Pumpkin can be used instead of sweet potato
Nutrition
| ANALYSIS per serve | 4 |
| --- | --- |
| Energy kJ (Cal) | 2079 (497) |
| Carbohydrate (g) | 74 |
| Protein (g) | 26 |
| Fat (g) | 11 |
| Calcium | |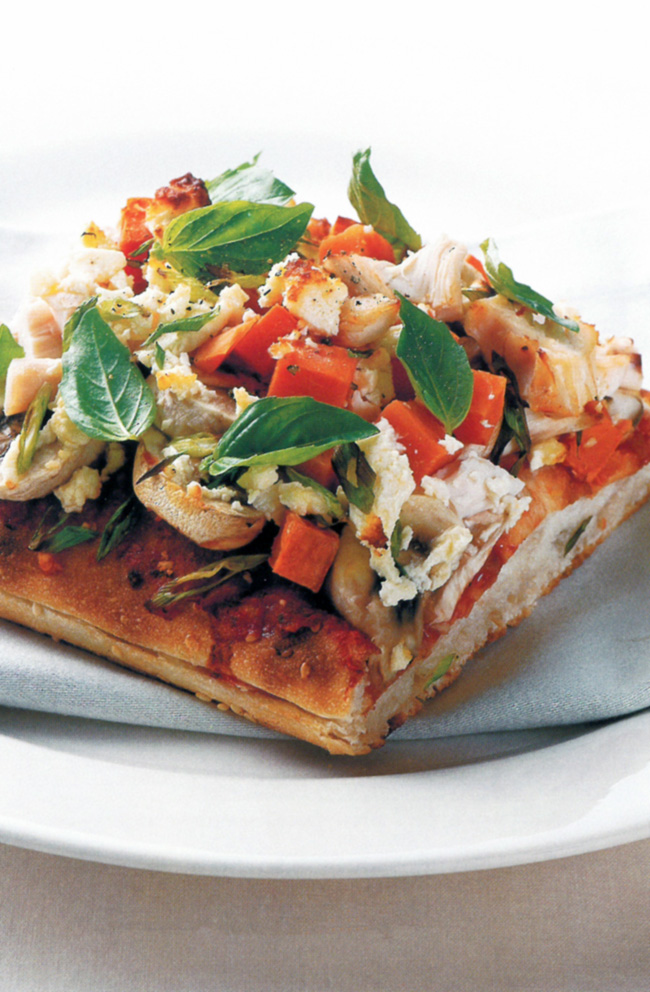 Australian Institute of Sport - From the "Survival from the Fittest" cookbook
05 Nov 2018
HINT: Pumpkin can be used instead of sweet potato
yes, Bakes and Grills, survival-from-the-fittest
Bakes and Grills
Return to top