Sweet & sour pork
Preparation time

15 minutes

Cooking time

25 minutes

Serves

4-6

Freezable

yes
Ingredients
2 cups jasmine rice
olive or canola oil spray
500 g lean pork fillet, cut into thin strips
1 onion, sliced
1 small red capsicum, chopped
1 small green capsicum, chopped
1 carrot, sliced
440 g can pineapple pieces, drained and juices reserved
¼ cup tomato paste
1 tablespoon MAGGI Chilli & Garlic Sauce
2 tablespoons white vinegar
1 tablespoon cornflour
coriander leaves, to garnish
Method
Cook rice in a large saucepan of boiling water for about 12 minutes or until tender.
Drain well.
Spray a nonstick wok or frying pan with oil and heat.
Add pork and cook in batches for 2-3 minutes over high heat, until browned and cooked through but tender; set aside.
Reheat wok, add onion with 1 tablespoon water, and stirfry until golden.
Add capsicum and carrot and stirfry until tender.
Place pineapple juice, tomato sauce, chilli and garlic sauce, vinegar and cornflour in a jug and whisk until smooth.
Return pork to wok, add the sauce and pineapple, stirring until sauce boils and thickens.
Garnish with coriander leaves.
Serve with rice.
HINT: Replace the pork with chicken breast fillets or cubed firm tofu
Nutrition
| ANALYSIS per serve | 4 | 6 |
| --- | --- | --- |
| Energy kJ (Cal) | 2643 (631) | 1762 (421) |
| Carbohydrate (g) | 111 | 73 |
| Protein (g) | 36 | 24 |
| Fat (g) | 4 | 3 |
| Iron, Vitamin C, Zinc | | |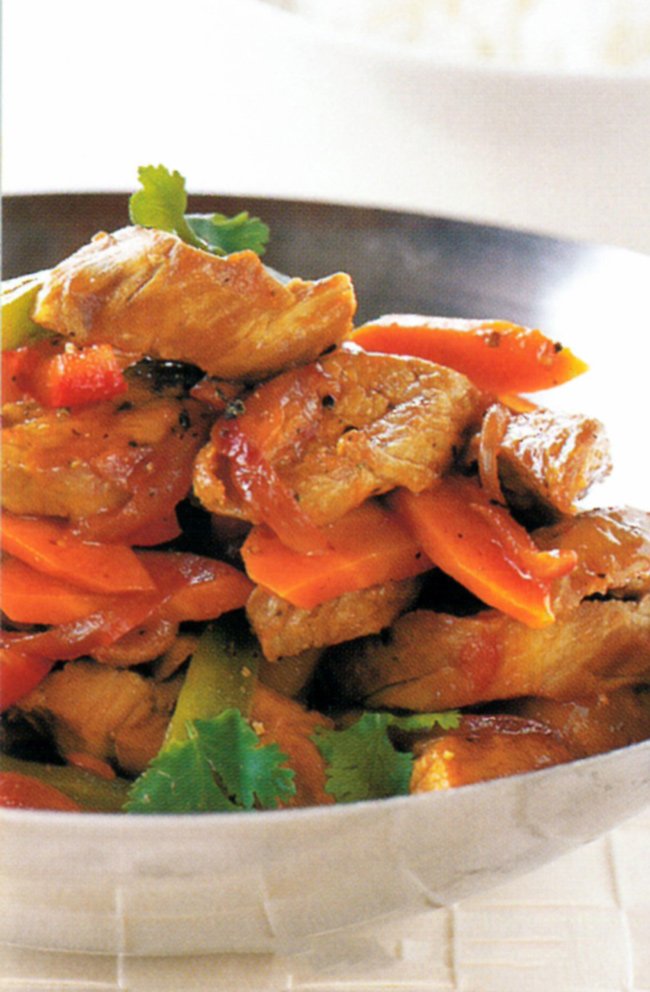 Australian Institute of Sport - From the "Survival from the Fittest" cookbook
05 Nov 2018
HINT: Replace the pork with chicken breast fillets or cubed firm tofu
yes, Spice, survival-from-the-fittest
Spice
Return to top