Sweet & sour chicken with noodles
Preparation time

10 minutes

Cooking time

20 minutes

Serves

4-6
Ingredients
100 g dried thin egg noodles
spray canola or olive oil
400 g chicken tenderloins, chopped
440 g can pineapple pieces
2 teaspoons minced garlic
2 teaspoons minced ginger
250 g button mushrooms, quartered
500 g frozen stirfry vegetable medley (optional)
1 tablespoon cornflour
1 tablespoon soy sauce
3 tablespoons tomato sauce
2 tablespoons vinegar
1 tablespoon brown sugar
Method
Cook the noodles in a large pan of boiling water for 5 minutes or until tender.
Drain well and set aside.
Spray a nonstick wok or frying pan with oil and heat.
Cook chicken in 2 or 3 batches over high heat for 2-3 minutes or until browned.
Remove from the pan and set aside.
Drain pineapple and reserve the juice.
Add garlic and ginger to the pan and stirfry for 30 seconds.
Add the mushrooms (and vegies if desired) and stirfry 3 mins until tender.
Put cornflour into a small bowl and gradually add 60 ml (¼ cup) reserved juice, stirring until smooth.
Add pineapple, remaining juice, sauces, vinegar and sugar to the pan with the noodles and toss until heated through.
Garnish with green leafy herbs.
HINT: Tenderloins may be replaced with the equal weight of breast fillet. The optional vegetables will make this meal complete
Nutrition
| ANALYSIS per serve | 4 | 6 |
| --- | --- | --- |
| Energy kJ (Cal) | 2550 (610) | 1700 (405) |
| Carbohydrate (g) | 96 | 64 |
| Protein (g) | 41 | 28 |
| Fat (g) | 5 | 4 |
| Iron | | |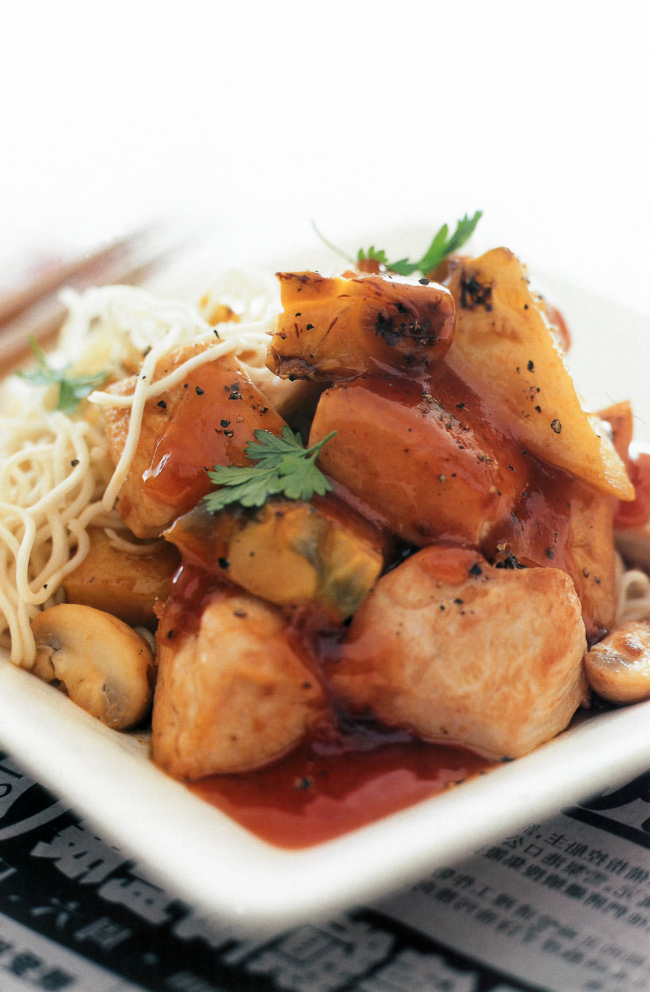 Australian Institute of Sport - From the "Survival for the Fittest" cookbook
05 Nov 2018
HINT: Tenderloins may be replaced with the equal weight of breast fillet. The optional vegetables will make this meal complete
no, Spice, survival-for-the-fittest
Spice
Return to top