Sweet & sour chicken with rice
Preparation time

10 minutes

Cooking time

10 minutes

Serves

4
Ingredients
2 tsp peanut oil
2 chicken breasts, cut into 2cm cubes
1 small onion, finely diced
1 tbsp cornflour
1 tbsp brown sugar
1/3 cup chicken stock or water
½ cup pineapple juice
1 tbsp brown vinegar
1 tbsp soy sauce
¼ cup pineapple pieces
1 green capsicum, chopped into 2 cm pieces
rice, cooked, to serve
Method
Heat oil in a medium non-stick frying pan over medium to high heat. Add chicken and cook for 3–4 minutes or until golden and cooked through. Remove from pan and set aside.
Add onion and cook for 2–3 minutes or until tender.
In a bowl mix cornflour and sugar with stock or water until smooth. Start with a small amount of liquid and stir to a paste, then add remaining liquid. Add to the pan.
Add pineapple juice, vinegar and soy sauce.
Simmer gently for 1–2 minutes stirring until thickened.
Add pineapple pieces, capsicum and chicken.
Simmer for a further 4–5 minutes or until vegetables are tender and chicken is warmed through again. Serve with rice.
Nutrition
| ANALYSIS per serve | 4 |
| --- | --- |
| Energy kJ (Cal) | 1428 |
| Carbohydrate (g) | 28 |
| Protein (g) | 33 |
| Fat (g) | 10 |
| Saturated fat (g) | 3 |
| Fibre (g) | 1 |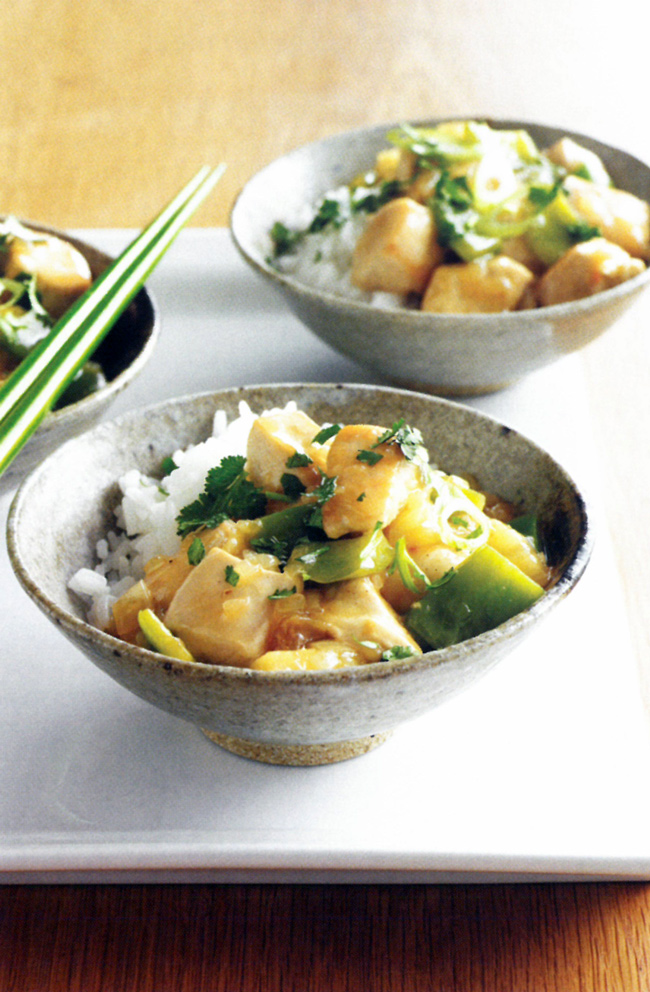 Australian Institute of Sport - From the "Survival for the Active Family" cookbook
05 Nov 2018
, Spice, survival-for-the-active-family
Spice
Return to top