Sushi
Preparation time

30 minutes

Cooking time

20 minutes + 15–20 minutes standing time

Makes

36
Ingredients
3 ½ cups sushi rice
3 ½ cups water
¼ cup sushi seasoning
6 sheets nori
200g fresh boneless salmon, cut into thin strips
1 avocado, thinly sliced
1 small carrot, grated
1 Lebanese cucumber, deseeded and cut into long strips
1 bunch chives
soy sauce, to serve (optional)
wasabi paste, to serve (optional)
Method
Rinse rice in a colander until water runs clear.
Place rice in a large non-stick saucepan with water to cover the rice. Cover and bring to the boil, reduce the heat to low and cook for a further 15 minutes or until all the water has been absorbed and rice is tender.
Rinse the cooked rice under cold water. Drain well.
Place rice in a large metal mixing bowl. Add sushi seasoning and mix well with a knife. Allow to cool slightly.
Place 1 nori sheet on a bamboo sushi mat.
Using wet fingers spread 1/6 of the rice over the nori sheet. Cover nori all the way to the edges, except for a 4cm strip at the top of the nori sheet. Press rice down firmly.
Place strips of salmon, avocado, carrot, cucumber and chives across the edge closest to you.
Spread edges of nori with water to help with the sticking process. Starting at the end closest to you, use the mat to roll sushi into a log. Press firmly as you roll, making sure that the sushi holds together. Repeat with remaining nori, salmon and vegetables.
Let rolls rest for 15–20 minutes, then slice into 6 pieces with a sharp knife.
Serve with soy sauce and wasabi paste, if desired.
Nutrition
| ANALYSIS per serve | 36 |
| --- | --- |
| Energy kJ (Cal) | 391 |
| Carbohydrate (g) | 16 |
| Protein (g) | 3 |
| Fat (g) | 2 |
| Saturated fat (g) | 0 |
| Fibre (g) | 0 |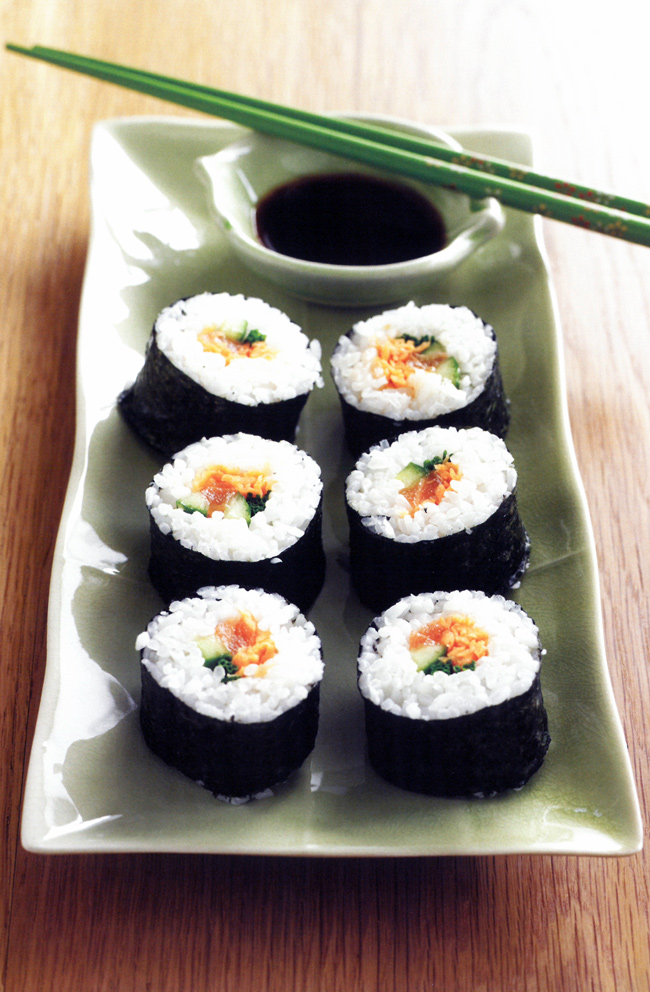 Australian Institute of Sport - From the "Survival for the Active Family" cookbook
05 Nov 2018
, Sandwiches and Snacks, survival-for-the-active-family
Sandwiches and Snacks
Return to top