Stephan's napolitana sauce
Preparation time

15 minutes

Cooking time

40 minutes

Serves

4-6

Freezable

yes
Ingredients
Olive or canola oil spray
1 onion, finely chopped
3 cloves garlic, finely chopped
3 tablespoons tomato paste
825 g can crushed tomatoes
250 ml (1 cup) MAGGI All Natural Chicken or Vegetable Liquid Stock
1½ teaspoons dried thyme
1½ teaspoons dried basil
1½ teaspoons dried oregano
2 bay leaves
½ teaspoon ground black pepper
1½ teaspoons caster sugar
500 g penne pasta
Method
Spray a large saucepan with oil and heat.
Add onion and garlic and cook over medium-low heat for 2-3 minutes until just soft and transparent.
Add tomato paste, and cook, stirring, for 30 seconds.
Add crushed tomatoes and stock.
Increase heat to medium, cover and bring to the boil.
Reduce heat to low, uncover, and stir in herbs, pepper and sugar.
Simmer for 30 minutes, stirring occasionally until thickened.
Meanwhile, cook pasta according to packet instructions.
Drain and serve topped with the sauce.
Garnish with chopped fresh chives, if desired.
HINT: This sauce keeps in the fridge for up to 2 days - in fact, the flavour improves if made ahead. It can also be frozen for up to 2 months
Nutrition
| ANALYSIS per serve | 4 | 6 |
| --- | --- | --- |
| Energy kJ (Cal) | 2053 (438) | 1368 (327) |
| Carbohydrate (g) | 97 | 65 |
| Protein (g) | 17 | 12 |
| Fat (g) | 3 | 2 |
| Fibre, Vitamin C, Iron | | |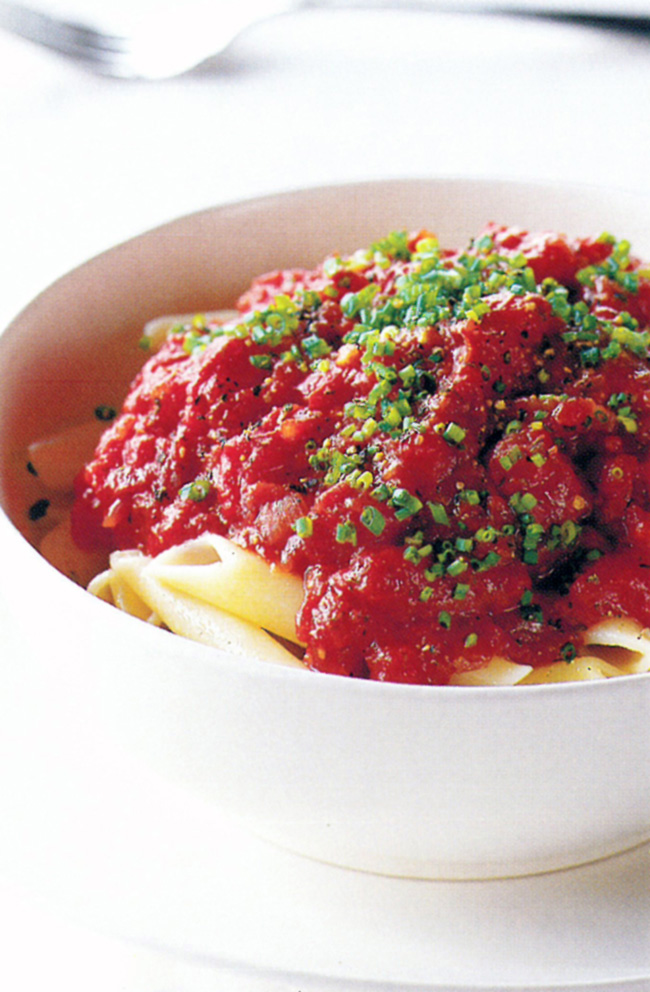 Australian Institute of Sport - From the "Survival from the Fittest" cookbook
05 Nov 2018
HINT: This sauce keeps in the fridge for up to 2 days - in fact, the flavour improves if made ahead. It can also be frozen for up to 2 months
yes, Pasta, survival-from-the-fittest
Pasta
Return to top