Ingredients
Olive or canola oil spray
1 onion, diced
1 tsp minced garlic
1 tsp minced chilli
500g chicken breast fillets, chopped
1 tsp chilli powder
2 tsp ground cumin
1 tsp dried oregano
1 litre MAGGI Real Chicken Stock
400g can diced tomatoes
4 flour tortillas
2 tbs chopped fresh coriander, plus extra to garnish
400g can corn kernels,rinsed and drained
1/4 cup grated low-fat cheese
4 large or 6 small bread rolls
Method
Spray a non-stick saucepan with oil and cook onion, garlic and chilli over medium heat until soft.
Add chicken and cook until browned all over.
Add chilli powder, cumin and oregano and cook for 1 minute.
Add stock and tomatoes, then reduce heat to low and simmer for 10 minutes or until chicken is tender.
Meanwhile, preheat grill to medium-high heat and toast tortillas until crisp.
Break into pieces.
Add coriander to soup and simmer for 5 minutes.
Stir corn through, then ladle soup into bowls and top with tortillas, cheese and extra coriander.
Serve with bread rolls.
Athletes with high fuel needs (e.g. endurance athletes, athletes who are growing, athletes aiming to increase muscle mass) require extra carbohydrate-based ingredients and a larger serve size
Athletes with low fuel needs (e.g. skill-based athletes, athletes trying to reduce body fat) need to opt for a smaller serve size
Nutrition
ANALYSIS

High Fuel




4

Low Fuel




6

Energy (kJ)

2534

1453

Protein (g)

45

28

Fat (g)

14

9

Carbohydrate (g)

74

37

Iron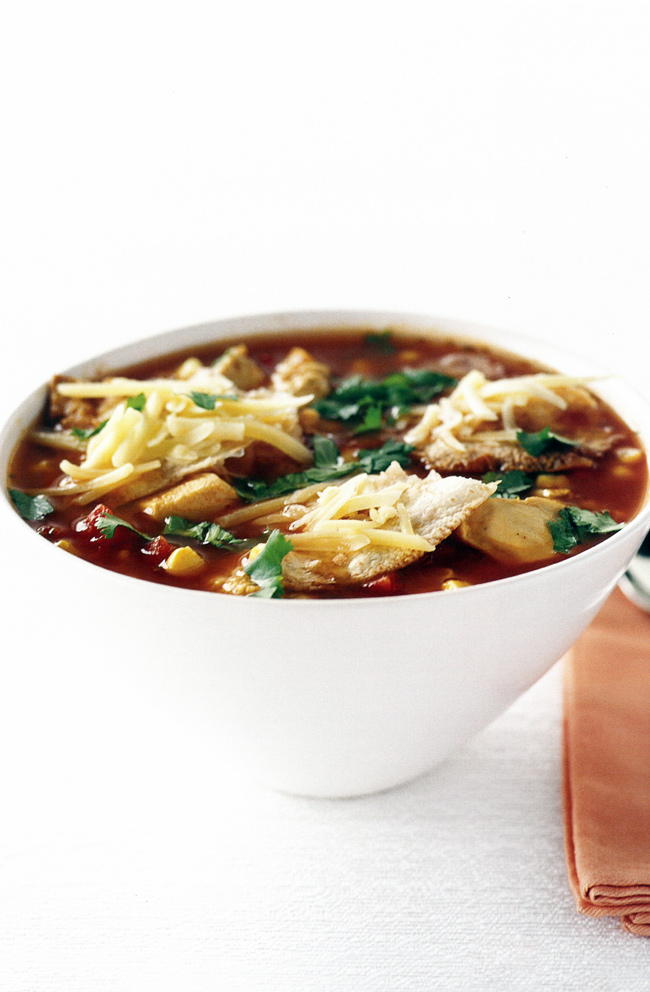 Australian Institute of Sport - From the "Survival Around the World" cookbook
05 Nov 2018
yes, Soups and Salads, survival-around-the-world
Soups and Salads
Return to top