Steak sandwich
Preparation time

10 minutes

Cooking time

20 minutes

Serves

4
Ingredients
Olive or canola oil spray
200 g button mushrooms, sliced
3 tablespoons balsamic vinegar
2 onions, sliced
1 teaspoon brown sugar
4 fillet steaks, flattened slightly
8 slices ciabbata or sourdough bread
50 g mixed salad leaves
2 tomatoes, thinly sliced
300 g can beetroot slices, drained
50 g snow pea sprouts
Method
Spray a nonstick frying pan with oil and heat.
Add mushrooms and 1 tablespoon balsamic vinegar and cook over high heat until browned and tender.
Remove from pan.
Add onion, remaining balsamic vinegar and sugar and cook over low-medium heat for 10 minutes or until caramelised.
Remove from pan.
Clean pan, respray with oil and heat.
Cook steaks over high heat for 3 minutes on each side, or to your liking.
Toast bread until golden brown on both sides.
To assemble, on a slice of bread, place salad leaves, tomato, onion, steak, beetroot, snow pea sprouts and mushrooms.
Top with another slice of bread.
HINT: Try these sandwiches with thin veal escalopes or flattened chicken breast instead of steak
Nutrition
| ANALYSIS per serve | 4 |
| --- | --- |
| Energy kJ (Cal) | 2246 (536) |
| Carbohydrate (g) | 69 |
| Protein (g) | 41 |
| Fat (g) | 10 |
| Calcium, Fibre, Iron, Zinc | |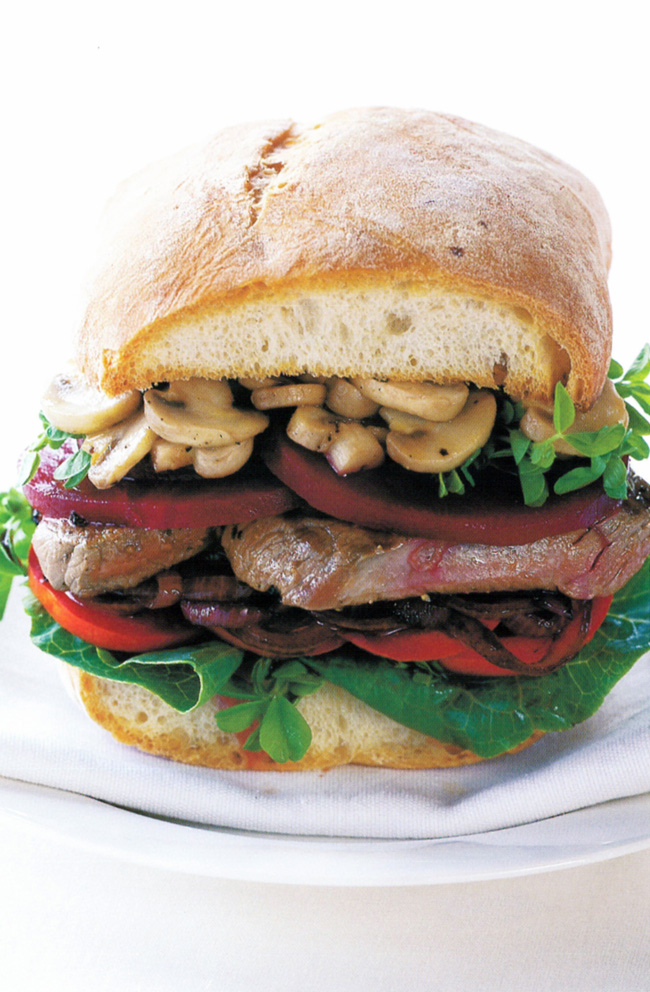 Australian Institute of Sport - From the "Survival from the Fittest" cookbook
05 Nov 2018
HINT: Try these sandwiches with thin veal escalopes or flattened chicken breast instead of steak
, Sandwiches and Snacks, survival-from-the-fittest
Sandwiches and Snacks
Return to top