Split-pea chowder
Preparation time

10 minutes

Cooking time

65 minutes

Serves

4-6

Freezable

yes
Ingredients
250 g yellow split peas
olive or canola oil spray
1 large onion, finely chopped
2 teaspoons minced garlic
1 carrot, chopped
600 ml MAGGI All Natural Vegetable Liquid Stock
375 g vegetarian hotdogs (optional), sliced
freshly round black pepper, to taste
bread rolls
Method
Place the split peas in a large saucepan and cover with plenty of cold water.
Bring to the boil and simmer for about 40 minutes, until tender.
Drain in a colander and set aside.
Spray a large saucepan with oil.
Add onion, garlic and carrot to the saucepan and cook over medium heat for 5 minutes, stirring occasionally.
Stir through the cooked split peas and vegetable stock, and season with pepper.
Bring to the boil, then reduce heat to low.
Simmer, partially covered, for 15 minutes, adding a little water, if necessary.
Add the sliced hotdogs, if using and simmer over medium heat for 5 minutes.
Garnish with chervil, if desired.
Serve with a crusty bread roll.
Nutrition
| ANALYSIS per serve | 4 | 6 |
| --- | --- | --- |
| Energy kJ (Cal) | 2414 (578) | 1609 (384) |
| Carbohydrate (g) | 77 | 51 |
| Protein (g) | 39 | 26 |
| Fat (g) | 12 | 8 |
| Fibre, Iron, Zinc | | |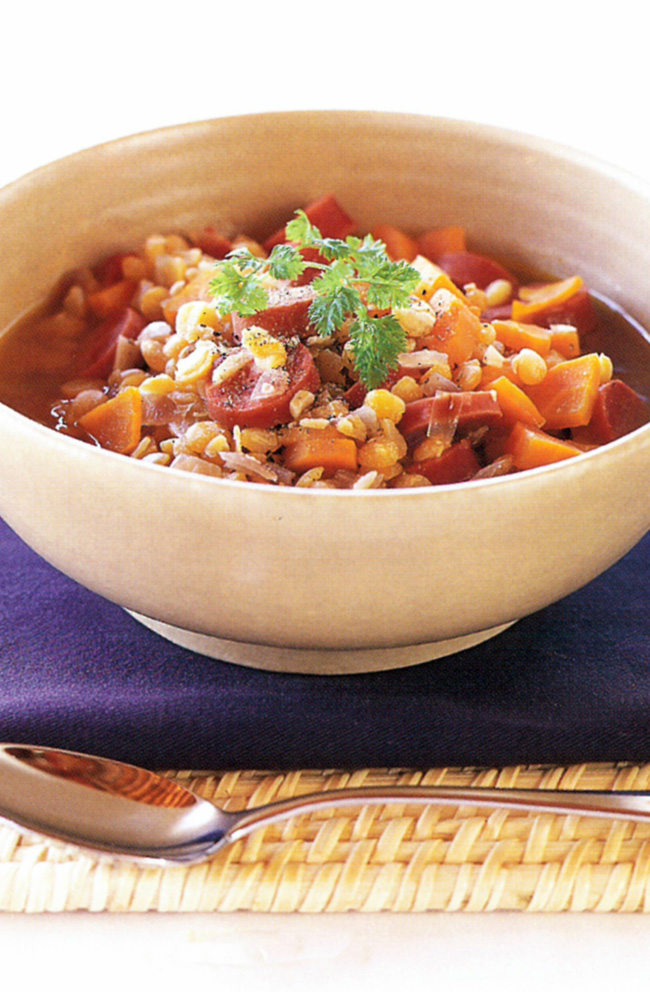 Australian Institute of Sport - From the "Survival from the Fittest" cookbook
05 Nov 2018
yes, Soups and Salads, survival-from-the-fittest
Soups and Salads
Return to top