Spirals with pumpkin & pesto
Preparation time

20 minutes

Cooking time

10 minutes

Serves

4-6
Ingredients
500 g spiral pasta
1 cup firmly packed fresh basil leaves
2 teaspoons minced garlic
2 tablespoons toasted pine nuts
2 tablespoons finely grated Parmesan cheese
1 tablespoon olive oil
60 mL (¼ cup) MAGGI Chicken or Vegetable Stock
450 g butternut pumpkin, peeled and cut into small cubes
freshly ground black pepper, to taste
Method
Start cooking the pasta in a large saucepan of boiling water.
Place the basil, garlic, pine nuts and Parmesan into a food processor and process until finely chopped.
With the motor running, gradually add the oil and stock and process until well combined.
Steam or microwave the pumpkin cubes until tender.
When the pasta is al dente, drain and return to the pan.
Add the pesto and stir to coat the pasta, then add the pumpkin and toss through.
Season and serve immediately with salad.
HINT: Toasted pine nuts add good flavour. Spread nuts on an oven tray and bake in a preheated 180°C (350°F) oven for about 3 minutes
Nutrition
| ANALYSIS per serve | 4 | 6 |
| --- | --- | --- |
| Energy kJ (Cal) | 2425 (580) | 1379 (330) |
| Carbohydrate (g) | 97 | 53 |
| Protein (g) | 20 | 12 |
| Fat (g) | 12 | 8 |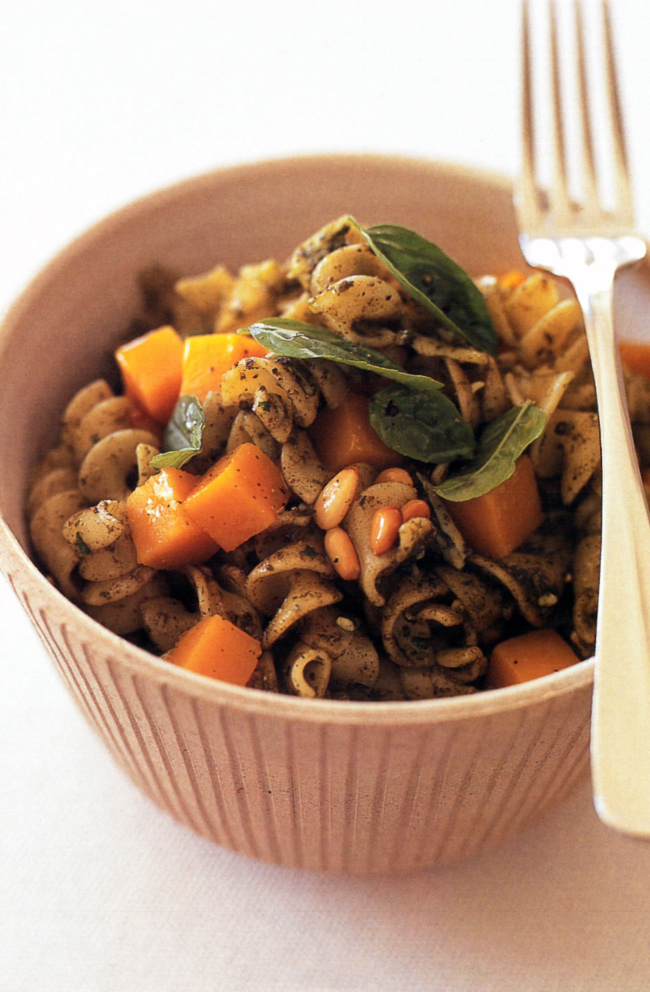 Australian Institute of Sport - From the "Survival for the Fittest" cookbook
05 Nov 2018
HINT: Toasted pine nuts add good flavour. Spread nuts on an oven tray and bake in a preheated 180°C (350°F) oven for about 3 minutes
no, Pasta, survival-for-the-fittest
Pasta
Return to top