Spirals with mexican-style sauce
Preparation time

15 minutes

Cooking time

15 minutes

Serves

4-6
Ingredients
Spray of canola or olive oil
1 onion, finely chopped
2 teaspoons minced garlic
2 teaspoons cumin
2 teaspoons ground coriander
1 teaspoon chilli powder
1 red capsicum, chopped
1 green capsicum, chopped
440 g can red kidney beans, rinsed and drained
3 large tomatoes, chopped
2 tablespoons tomato paste
500 g spiral pasta
¼ cup fresh coriander leaves
Method
Spray a large pan with oil and heat.
Cook the onion for 3 minutes over medium heat or until soft.
Add the garlic, cumin, coriander and chilli and cook, stirring, for 1 minute more.
Add the capsicum, beans, tomatoes and tomato paste and bring to the boil.
Reduce the heat and simmer partially covered, for 10 minutes.
While the sauce is simmering, cook the pasta in a large pan of boiling water until al dente.
Drain well.
Stir the coriander into the sauce and serve over the pasta.
HINT: Fresh coriander leaves add distinct flavour and should not be confused with ground coriander, made from the seed of the same plant. Top with plain low-fat yoghurt for added calcium and protein
Nutrition
| ANALYSIS per serve | 4 | 6 |
| --- | --- | --- |
| Energy kJ (Cal) | 2449 (585) | 1633 (390) |
| Carbohydrate (g) | 111 | 74 |
| Protein (g) | 24 | 16 |
| Fat (g) | 4 | 3 |
| Fibre, Vitamin C, Iron, Zinc | | |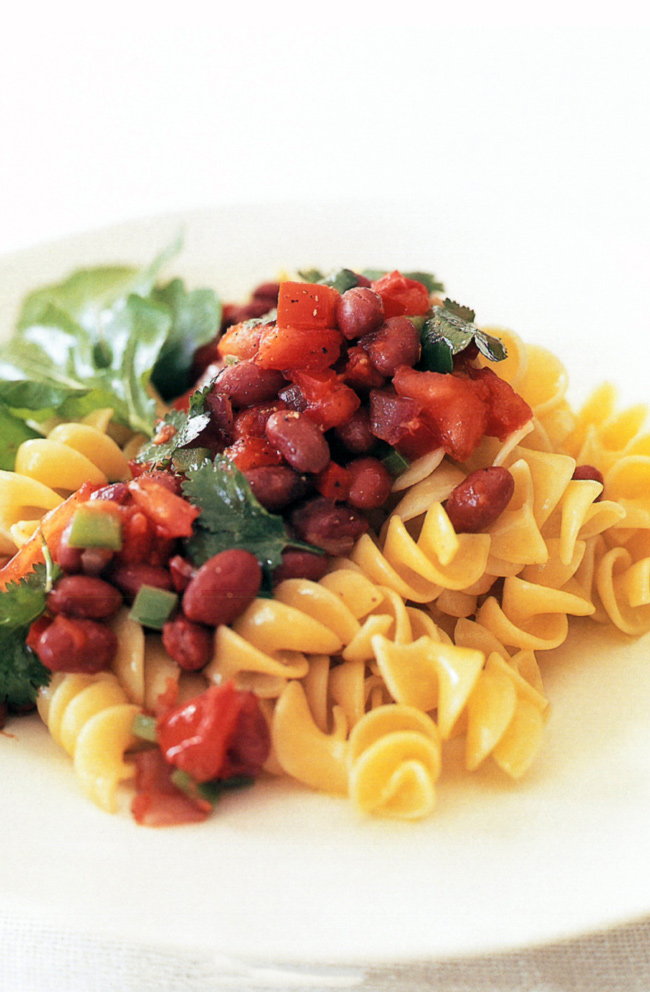 Australian Institute of Sport - From the "Survival for the Fittest" cookbook
05 Nov 2018
HINT: Fresh coriander leaves add distinct flavour and should not be confused with ground coriander, made from the seed of the same plant. Top with plain low-fat yoghurt for added calcium and protein
, Pasta, survival-for-the-fittest
Pasta
Return to top