Spirals with chicken & mushrooms
Preparation time

15 minutes

Cooking time

15 minutes

Serves

4-6
Ingredients
500 g spiral pasta
spray of canola or olive oil
500 g or two skinless chicken breast fillets, chopped
200 g button mushrooms, quartered
5 spring onions, sliced
1½ tablespoons cornflour
375 ml can CARNATION Light and Creamy Evaporated Milk
125 ml (½ cup) MAGGI Chicken Stock
freshly ground black pepper, to taste
Method
Start cooking the pasta in a large saucepan of boiling water.
Spray a nonstick frying pan or wok with oil and heat.
Cook the chicken over high heat for about 5 minutes or until browned.
Remove form the pan and set aside.
Reduce the heat to medium, add the mushrooms and spring onions to the pan and cook, stirring frequently, for 3 minutes or until soft.
Put cornflour into a small bowl and gradually add 1/3 cup (80ml) milk stirring until smooth.
Pour the remaining milk and chicken stock into the pan, then gradually add the cornflour mixture, stirring constantly.
Keep stirring until the sauce boils and thickens.
Season to taste.
Stir the chicken mixture into the sauce and gently heat through.
When the pasta is al dente, drain and serve topped with the sauce.
HINT: Use wholemeal pasta if you want to increase your fibre intake. Serve with salad for an extra vitamin boost or add more vegetables to the sauce to make a complete meal
Nutrition
| ANALYSIS per serve | 4 | 6 |
| --- | --- | --- |
| Energy kJ (Cal) | 2870 (677) | 1912 (457) |
| Carbohydrate (g) | 104 | 69 |
| Protein (g) | 52 | 35 |
| Fat (g) | 6 | 4 |
| Calcium, Iron, Zinc | | |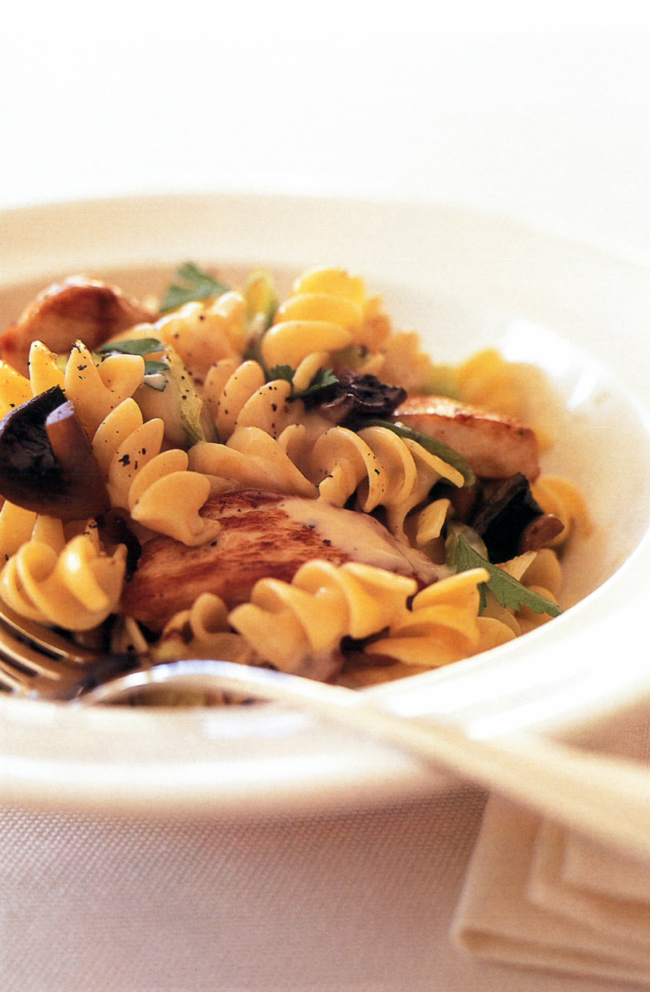 Australian Institute of Sport - From the "Survival for the Fittest" cookbook
05 Nov 2018
HINT: Use wholemeal pasta if you want to increase your fibre intake. Serve with salad for an extra vitamin boost or add more vegetables to the sauce to make a complete meal
, Pasta, survival-for-the-fittest
Pasta
Return to top