Spicy vegetable filo roll
Preparation time

25 minutes

Cooking time

50 minutes

Serves

4-6

Freezable

yes
Ingredients
Olive or canola oil
2 onions, thinly sliced
2 tablespoons brown mustard seeds
1 tablespoon curry powder
2 carrots, sliced
2 zucchini, sliced
600 g potatoes, peeled and cubed
1 kg pumpkin, peeled and cubed
2 cups fresh or frozen peas
2 cups (500 ml) MAGGI All Natural Vegetable Liquid Stock
16 sheets filo pastry
2 tablespoons sesame seeds
Method
Spray a large nonstick frying pan with oil and heat.
Cook onion, mustard seeds and curry powder over medium heat until onion is soft.
Add vegetables and cook for 3 minutes, stirring well to combine.
Add stock and cook, uncovered, for 20-25 minutes or until vegetables are soft and liquid has evaporated.
Remove from pan; allow to cool completely.
Preheat oven to 220°C (425°F).
Place one pastry sheet on a flat surface, lightly spray with oil and place another sheet on top: continue layering until you have eight layers.
Place half the filling along one edge, with a 2-cm border at each end.
Fold in ends and roll up to enclose.
Repeat using remaining pastry and filling.
Place rolls on a nonstick baking tray, seal side down, lightly spray with oil and sprinkle with sesame seeds.
Bake for 20 minutes or until crisp and golden.
Serve cut into slices, with a green salad.
HINT: A great recipe for using leftovers. Freeze rolls, uncooked, tightly wrapped in plastic; thaw and bake
Nutrition
| ANALYSIS per serve | 4 | 6 |
| --- | --- | --- |
| Energy kJ (Cal) | 2034 (486) | 1356 (324) |
| Carbohydrate (g) | 80 | 53 |
| Protein (g) | 24 | 16 |
| Fat (g) | 8 | 5 |
| Fibre, Iron, Vitamin C, Zinc | | |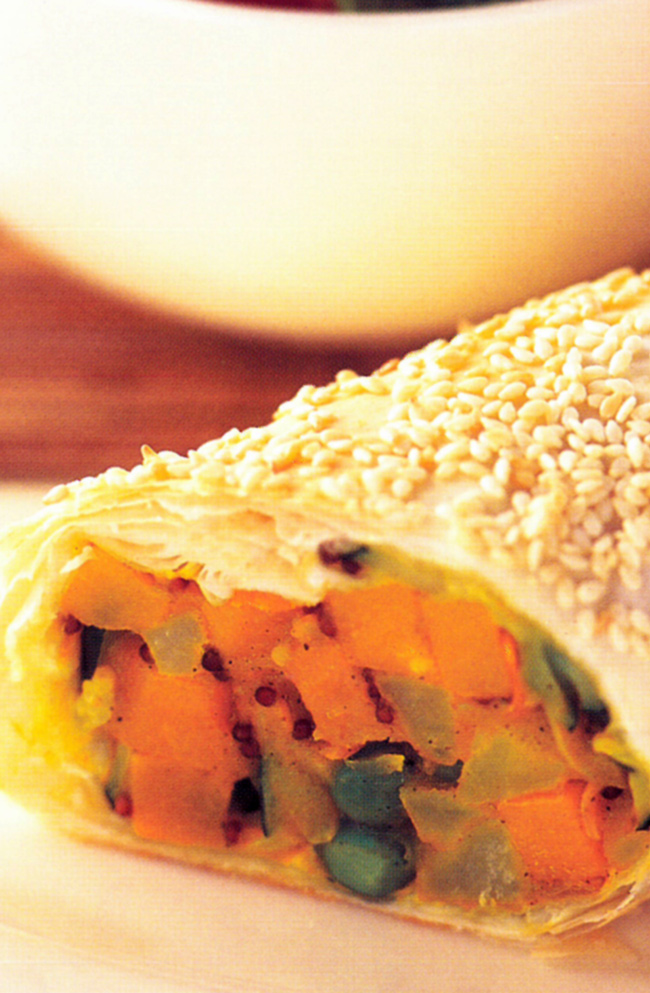 Australian Institute of Sport - From the "Survival from the Fittest" cookbook
05 Nov 2018
HINT: A great recipe for using leftovers. Freeze rolls, uncooked, tightly wrapped in plastic; thaw and bake
yes, Spice, survival-from-the-fittest
Spice
Return to top