Spicy lamb wraps
Preparation time

10 minutes + 10 minutes marinating

Cooking time

10 minutes

Serves

4-6
Ingredients
500 g trim lamb loin
1 teaspoon minced garlic
1 teaspoon ground cinnamon
¼ teaspoon ground allspice
1 tablespoon honey
1 tablespoon lemon juice
olive or canola oil spray
4 rounds Lebanese bread
100 g low-fat hummus
2 cups shredded lettuce
200 g tabouli (purchase from deli or see below)
130 g can corn kernels, drained
2 tomatoes, halved and sliced
1 red onion, thinly sliced
1/3 cup MAGGI Chilli Sauce
Tabouli
2 cups boiling water
1 cup burghul
2 spring onions, chopped
2 medium tomatoes, diced
½ cup chopped mint
2 cups chopped parsley
¼ cup lemon juice (juice of 1 lemon)
ground black pepper, to taste
Method
Place lamb, garlic, spices, honey and juice in a nonmetallic bowl, toss to coat lamb, then marinate 10 minutes.
Spray a nonstick frying pan with oil and heat.
Cook lamb in 2 batches over high heat until browned and tender.
Remove from pan.
Allow to stand for 5 minutes before slicing thinly.
Place bread on a flat surface.
Divide hummus between bread and spread evenly to cover the centre of the bread.
Top with lettuce, tabouli, corn and tomato.
Arrange lamb along centre, top with onion and roll up firmly to enclose.
Place wrap in a heated sandwich press and cook for 3-5 minutes or until bread is crisp.
Or, grill lightly on both sides.
Cut in half and drizzle with chilli sauce.
Serve with salad.
Tabouli
Soak burghul in boiling water for 15 minutes.
Squeeze out excess water.
Combine burghul with all other ingredients.
Mix well.
Nutrition
| ANALYSIS per serve | 4 | 6 |
| --- | --- | --- |
| Energy kJ (Cal) | 2514 (601) | 1676 (400) |
| Carbohydrate (g) | 85 | 57 |
| Protein (g) | 40 | 27 |
| Fat (g) | 11 | 7 |
| Iron, Zinc | | |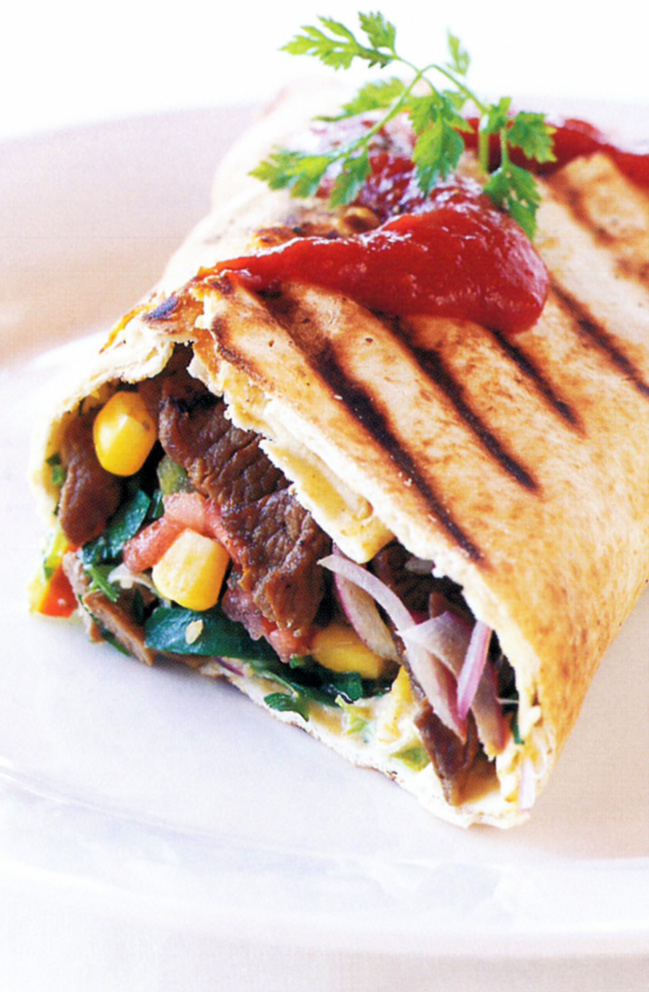 Australian Institute of Sport - From the "Survival from the Fittest" cookbook
05 Nov 2018
, Spice, survival-from-the-fittest
Spice
Return to top