Ingredients
1/2 cup textured vegetable protein (TVP) mince
800g can chopped tomatoes
150g tomato paste
2 carrots, peeled and diced
2 zucchini, diced
8 button mushrooms, diced
1 onion, diced
1 tsp minced garlic
1 tbs soy sauce
2 tsp MAGGI Sweet Chilli Sauce
2 tbs tomato sauce
1 tsp mixed dried herbs freshly ground black pepper
4 large potatoes, peeled and boiled
150ml CARNATION Light & Creamy Evaporated Milk
2 tbs canola margarine
canola or olive oil spray
1/2 cup grated low-fat cheese
4 large or 6 small bread rolls
tossed salad, to serve (optional)
Method
Preheat oven to 180°C (350°F).
Place TVP mince, tomatoes, tomato paste, carrots, zucchini, mushrooms and onion in a large bowl and mix well.
Combine garlic, sauces and herbs and add to vegetable mixture.
Season with pepper.
Set aside for 10-15 minutes or until TVP mince absorbs some liquid.
Meanwhile, mash potatoes and add milk and margarine.
Continue mashing until the mixture is smooth.
Spray a lasagne dish with oil to lightly grease.
Place vegetable mixture in lasagne dish, spread the potato mixture over the top and sprinkle with cheese.
Bake for 50-60 minutes or until cheese is golden.
Sprinkle with pepper and serve with bread rolls and a tossed salad, if desired.
Athletes with high fuel needs (e.g. endurance athletes, athletes who are growing, athletes aiming to increase muscle mass) require extra carbohydrate-based ingredients and a larger serve size
Athletes with low fuel needs (e.g. skill-based athletes, athletes trying to reduce body fat) need to opt for a smaller serve size
Tip: TVP mince may be replaced with 500g beef mince
Nutrition
ANALYSIS

High Fuel




4

Low Fuel




6

Energy (kJ)

2588

1489

Protein (g)

26

16

Fat (g)

15

9

Carbohydrate (g)

87

48

Calcium, Iron, Vitamin C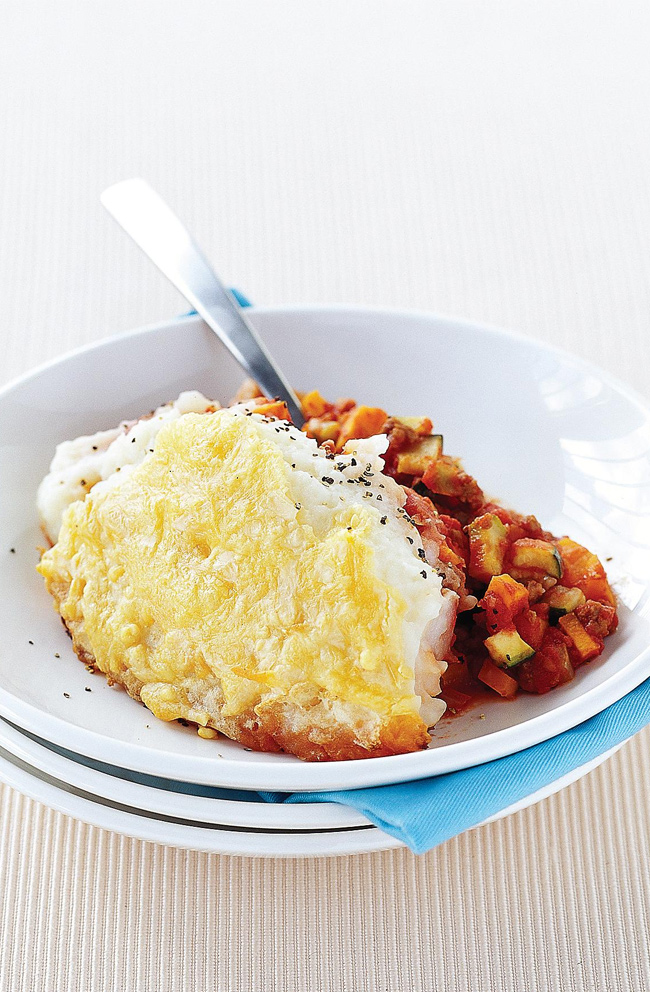 Australian Institute of Sport - From the "Survival Around the World" cookbook
05 Nov 2018
Tip: TVP mince may be replaced with 500g beef mince
yes, Bakes and Grills, survival-around-the-world
Bakes and Grills
Return to top