Sesame beef
Preparation time

15 minutes + marinating

Cooking time

15 minutes

Serves

4-6
Ingredients
2 teaspoons minced garlic
3 tablespoons soy sauce
3 tablespoons MAGGI Oyster Sauce
2 tablespoons lemon juice
2 tablespoons orange juice
500 g lean rump steak, cut into thin strips
900 g hokkien noodles
spray canola or olive oil
2 carrots, sliced
1 green capsicum, sliced
1 bunch English Spinach, trimmed
3 tablespoons toasted sesame seeds
60 g snow pea sprouts
Method
Combine the garlic, soy sauce, oyster sauce and juice in a glass or ceramic dish.
Add the beef and toss to coat.
Cover and marinate for 15 minutes.
Drain the meat and reserve the marinade.
Put the hokkien noodles into a large heatproof bowl and cover with boiling water.
Leave to stand for 2 minutes, pushing gently with a wooden spoon to separate the strands.
Drain well and set aside.
Spray a nonstick wok or frying pan with oil and heat.
Stirfry the meat in 2 or 3 batches over high heat for 2-3 minutes or until browned.
Set aside.
Reheat the wok, add the carrots and capsicum and stirfry for 3 minutes, then add the reserved marinade and bring to the boil.
Add the spinach leaves and toss until just wilted.
Stir in the noodles, beef, sesame seeds and snow pea sprouts, and toss to heat through.
HINT: Exchange the various types of noodles, pasta, rice or couscous served with stirfries and curries. Some of the recipes also make delicious fillings for baked potatoes - a great way of using leftovers
Nutrition
| ANALYSIS per serve | 4 | 6 |
| --- | --- | --- |
| Energy kJ (Cal) | 2883 (689) | 1922 (459) |
| Carbohydrate (g) | 92 | 61 |
| Protein (g) | 50 | 33 |
| Fat (g) | 13 | 9 |
| Iron, Vitamin C, Zinc | | |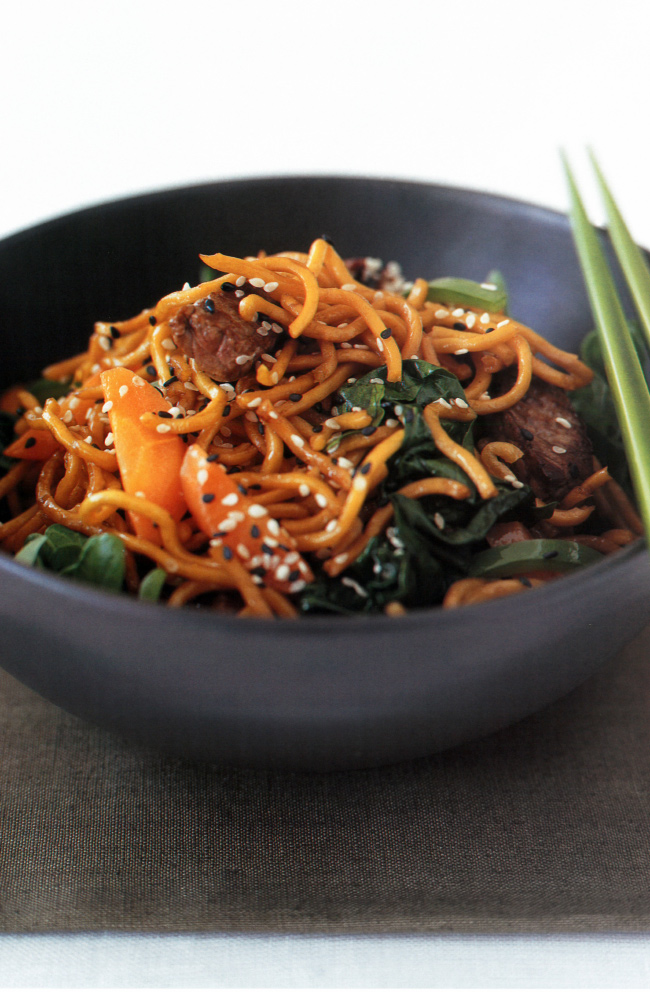 Australian Institute of Sport - From the "Survival for the Fittest" cookbook
05 Nov 2018
HINT: Exchange the various types of noodles, pasta, rice or couscous served with stirfries and curries. Some of the recipes also make delicious fillings for baked potatoes - a great way of using leftovers
no, Spice, survival-for-the-fittest
Spice
Return to top