Sam's polenta stack
Preparation time

30 minutes

Cooking time

50 minutes

Serves

4-6
Ingredients
Topping:
2 tablespoons orange juice
2 tablespoons honey
2 tablespoons soy sauce
300 g skinless chicken breast fillets
olive or canola oil
Polenta base:
300 g can creamed corn
½ cup low-fat milk
2 egg whites, lightly beaten
1 cup polenta (cornmeal)
2 teaspoons baking powder
1 large onion, chopped
½ cup grated, low-fat cheese
Salsa:
4 medium tomatoes, chopped
1 large mango, chopped
300 g can corn kernels, drained
1 red onion, chopped
2 tablespoons coarsely chopped fresh coriander leaves
1 tablespoon coarsely chopped fresh mint leaves
Method
Preheat oven to 180°C (350°F).
To make topping, combine juice, honey, and soy sauce.
Add chicken, stir to coat, and refrigerate for 30 minutes.
Spray a chargrill pan or frying pan with oil and heat.
Cook chicken for 5-6 minutes on each side until golden brown and tender.
Cut into thin slices.
To make polenta base, whisk corn, milk and egg whites in a bowl.
Stir in polenta and baking powder, then onion and 3/4 of the cheese.
Spray a 20 x 30 cm baking tray with oil and pour in mixture.
Sprinkle with the remaining cheese.
Bake for 30-35 minutes or until golden and firm.
To make salsa, mix all ingredients in a bowl until combined.
Cut polenta into pieces and serve with chicken slices and salsa.
Nutrition
| ANALYSIS per serve | 4 | 6 |
| --- | --- | --- |
| Energy kJ (Cal) | 2251 (539) | 1501 (359) |
| Carbohydrate (g) | 77 | 51 |
| Protein (g) | 34 | 22 |
| Fat (g) | 10 | 7 |
| Vitamin C, Zinc, Calcium, Iron | | |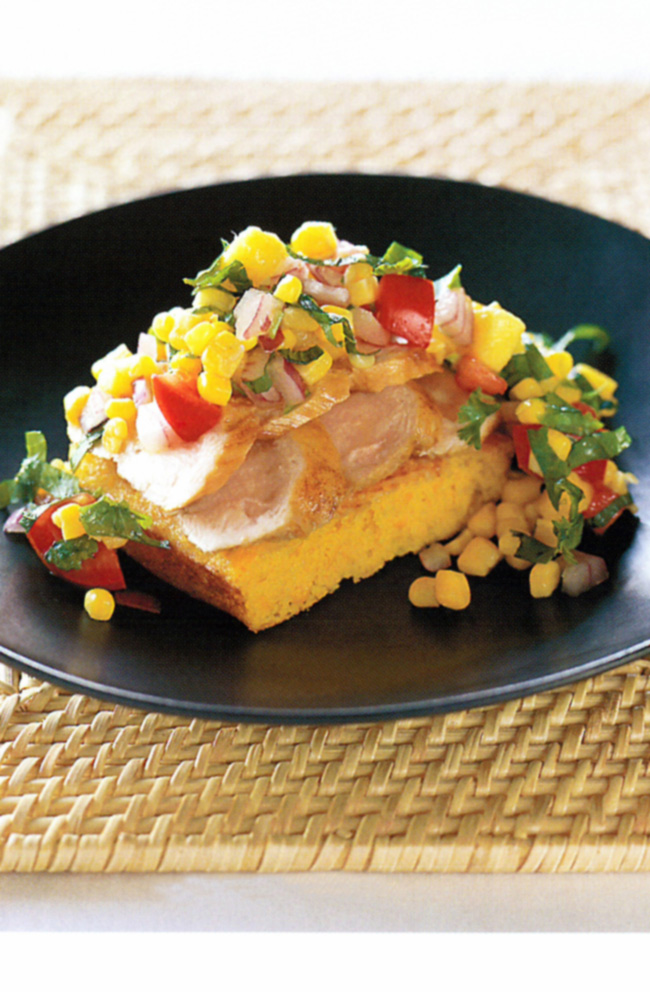 Australian Institute of Sport - From the "Survival from the Fittest" cookbook
05 Nov 2018
, Bakes and Grills, survival-from-the-fittest
Bakes and Grills
Return to top