Salmon bake
Preparation time

10 minutes

Cooking time

15 minutes

Serves

4-6
Ingredients
White Sauce:
2 cups low-fat milk
2 tablespoons cornflour
black pepper. to taste
Filling:
415 g can salmon in water, drained
4 cups cooked brown rice
450 g can pineapple pieces in natural juice, drained
300g can corn kernels
1 cup chopped red and green capsicum
2 shallots, chopped
black pepper, to taste
1 cup dry breadcrumbs
¼ cup grated low-fat tasty cheese
Method
To make white sauce: pour all but 2 tablespoons milk into a covered microwave dish and cook on HIGH for 2 minutes or until boiling.
Mix cornflour with remaining milk until smooth.
Add cornflour mixture to hot milk and whisk until well combined.
If the sauce is not yet thickening, place in microwave for a further 2 minutes and stir every 30 seconds.
Season with black pepper.
To make the filling: combine salmon, rice, pineapple, corn, capsicum, shallots and black pepper.
Pour into a 30-cm ovenproof dish.
Pour white sauce over it and sprinkle combined breadcrumbs and cheese on top.
Bake in a preheated 180°C (350°F) oven until top is golden brown and salmon is heated through.
Serve with a tossed salad.
Garnish with chopped chives, if desired.
HINT: This recipe freezes well. Canned tuna or crab can be used instead of salmon
Nutrition
| ANALYSIS per serve | 4 | 6 |
| --- | --- | --- |
| Energy kJ (Cal) | 3308 (790) | 2205 (527) |
| Carbohydrate (g) | 117 | 78 |
| Protein (g) | 47 | 31 |
| Fat (g) | 15 | 10 |
| Calcium, Iron, Vitamin C, Zinc | | |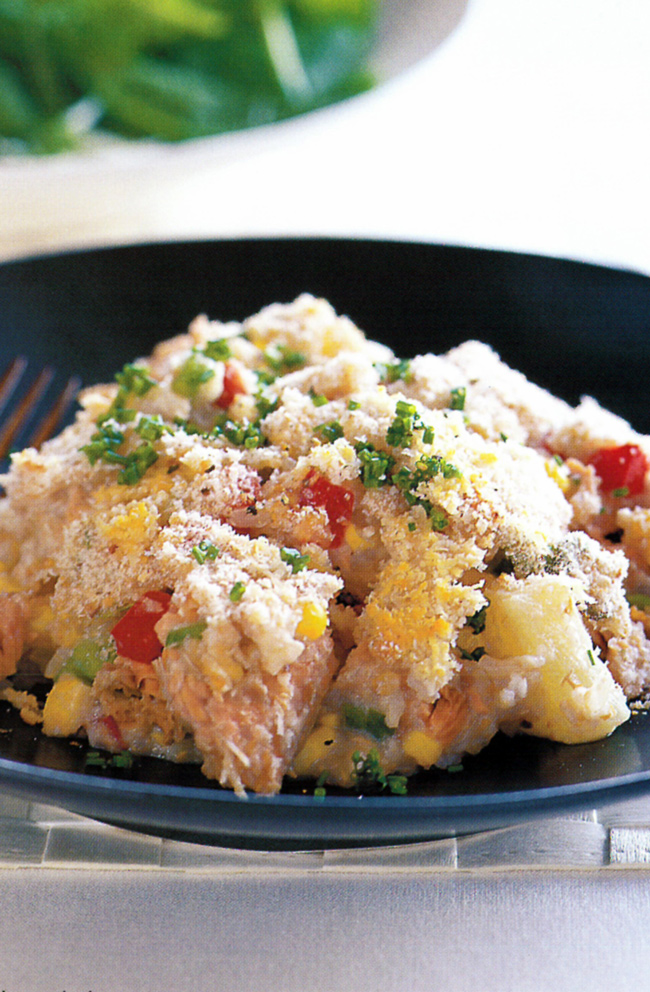 Australian Institute of Sport - From the "Survival from the Fittest" cookbook
05 Nov 2018
HINT: This recipe freezes well. Canned tuna or crab can be used instead of salmon
, Rice, survival-from-the-fittest
Rice
Return to top