Ingredients
Olive or canola oil spray
500 g chicken breast fillets, cubed
2 tsp minced garlic
1 red onion, seeded
1 each red and green capsicum, deseeded and chopped
1 1/3-2 cups short-grain rice
3 ripe tomatoes, chopped
200 g green beans, chopped
2 tsp sweet paprika
3-4 cups MAGGI Real Chicken Stock
½ tsp saffron threads
400 g can chickpeas, rinsed and drained
1 cup frozen peas
Method
Spray a large non-stick frypan or paella pan with oil and cook over medium heat until browned.
Add garlic, onion and capsicums and cook for 3 minutes or until softened.
Add rice, tomatoes, beans and paprika and cook for 2 minutes.
Add stock and saffron, bring to the boil, then reduce heat to low and simmer, without stirring for 15 minutes.
Shake pan a couple of times during cooking to stop rice from sticking.
Stir in chickpeas and peas and cook for 3 minutes or until heated through.
Athletes with high fuel needs (e.g. endurance athletes, athletes who are growing, athletes aiming to increase muscle mass) require extra carbohydrate-based ingredients and a larger serve size
Athletes with low fuel needs (e.g. skill-based athletes, athletes trying to reduce body fat) need to opt for a smaller serve size
Nutrition
ANALYSIS

High Fuel




4

Low Fuel




6

Energy (kJ)

3111

1702

Protein (g)

48

30

Fat (g)

12

7

Carbohydrate (g)

105

51

Iron, Vitamin C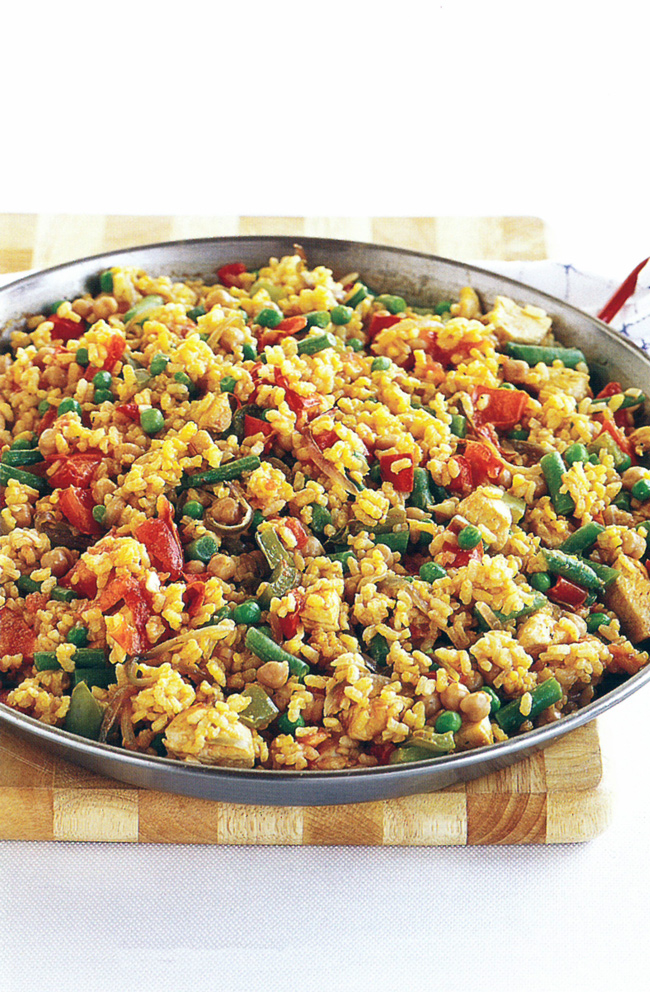 Australian Institute of Sport - From the "Survival Around the World" cookbook
05 Nov 2018
yes, Rice, survival-around-the-world
Rice
Return to top