Roast lamb & vegies with pumpkin damper
Ingredients
800g trim boneless lamb roast
2 cloves garlic, peeled and sliced
3 sprigs fresh rosemary
sea salt and freshly ground black pepper
6-8 desiree potatoes, quartered
500g pumpkin, peeled and deseeded, cut into large pieces
6-8 small baby brown onions, peeled
500g baby carrots, tops trimmed
olive or canola oil spray
1 x packet MAGGI Brown Onion
Gravy Mix
1 tbs mint jelly
Pumpkin damper (omit for Low Fuel):
2 1/2 cups self-raising flour
1 tsp baking powder
1 tsp salt
1/4 cup grated parmesan cheese
2 tbs chopped fresh herbs (such as parsley, thyme and rosemary)
1 egg
1 cup cooked mashed (approx 400g uncooked) pumpkin
30g butter or margarine, melted
1/4 cup skim milk
Method
Preheat oven to 200°C (400°F).
Place lamb on a rack in a baking dish.
Make small incisions in top of lamb and fill with garlic and rosemary.
Sprinkle with salt and pepper.
Bake for 40 minutes for medium-rare or until cooked to your liking.
When lamb has been cooking for 15 minutes, place vegetables in a large baking tray, lightly spray with oil and add to the oven.
Bake vegetables for 40 minutes or until golden and tender, turning a few times during cooking.
When lamb is cooked, transfer to a plate and cover loosely with foil.
Allow to rest for 15 minutes before carving.
Meanwhile, combine gravy mix, mint jelly and 1 cup hot water in a small saucepan and cook, stirring, over medium heat until gravy boils and thickens.
Serve lamb with potatoes, pumpkin, onions, carrots and gravy.
To make damper (omit for Low Fuel), sift flour and baking powder into a bowl.
Stir in salt, parmesan and herbs.
Whisk together egg, pumpkin, butter or margarine, and milk and add to dry ingredients.
Mix to form a soft dough.
Turn onto a lightly floured surface and knead until smooth.
Place on a baking tray lined with non-stick paper, then score into 6-8 portions using a flat-bladed knife.
Bake at 200°C (400°F) for 25 minutes or until cooked.
Athletes with high fuel needs (e.g. endurance athletes, athletes who are growing, athletes aiming to increase muscle mass) require extra carbohydrate-based ingredients and a larger serve size
Athletes with low fuel needs (e.g. skill-based athletes, athletes trying to reduce body fat) need to opt for a smaller serve size
Nutrition
ANALYSIS

High Fuel




6

Low Fuel




8




no damper

Energy (kJ)

2846

1752

Protein (g)
46

37

Fat (g)
16
9
Carbohydrate (g)
81
42
Calcium, Iron, Vitamin C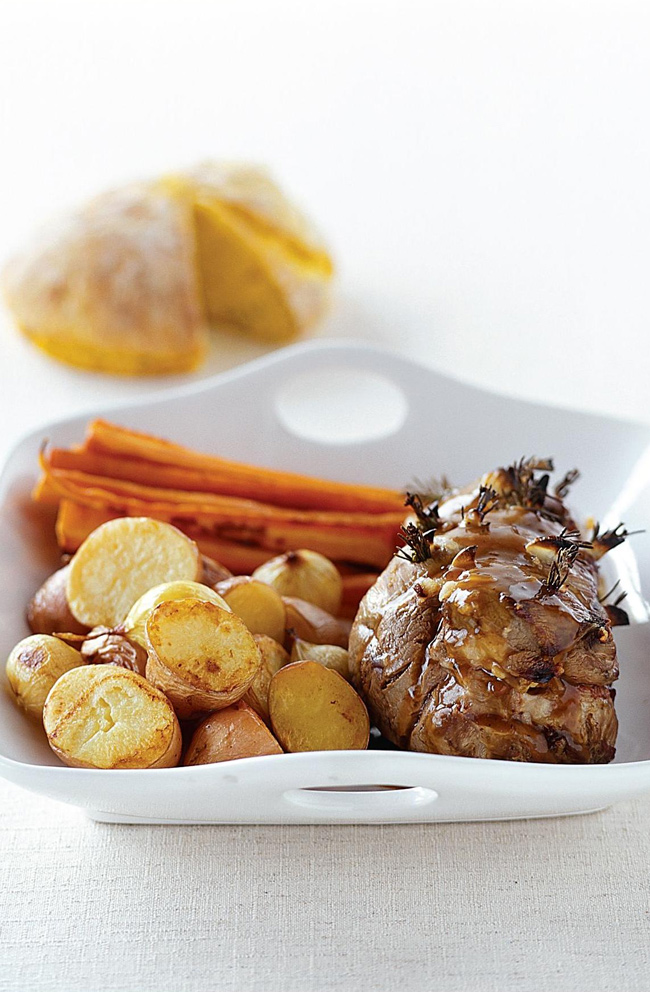 Australian Institute of Sport - From the "Survival Around the World" cookbook
05 Nov 2018
yes, Bakes and Grills, survival-around-the-world
Bakes and Grills
Return to top