Rigatoni with salmon & ricotta
Preparation time

15 minutes

Cooking time

15 minutes

Serves

4-6
Ingredients
500 g rigatoni
2 small salmon fillets (about 300 g)
spray of canola or olive oil
1 small onion, finely chopped
3 stalks celery, finely sliced
2 zucchini (courgette), sliced
200 g low-fat ricotta cheese
2 teaspoons chopped fresh dill
freshly ground black pepper, to taste
lemon juice, to taste
Method
Start cooking the pasta in a large saucepan of boiling water.
Meanwhile, place the salmon fillets in a frying pan and cover with cold water.
Place over low heat and cover (if you don't have a lid use a flat baking tray).
The water should be just moving on the surface, not boiling or simmering.
Cook for about 7 minutes or just until the flesh changes colour.
Test by inserting the point of a sharp knife into the thickest part and gently flake the fish.
Lift the fish from the pan with a slotted spoon or spatula and drain on paper towels.
Spray a nonstick frying pan with oil and heat.
Add the onion, celery and zucchini and cook over medium heat, stirring occasionally, for about 3 minutes or until soft.
When the pasta is al dente, drain and return to the pan.
Gently break the salmon apart with a fork and add to the pasta along with the vegetables.
Crumble the ricotta over the pasta and add the dill.
Season with pepper and a squeeze of lemon juice.
Toss to combine thoroughly, and serve immediately.
HINT: You can replace the fresh salmon with a 210 g can of salmon, well drained, but there is no need to cook it - just add it to the pasta with the vegetable mixture
Nutrition
| ANALYSIS per serve | 4 | 6 |
| --- | --- | --- |
| Energy kJ (Cal) | 2550 (608) | 1700 (405) |
| Carbohydrate (g) | 90 | 60 |
| Protein (g) | 32 | 21 |
| Fat (g) | 12 | 8 |
| Calcium, Iron, Zinc | | |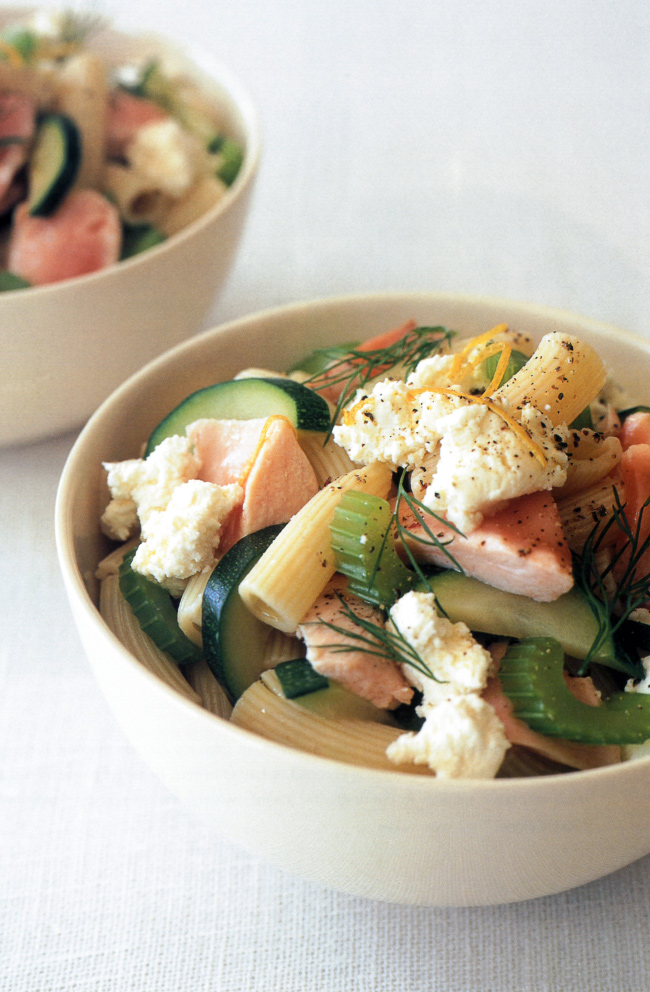 Australian Institute of Sport - From the "Survival for the Fittest" cookbook
05 Nov 2018
HINT: You can replace the fresh salmon with a 210 g can of salmon, well drained, but there is no need to cook it - just add it to the pasta with the vegetable mixture
, Pasta, survival-for-the-fittest
Pasta
Return to top