Quick vegetarian curry
Preparation time

10 minutes

Cooking time

15 minutes

Serves

4-6
Ingredients
200 g sweet potato (kumera), chopped
200 g potato, chopped
spray of canola or olive oil
1 onion, chopped
1 red capsicum, chopped
2 teaspoons minced garlic
1 tablespoon green curry paste
2 cups white long-grain or basmati rice
1½ tablespoons cornflour
2 x 375 mL cans CARNATION Light and Creamy Evaporated Milk
2 cups broccoli florets
200 g chickpeas, rinsed and drained
2 teaspoons coconut essence
Method
Steam or microwave the sweet potato (kumera) and potato to partially cook.
Spray a large pan with oil and heat.
Add the onion and capsicum and cook over medium heat for 3 minutes, or until soft, then add garlic and curry paste and stirfry for 1 minute.
Cook the rice in a large pan of boiling water for 12 minutes or until tender.
Put the cornflour in a small bowl and gradually add 80 mL (1/3 cup) milk, stirring until smooth.
Add potato, sweet potato, broccoli and remaining milk to the pan.
Bring to the boil and simmer for 5 minutes or until vegetables are tender.
Add cornflour mixture to the pan and stir until sauce thickens, then stir in chickpeas and coconut essence.
Serve over rice or with rice on the side.
HINT: The combination of chickpeas, which are a pulse, and rice or couscous, both grains, form complete proteins, making this a nutritious vegetarian dish
Nutrition
| ANALYSIS per serve | 4 | 6 |
| --- | --- | --- |
| Energy kJ (Cal) | 2819 (673) | 1879 (449) |
| Carbohydrate (g) | 127 | 85 |
| Protein (g) | 30 | 20 |
| Fat (g) | 4 | 3 |
| Calcium, Vitamin C, Iron | | |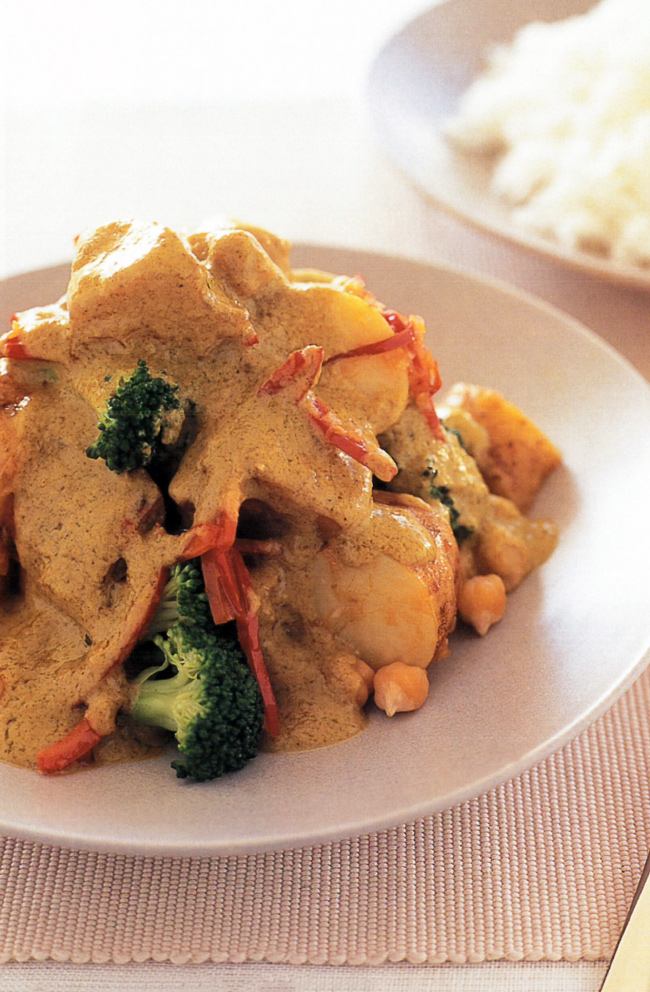 Australian Institute of Sport - From the "Survival for the Fittest" cookbook
05 Nov 2018
HINT: The combination of chickpeas, which are a pulse, and rice or couscous, both grains, form complete proteins, making this a nutritious vegetarian dish
no, Spice, survival-for-the-fittest
Spice
Return to top