Pumpkin & bean burgers
Preparation time

15 minutes

Cooking time

15 minutes

Serves

6
Ingredients
1 cup grated pumpkin
oil for cooking
1 small onion, finely chopped
1 garlic clove, crushed
1 small chilli, chopped
1 tbsp curry powder
2 x 400g cans butter beans, rinsed and drained
250g packet frozen spinach, thawed and drained
½ cup couscous
¼ cup chopped fresh flat-leaf parsley
2 tbsp chopped fresh chives
bread to serve
salad, to serve
chutney, to serve
Method
Cook pumpkin in microwave on HIGH for 1-2 minutes or until soft, then drain.
Heat oil in a large non-stick frying pan over medium to high heat. Add onion, garlic and chilli and cook for 2-3 minutes or until soft.
Add curry powder and cook for a further minute.
Mash beans and pumpkin and combine with spinach, couscous, herbs and onion mixture. Wet hands and shape mixture into 6 flat patties.
Preheat oven to 200°C. Heat oil in pan and cook patties for 1-2 minutes each side or until lightly golden. Place on a baking tray and bake for a further 6 minutes or until cooked.
Serve with bread, salad and chutney.
Nutrition
| ANALYSIS per serve | 6 |
| --- | --- |
| Energy kJ (Cal) | 465 |
| Carbohydrate (g) | 17 |
| Protein (g) | 7 |
| Fat (g) | 1 |
| Saturated fat (g) | 0 |
| Fibre (g) | 5 |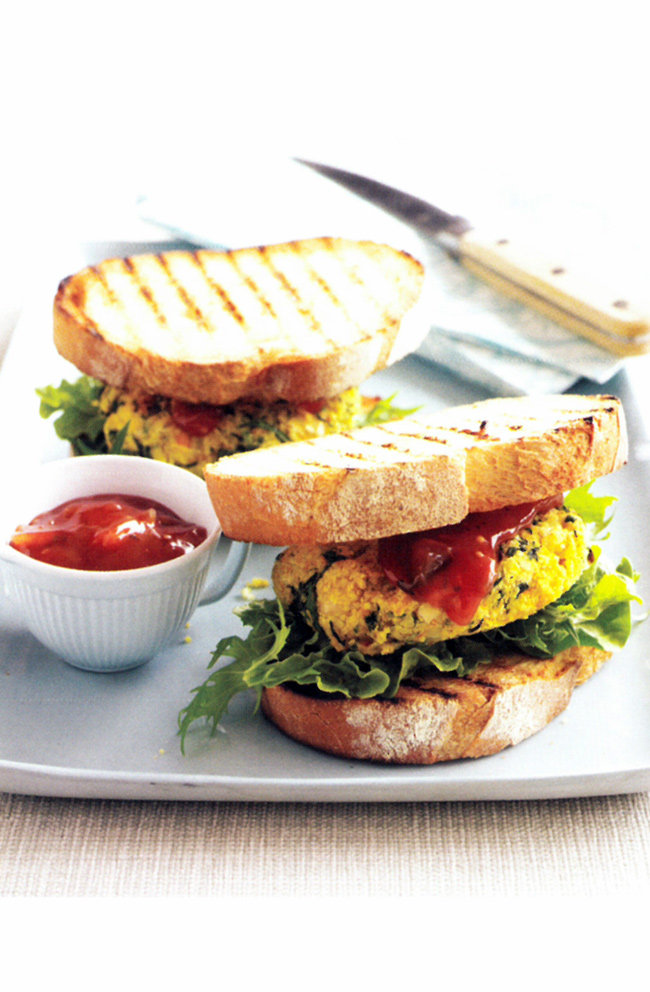 Australian Institute of Sport - From the "Survival for the Active Family" cookbook
05 Nov 2018
, Bakes and Grills, survival-for-the-active-family
Bakes and Grills
Return to top