Pork casserole with dumplings
Ingredients
Olive or canola oil spray
500g pork fillet, cubed
200g baby onions, peeled
1 carrot, peeled and thickly sliced
300g pumpkin, peeled, deseeded and cubed
1 cup white wine
2 cups MAGGI Real Chicken Stock
2 bay leaves
2 sprigs fresh rosemary
1 red capsicum, deseeded and chopped
2 zucchini, sliced
1 tbs cornflour
4-6 corncobs, steamed
4 large bread rolls (omit for Low Fuel)
Dumplings:
1 cup self-raising flour, plus extra to dust
20g reduced-fat canola margarine
2 tbs chopped fresh herbs (such as rosemary, chives, parsley)
1/3 cup skim milk
Method
Spray a large heavy-based saucepan or casserole dish with oil.
Add pork and cook over high heat for 3-5 minutes or until browned.
Add onions and cook for 5 minutes, until browned.
Add carrot, pumpkin, wine, stock, bay leaves and rosemary and bring to the boil.
Reduce heat to low and simmer, covered, for 30 minutes.
Add capsicum and zucchini and cook for a further 15 minutes.
Blend cornflour with 1 tablespoon water and stir into casserole.
Cook, stirring, until casserole boils and thickens.
Meanwhile, to make dumplings, sift flour into a bowl, then rub in margarine until mixture resembles fine breadcrumbs.
Stir in herbs and milk until mixture comes together to form a soft dough.
Turn dough out onto a lightly floured surface and gently knead for 1 minute.
Divide dough into 8 portions and shape into balls.
Place dumplings on top of casserole, then cover and cook over medium heat for 15 minutes or until a skewer inserted into the centre of a dumpling comes out clean.
Serve immediately with corncobs and bread rolls. (Omit bread rolls for Low Fuel).
Athletes with high fuel needs (e.g. endurance athletes, athletes who are growing, athletes aiming to increase muscle mass) require extra carbohydrate-based ingredients and a larger serve size
Athletes with low fuel needs (e.g. skill-based athletes, athletes trying to reduce body fat) need to opt for a smaller serve size
Nutrition
ANALYSIS

High Fuel




4

Low Fuel




6

Energy (kJ)

3025

1524

Protein (g)

47

28

Fat (g)

12

6

Carbohydrate (g)

90

40

Iron, Vitamin C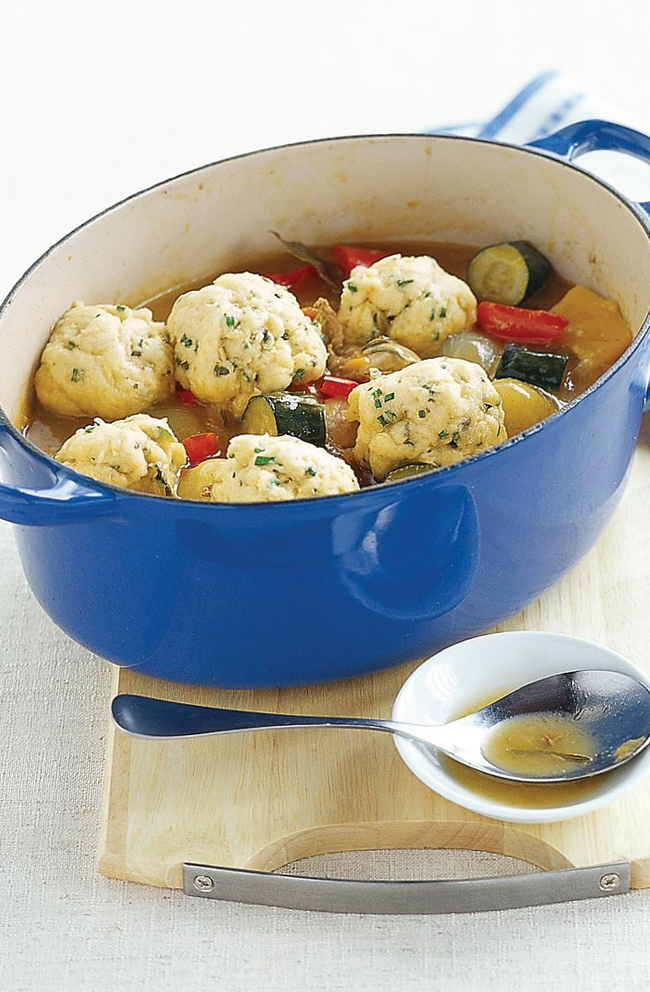 Australian Institute of Sport - From the "Survival Around the World" cookbook
05 Nov 2018
yes, Bakes and Grills, survival-around-the-world
Bakes and Grills
Return to top