Pork & vegetable stirfry
Preparation time

10 minutes

Cooking time

15 minutes

Serves

4-6
Ingredients
1 bunch asparagus
1 large carrot
2 cups white long-grain rice
spray canola or olive oil
500 g pork fillet, cut into thin strips
1 onion, cut into thin wedges
1 teaspoon minced garlic
2 teaspoons minced ginger
125 ml (½ cup) plum sauce
1 tablespoon soy sauce
Method
Trim the woody ends from the asparagus and cut into 4 cm lengths.
Peel the carrots and cut into thin sticks about 4 cm long.
Cook the rice in a large pan of boiling water for about 12 minutes or until tender.
Spray a nonstick wok or frying pan with oil and heat.
Stirfry the meat in 2 batches over high heat for 3-4 minutes or until well browned and tender.
Remove from the pan and set aside.
Add the onion to the pan and stirfry over medium-high heat for 2 minutes or until beginning to soften.
Add the garlic, ginger, asparagus and carrot and stirfry for 3 minutes or until vegetables are tender but still crisp.
Return meat to the pan along with plum and soy sauces.
Stir to heat through and serve with the rice.
HINT: You can also serve this dish with 375 g pasta spirals or shells, cooked until al dente, as an alternative to rice
Nutrition
| ANALYSIS per serve | 4 | 6 |
| --- | --- | --- |
| Energy kJ (Cal) | 2492 (595) | 1662 (397) |
| Carbohydrate (g) | 102 | 68 |
| Protein (g) | 37 | 25 |
| Fat (g) | 4 | 3 |
| Iron, Zinc | | |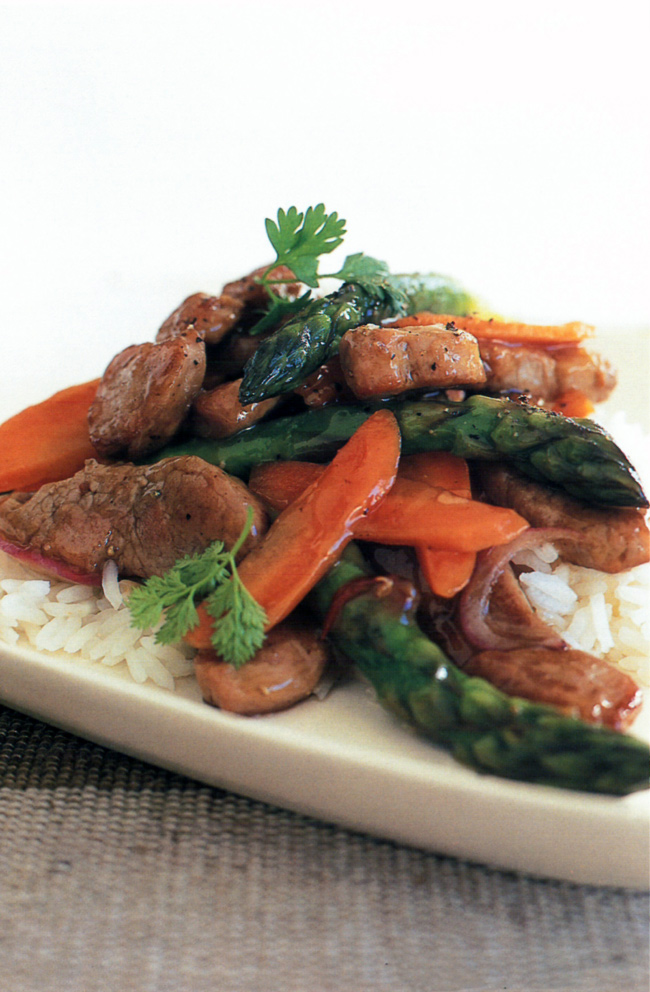 Australian Institute of Sport - From the "Survival for the Fittest" cookbook
05 Nov 2018
HINT: You can also serve this dish with 375 g pasta spirals or shells, cooked until al dente, as an alternative to rice
, Spice, survival-for-the-fittest
Spice
Return to top