Petria's mexican chicken cannelloni
Preparation time

20 minutes

Cooking time

30 minutes

Serves

4-6

Freezable

yes
Ingredients
Olive or canola oil spray
500 g lean chicken mince
1 red capsicum, finely chopped
400 g can red kidney beans, drained and rinsed
200 g jar Mexican salsa or taco sauce
575 g jar tomato-based pasta sauce
375 g packet fresh lasagne sheets
420 g can tomato soup
½ cup grated reduced-fat tasty cheese
Method
Preheat oven to 180°C (350°F).
Spray a large nonstick frying pan with oil.
Add chicken and capsicum, and cook for 5 minutes over high heat, breaking up the mince with back of spoon.
Add beans, salsa and pasta sauce, stir until combined and remove from the heat.
Cut pasta sheets crossways into thirds and lay out on a board.
Spoon a line of filling lengthways along the middle of each piece, and carefully roll to create a tube.
Arrange tubes closely together in a large baking dish, joined side down.
Pour over tomato soup and sprinkle with grated cheese.
Bake for 20-25 minutes until cheese is brown.
Serve with salad.
Garnish with chervil, if desired.
Note: you may need two baking dishes for this recipe.
HINT: Mexican salsa and taco sauce can be mild, medium or hot - use whichever you prefer
Nutrition
| ANALYSIS per serve | 4 | 6 |
| --- | --- | --- |
| Energy kJ (Cal) | 2902 (693) | 1935 (462) |
| Carbohydrate (g) | 89 | 59 |
| Protein (g) | 46 | 31 |
| Fat (g) | 17 | 12 |
| Fibre, Iron, Vitamin C, Zinc, Calcium | | |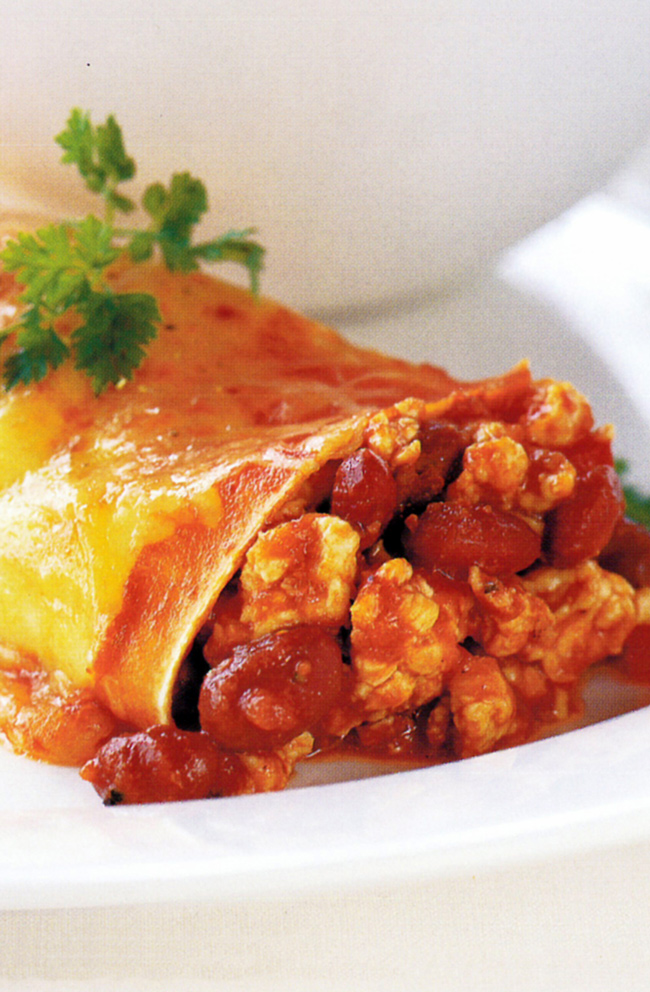 Australian Institute of Sport - From the "Survival from the Fittest" cookbook
05 Nov 2018
HINT: Mexican salsa and taco sauce can be mild, medium or hot - use whichever you prefer
yes, Pasta, survival-from-the-fittest
Pasta
Return to top