Penne primavera
Preparation time

15 minutes

Cooking time

10 minutes

Serves

4-6

Freezable

yes
Ingredients
500 g penne
2 large carrots, halved lengthways and thinly sliced
2 large zucchini, halved lengthways and thinly sliced
200 g broccoli, cut into small florets
125 g snow peas, halved diagonally
1 tablespoon cornflour
375 ml can CARNATION Light and Creamy Evaporated Milk
2 MAGGI Vegetable or Chicken Stock Cubes
1½ tablespoons finely grated Parmesan cheese, optional
Method
Cook the pasta according to packet instruction.
Steam or microwave the vegetables until just tender and brightly coloured, taking care not to overcook.
Put cornflour in a small bowl and gradually add 1/3 cup evaporated milk, stirring until smooth.
Add remaining evaporated milk to a small saucepan, and crumble in the stock cubes.
Add cornflour mixture to the saucepan, and stir over medium heat until the mixture boils and thickens.
When the pasta is cooked, drain and serve with sauce, topped with the vegetables and a sprinkle of Parmesan cheese.
Garnish with chopped flat-leaf parsley, if desired.
HINT: This recipe is best served immediately. Increase protein by cutting 2 skinless chicken breast fillets into thin strips, then panfry for 5 minutes. Add the chicken to the pasta with the vegetables
Nutrition
| ANALYSIS per serve | 4 | 6 |
| --- | --- | --- |
| Energy kJ (Cal) | 2413 (576) | 1608 (384) |
| Carbohydrate (g) | 104 | 69 |
| Protein (g) | 28 | 18 |
| Fat (g) | 5 | 3 |
| Calcium, Vitamin C, Zinc | | |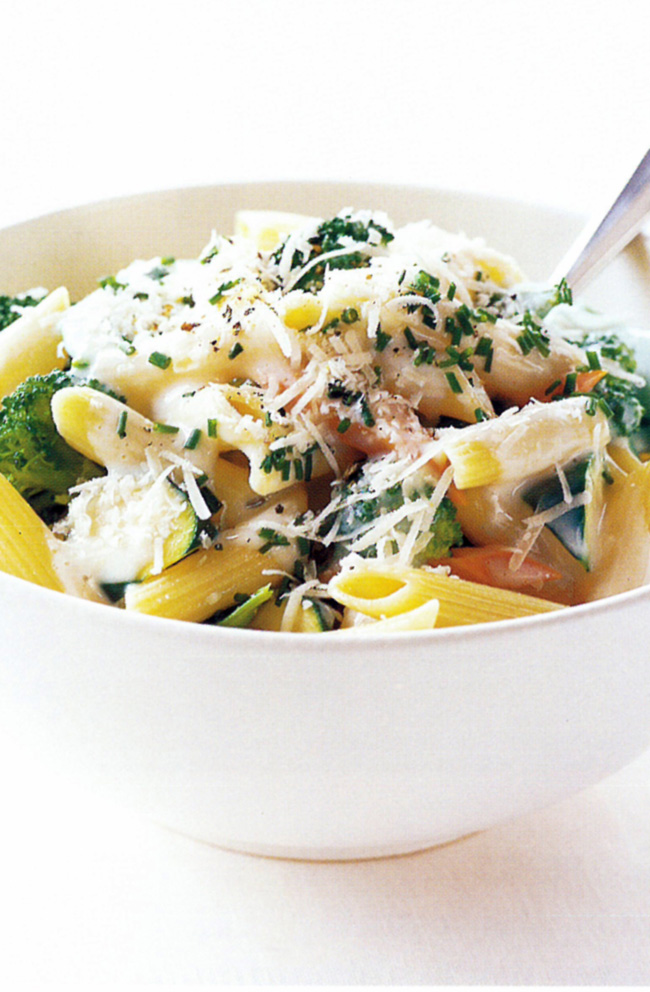 Australian Institute of Sport - From the "Survival from the Fittest" cookbook
05 Nov 2018
HINT: This recipe is best served immediately. Increase protein by cutting 2 skinless chicken breast fillets into thin strips, then panfry for 5 minutes. Add the chicken to the pasta with the vegetables
yes, Pasta, survival-from-the-fittest
Pasta
Return to top