Pasta with tuna
Preparation time

5 minutes

Cooking time

8 minutes

Serves

4
Ingredients
400g spaghetti
oil for cooking
1 garlic clove, sliced
415g can tuna in springwater, drained
1 cup parsley leaves
freshly ground black pepper, to taste
shaved parmesan, to serve
Method
Cook pasta according to packet directions.
Meanwhile, heat oil in a large non-stick frying pan over medium heat. Add garlic and cook for 1-2 minutes.
Add tuna and cook for 1-2 minutes or until heated through.
Drain pasta and add to the tuna. Toss through parsley leaves.
Serve on warm dishes topped with parmesan cheese, parsley and freshly ground pepper.
HINT: Roasted cherry tomatoes are great tossed through this pasta/
Nutrition
| ANALYSIS per serve | 4 |
| --- | --- |
| Energy kJ (Cal) | 1972 |
| Carbohydrate (g) | 68 |
| Protein (g) | 37 |
| Fat (g) | 4 |
| Saturated fat (g) | 1 |
| Fibre (g) | 4 |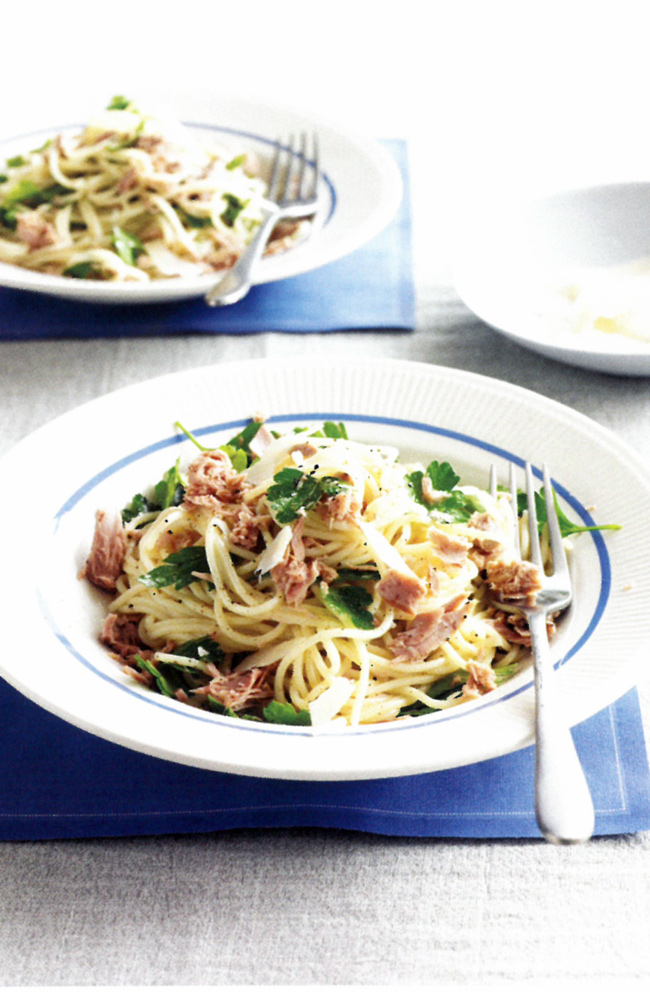 Australian Institute of Sport - From the "Survival for the Active Family" cookbook
05 Nov 2018
HINT: Roasted cherry tomatoes are great tossed through this pasta/
, Pasta, survival-for-the-active-family
Pasta
Return to top