Pasta frittata
Preparation time

15 minutes

Cooking time

25 minutes

Serves

4-6
Ingredients
250 g spaghetti
150 g sweet potato, cut into small cubes
olive or canola oil spray
1 onion, chopped
2 rashers bacon, chopped
1 red capsicum, cut into small cubes
100 g button mushrooms, halved and sliced
310 g can corn kernels, drained
½ cup fresh flat-leaf parsley, chopped
3 eggs
5 egg whites
Italian crusty bread, to serve
Method
Cook pasta according to packet instructions.
Steam or microwave sweet potato until tender.
Meanwhile, spray a frying pan with oil and heat.
Add onion, bacon and capsicum and cook over medium heat for 4 minutes until vegetables are soft and bacon is brown.
Add mushrooms and cook for another minute until soft.
Transfer to a large bowl, and add sweet potato, corn, parsley and drained spaghetti; mix well.
Spray a nonstick frying pan (30 cm across top) with oil and heat.
Arrange spaghetti mixture evenly over base of pan.
Whisk eggs and egg whites in a jug until well combined.
Pour evenly over spaghetti mixture.
Cook over medium heat for about 8 minutes, moving the pan around, if necessary, to cook the frittata evenly.
Preheat a grill to medium and place the frying pan under the grill (be careful not to burn wooden or plastic handles) for 6-7 minutes, until set.
Carefully run a spatula around the edge of the frittata.
Place a large plate face down over the frittata, and carefully invert to turn out.
Cut into pieces to serve.
Serve with a salad and bread, if desired.
Note: the frittata keeps in the fridge for up to 2 days and can be reheated or eaten cold or at room temperature.
Nutrition
| ANALYSIS per serve (incl bread) | 4 | 6 |
| --- | --- | --- |
| Energy kJ (Cal) | 2916 (697) | 1944 (464) |
| Carbohydrate (g) | 105 | 70 |
| Protein (g) | 32 | 21 |
| Fat (g) | 16 | 11 |
| Iron, Vitamin C, Zinc | | |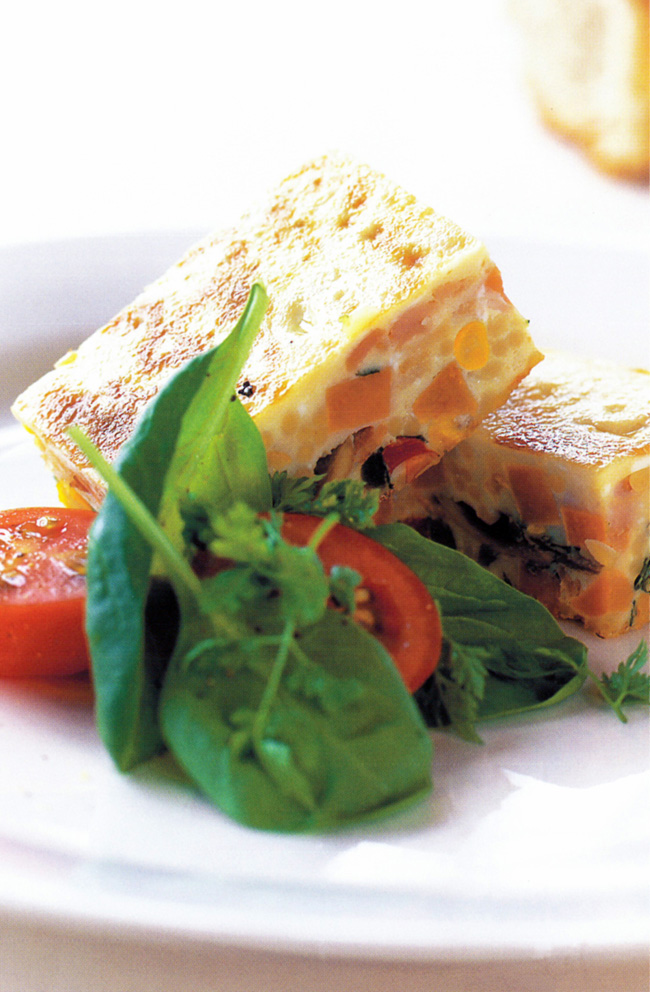 Australian Institute of Sport - From the "Survival from the Fittest" cookbook
05 Nov 2018
, Pasta, survival-from-the-fittest
Pasta
Return to top